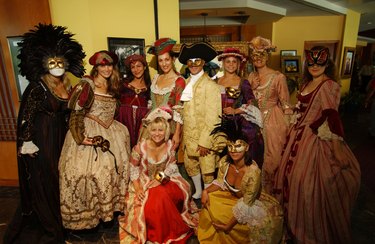 Whether the costume is classic Italian, historical Italian or cartoon Italian, attention to detail will be key to constructing an authentic Italian costume. Many of the costume ideas require little or no purchases, as most of the pieces can be found in your own closet. Many of these costume ideas can be used by couples, pairs or groups.
Classic Italian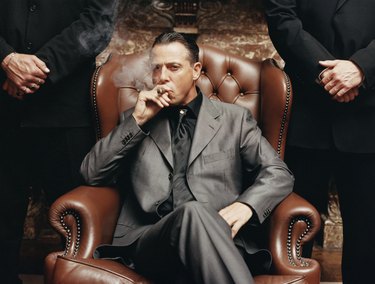 Italy is often associated with the Italian Mob or Mafia, so capitalize on this fact for your costume creation. For women, pair a short, fitted black dress with thigh-high stockings and boots or high heels. Another option is a mini pencil skirt paired with a pin-striped blazer over a low-cut shirt. Sex appeal is a must. Add a loosely tied tie if desired. Cap the outfit off with a rimmed hat and a gun holstered around your thigh.
For men, sleek style is pivotal. A black or pin-striped suit, paired with a flashy tie and dark shirt is the classic look. Add a rimmed hat, shiny black shoes and a large gun, either held or tucked into your waist band. Throw a cigar in your breast pocket for an added touch.
Historical Italian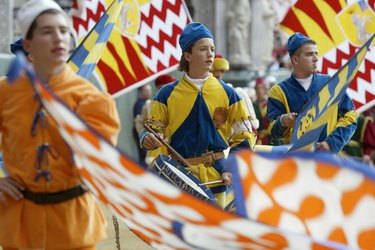 For a historical Italian maid, begin your homemade costume by finding either a long, ankle-length skirt or dress. If it is a skirt, then pair it with a matching, long, flowing sleeved shirt that tucks into the skirt. Tie a large, lacy or frilly apron around your waist. Wrap a shawl around your shoulders and secure by tying at the neck. Add some simple flat or low-heeled shoes and tie some red white and green ribbons in your hair.
Don't be afraid to use bright colors as well as to combine different colors. Carry a basket and tie a scarf around your head for added detail.
Cartoon Italian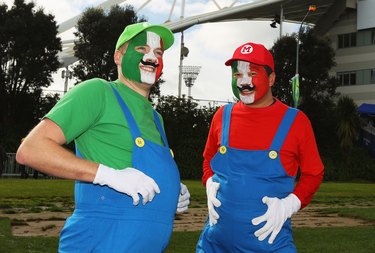 The game and cartoon hit Mario Brothers lends itself well to costume adaptation. For Mario, pair a long-sleeved red shirt with blue overalls and a red hat. Add some dark boots and a dark, bushy mustache-- and the costume is complete.
The Luigi costume is the same, except swap the red shirt and hat for a green shirt and hat. For an added vintage touch, carry some vintage Nintendo game controllers.