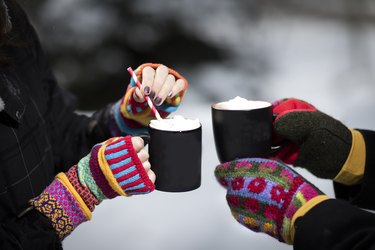 There's something sweet and comforting about handmade mittens. Maybe it's the effort that goes into making them or maybe it's their cozy look and feel. Whatever it is, we're here for it and want all the handmade mittens this winter season.
Mittens are gloves with two sections: one for the thumb and one for the rest of the fingers. Unlike gloves, which cover each finger individually, the thumb on mittens gets its own space so it can do its job of grasping and handling things while the rest of the fingers stay snug and warm together.
While you probably wore mittens as a kid, they aren't just for kids (although there's arguably nothing cuter than little hands inside a great pair of handmade mittens). Mittens are worn by kids and grown-ups alike— ones for grown-ups are just, you know, bigger.
What to Consider When Purchasing Handmade Mittens
‌Size:‌ Mittens come in all sizes, but handmade mittens can sometimes be limited to whatever sizes the designer chooses to make. You can find mittens that fit babies, toddlers, kids, women and men. We did our best to include handmade mittens that are available in a variety of sizes, but some are made specifically for tiny hands, medium hands or large hands.
‌Materials:‌ Handmade mittens can be made from a variety of materials, including wool, leather, cotton, sherpa, fleece, acrylic and other synthetic fabrics. Mittens with lining are going to be warmer than those without. Typically, the lining is made of fleece or sherpa and insulates the entire mitten all the way through the cuff. Some mittens are made with strings to use as a way to tie them together when they aren't being worn. Strings can be found on mittens of all sizes but come in handy the most with kids since they tend to have a hard time keeping their things together.
‌Design:‌ The great thing about handmade mittens is the variety of design options. You can find the perfect pair with the fabric you love, the stitching that works for you, the lining that provides enough warmth and the colors that speak to you the most. Some mittens cover the entire hand, including the fingers, while other convertible mittens switch to fingerless with a flap that pulls down.
‌Cost:‌ There can be a pretty big jump in price when it comes to handmade mittens depending on the materials used. If you're on a budget or don't want to spend too much, wool or fleece mittens tend to be less pricey but might not last as long, while genuine leather and sherpa mittens are typically more expensive and tend to be more durable.
Below you'll find a variety of handmade mittens for the whole family from designers on Etsy.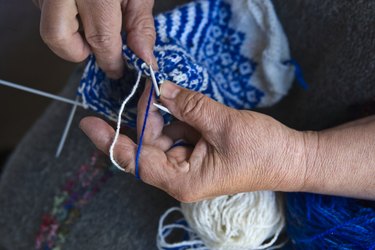 The Best Mittens for Women
If you're looking for super soft mittens that'll keep your hands warm in the winter months, these hand knit convertible mittens are a fantastic option. Not only are they soft to touch, they're fleece-lined for added warmth. They come in two sizes: one that fits most teens and adults with small- to medium-sized hands and one for 5- to 8-year-olds. There are several colors to choose from, each with their own unique design.
Made of 100% soft acrylic, these cable knit mittens are what mitten dreams are made of. The eco-friendly, high-quality yarn is thick and warm. Since they aren't lined with insulating material, these mittens are best for above freezing temperatures. The mittens are available in six colors: beige, blue, pink, yellow, white and green.
These handcrafted mittens aren't your typical mittens. Made from upcycled fur-lined leather scraps, the waterproof sheepskin exterior has a modern, yet rugged look while the interior's fur sherpa is incredibly soft and warm. They're designed to keep your hands warm even in subzero temperatures. The convertible mittens feature a fur-lined flip-top flap to give your fingertips access to your phone or whatever else you need to grab. There are six color options: camel, saddle, cream beige, linen, charcoal and eggplant.
Imagine the coziest blanket you've ever cuddled with—that's what these mittens feel like. They're made of soft sherpa polyester with a fleece inner lining. They're great for cold weather and for using your phone or doing work as they are convertible so you have access to your fingers. The mittens are available in ivory and dark camel.
These mittens are stylish and efficient. Made from soft, stretchy Italian Nappa leather with a warm fleece lining, the mittens will keep your hands warm while you walk your dog, get the mail, do outdoor work around your house or whatever else you need to do outside. There's an adjustable wrist strap to keep them secure and block out the cold. The mittens are available in brown or black.
Whether you're buying them as a gift or buying them for yourself, these fingerless mittens are great for anyone who tends to have cold hands but needs their fingers free to work on a computer, etc. The unisex mittens are made from high-quality Peruvian yarn and are designed for cool temperatures, but nothing below freezing. There are 20 colors to choose from.
A prerequisite for mittens is that they must be cozy. These mittens aren't just cozy — they're warm too. The convertible mittens are on the bulky side, which means more warmth, but a flap pulls back for finger access. They are made from 100% New Zealand sheep wool and are made to fit medium to large hands. The mittens come in three colors, and you have the choice of having a thumb hole for texting. They're designed in Colorado and handmade by artisans in Nepal in association with the Khumbu Foundation's project Empowering Women Entrepreneur Workshop (EW)² - All you knit is Love.
The Best Mittens for Kids and Toddlers
Your kids will absolutely love these adorable mittens with sweet hearts sewn right in. The mittens have strings attached, which is perfect for kids who tend to misplace gloves. That's all kids, right? Made from natural Latvian merino sheep wool, the mittens are available in four colors in 10 different sizes for kids ages 1 to 10.
When it comes to softness, you can't go wrong with cashmere and merino wool. These mittens are perfect for winter and will keep your little one's hands warm. The softness and design is great for kids who have sensory sensitivities. The mittens come in three colors and sizes for 1- to 3-year-olds and 3- to 6-year-olds.
Want to have matching mittens with your kiddos? These wool mittens with cotton flannel lining come in sizes for babies, toddlers, kids, teens, and grown-ups. Each mitten has a string attached to help them stay together when they aren't being worn. There are 18 colors to choose from.
It can be a huge challenge finding warm mittens for little kids that actually fit and aren't the absolute worst to put on. These fleece mittens are designed to fit children's hands. They're warm, washable and they have a generous thumb that makes them easy to get little fingers inside. The mittens come 12 colors and in sizes for babies (newborn to 12 months), toddlers (12 months to 4T) and kids (4T to 8T).