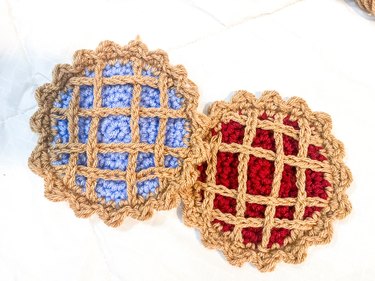 If you're an avid coffee or tea drinker, we already know your mug is within arm's reach—but do you have a coaster handy? No matter the season, crochet coasters make a fantastic addition to your collection of beverage accessories. The best part is that they're hugely versatile and easily DIYable by crafters of many skill levels, making them ideal options for housewarming gifts, homemade Christmas presents or just because. Enter: our pie-shaped crochet coasters!
Pies are a universal symbol of sweetness, and now they can make your desk or table cozier in the form of lightly absorbent coasters. Our easy crochet coaster pattern uses basic stitches, is completely beginner-friendly (though experienced crocheters will still have a blast following along) and provides a perfect opportunity to use up leftover scrap yarn from previous crochet projects. Our step-by-step tutorial highlights blueberry cream and cherry pies to create a classic and fun coaster set, but feel free to select different colors to suit your taste.
Let's get baking...err, crocheting!
Things You'll Need
Worsted weight acrylic yarn or cotton yarn in red, blue and beige

Tapestry needle


Scissors

4.0 mm crochet hook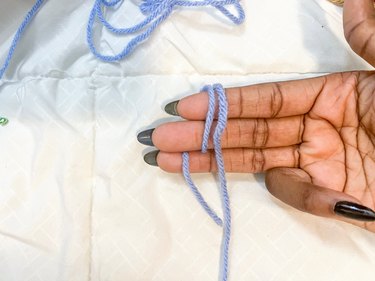 To begin, use worsted weight yarn to create a magic ring and chain 1.
There are multiple ways to start a magic ring, so if this is your first time making one or you are finding it difficult, chain 2 to start and connect with a slip stitch.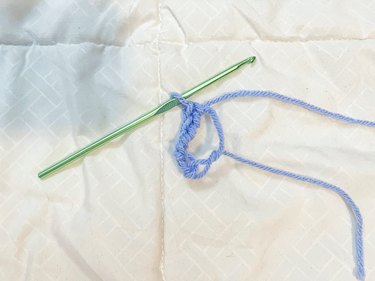 Crochet 5 single crochet inside magic circle.
Pull end of tail to gather magic ring so there's no hole in center of your pie. That's the "magic" part of the magic ring, but if you have a small hole, it won't be visible once you finish your coaster.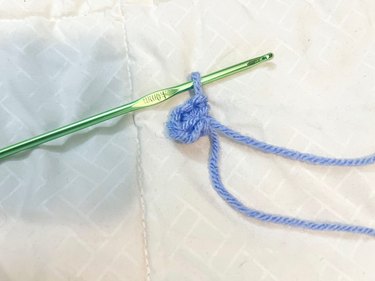 Single crochet 2 single crochet in 1 stitch from previous row all the way around. There should be 10 stitches total.
Single crochet 2 stitches in 1 plus 1 single crochet in next stitch. This row should have 15 stitches around.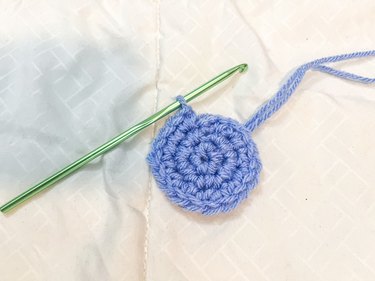 Single crochet 2 in 1 and then 2 single crochet in the next stitches. You should have 20 stitches.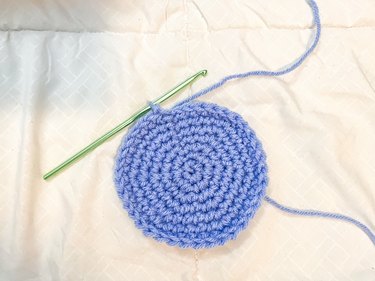 Single crochet all the way around. There should still be 20 stitches for each row.
Change colors to create your pie crust and then single crochet around.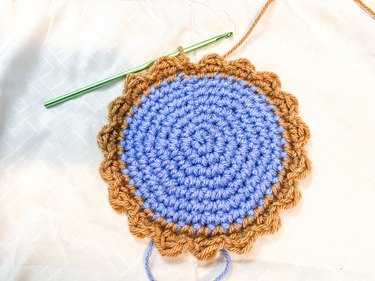 Chain 1, single crochet, double crochet, single crochet all in next stitch. Then, slip stitch into next stitch.
This is the pattern you will follow to make edges of pie crust all the way around. Cut a tail to weave in.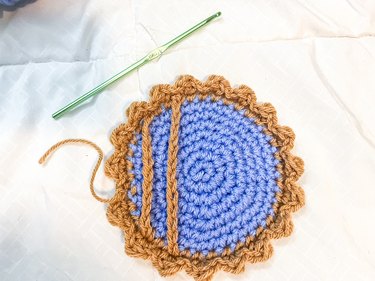 Next, you'll add a lattice effect to each crochet pie.
Connect yarn to one edge and make chains that will reach across to opposite edge of round coaster. Slip stitch to connect chain string to other side. Repeat chain stitches across in one direction.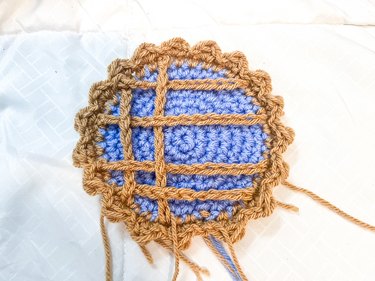 Attach chains in perpendicular direction, making sure to "weave" between horizontal chains before connecting them to opposite end.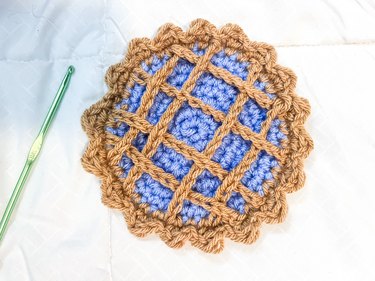 Voilá! Your pretty pie coasters are ready to be topped with piping hot mugs.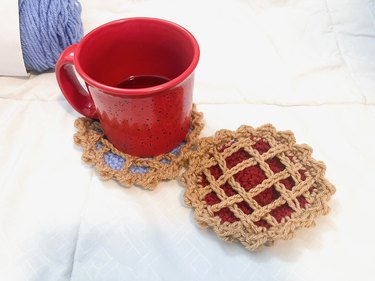 Fresh out of the oven! Homestyle country aesthetics meet cozy fall vibes with this DIY crochet coaster pattern—and now you'll have soft, adorable "pies" that double as home decor ‌and‌ protection against pesky stained rings on the coffee table. So sweet!