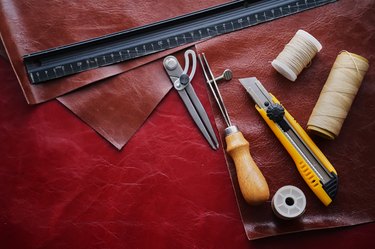 Sailors, cowboys, tailors and grandmas all love a good sewing awl. Whether you're mending a sail, stitching up a saddle, sewing a winter coat or scrapbooking your favorite memories, a stitching awl is an essential tool that belongs in every DIY or sewing tool box.
A sewing awl, sometimes called a stitching awl, tailor's awl, or a needle awl, works like a sewing machine but you manually create the lock stitches. They are used for punching holes in heavy duty cloth, leather, canvas, and creating strong, neat rows of stitching. Sewing awls have sharp needles with holes attached to a round wooden handle. Waxed thread is inserted into the eye of the needle and then punched through the heavy duty material. They are used for upholstery, leatherwork, bookmaking, scrapbooking, hand sewing heavy materials, camping equipment, bags, shoes, belts and sports equipment.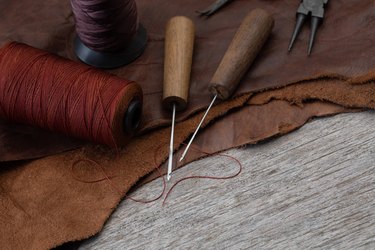 What to Consider When Purchasing a Sewing Awl
‌Type:‌ Before purchasing your sewing awl, determine what you will be creating or mending so you know what kind of stitching awl to buy.
‌Sewing Awl:‌ A sewing awl pierces and pulls threads through heavy duty fabrics to form lock stitches.
‌Ball Point Awl:‌ Ball point sewing awls have a ball point to push through and make a hole in the fabric by stretching the weave of the fabric and not breaking any threads.
‌Leather Awl:‌ Leather sewing awls will punch a hole in leather to allow hand sewing through the holes with a separate straight needle or a curved needle.
‌Diamond Awl:‌ Diamond awls create an X-shaped hole with no big holes but doesn't pull thread through. They are mostly used by saddle makers.
‌Curved Awl:‌ Curved awls have a very sharp edge and will mark and open holes on heavy fabrics like leather or canvas. They can also be used to untie threads and feed fabric through a sewing machine and for shaping curved edges.
‌Saddle Harness Awl:‌ A saddle harness awl creates holes on very thick leather.
‌Lacing Awl:‌ Lacing awls pull leather thongs through holes.
‌Collar Awl:‌ Collar awls create very large slit holes in heavy duty fabrics.
‌Scribe or Scratch Awl:‌ A scribe or scratch awl—sometimes called a general purpose awl—has a sharp point for marking on wood, metal, stone, ceramic or glass before hand cutting with a saw or chisel.
‌Needles:‌ Be sure to choose a sewing awl with high quality, strong and anti-rust needles. You can also save money by getting a stitching awl that has interchangeable needles. Some awls come with a curved needle and a straight needle with a space in the wooden handle for storage.
‌Handle:‌ Choose a sewing awl tool with a smooth, round, ergonomic and wooden handle that is able to withstand heavy pressure. If it is possible, test the wooden handle first to make sure you can wrap your fingers around it comfortably.
‌Thread:‌ Some sewing awls include high-tensile waxed thread.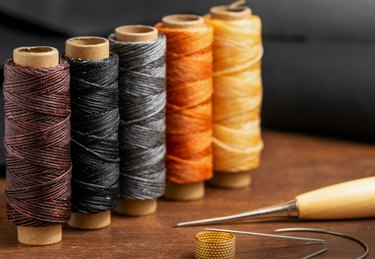 The Best Overall Sewing Awl
The Speedy Stitcher Sewing Awl is a sturdy and heavy duty American-made awl tool great for repairs at home, when camping, on the farm or while boating. The Silver Creek Leather Company has been around since 1909 and still manufactures the Speedy Stitcher Sewing Awl in its Southern Indiana facility. It includes the sewing awl, replaceable anti-rust straight needles and curved needles plus a small spool of waxed thread.
The ergonomic wooden handle ensures a comfortable and secure grip for all your heavy duty, hand sewing and lock stitch sewing needs. It is strong enough to sew through canvas tarps, leather projects, denim, belts, shoes, athletic equipment, saddles, camping gear and upholstery. Both professional leatherworkers and DIY sewing enthusiasts will appreciate this hand tool.
The Best Curved Sewing Awl
Tailors, quilters and seamstresses will love using the Clover 4880 Curved Sewing Awl to make sure seams are flipped when piecing quilts, to slightly stretch the fabric to make things line up perfectly, remove stitches or to ensure beautiful curves on pockets, cuffs and collars. You can even use this curved sewing awl as a stiletto to hold in a seam line while stitching-in-a-ditch. Getting under seams and stitches is easy with the special tip on the Clover sewing awl. The ergonomic handle is comfortable, non-slip and provides a solid grip.
The Best Ball Point Sewing Awl
Use the 4 3/4-inch Clover Ball Point Sewing Awl to guide piping as you sew along a quilt edge or slide the small tip under faux fur to free it from seams or use it to help guide fabrics along while piecing a quilt. The ball point tip on this sewing awl won't accidentally poke holes in fabric or snag decorative stitching. Use the ball point tip to safely separate threads when inserting stuffing or use it for setting safety eyes on stuffed animals.
The Speedy Stitcher Sewing Awl Kit comes complete with a high quality American-made sewing awl with a wooden handle, four diamond point straight needles, two curved needles and a spool with 180 yards of coarse waxed thread.
It's no wonder this kit is so well-loved for hand sewing lock stitches without a sewing machine. Horse lovers can carry the sewing awl kit with them for emergency repairs on saddles, harnesses, gloves and tack. Boaters can add this sewing awl to their emergency kit to fix sails or upholstery. Outdoor enthusiasts will love carrying this light weight sewing awl kit with them for that just-in-case repair on a backpack, tent or sleeping bag. Athletes and coaches can use the Speedy Stitcher Sewing Awl Kit to repair their athletic equipment by creating a tight lock stitch without the need for a bulky sewing machine. Leatherworkers will love this leather craft tool also, when working on all their leather goods.
The Best Leather Craft Sewing Awl
Leather working is a relatively low cost and fun hobby to make practical items like wallets and belts. With a bit of practice, you might even find yourself hand tooling some ornate artwork on saddles or on western bags. You can get started in leatherwork with the Owden Leather Craft Sewing Awl. It comes complete with four styles of interchangeable blades: one scratch awl blade, one lacing blade and two different sizes of sewing awl blades.The smooth ebony wooden handle has a locked vise and a brass ferrule, or metal cap.
The Best Scratch Awl Tool
The General Tools Scratch Awl Tool is great for DIYers, carpenters, leather crafters and artisans. It has a comfortable wooden handle and rust-resistant alloy steel awl needle which works well under high pressure and difficult workloads. Carpenters can create a shallow groove by dragging the sharp tip of the scratch awl along the grain, which lessens the chance of the handsaw or chisel slipping. It can also be used as an awl punch to mark the location of holes or a starting point for a drill bit. Leather crafters can use the General Scratch Awl Tool as a leather craft tool to easily pierce heavy duty leather goods and as a hole punch.