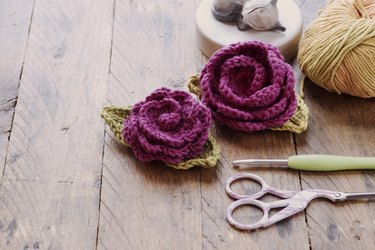 Just a quick word of warning before you start out on your crochet adventure—you are likely to get hooked on this inexpensive, rewarding and beautiful hobby very quickly. In a nutshell, crochet is the act of creating designs by knotting yarn with a hook. Sounds easy enough, and it is! You can start your beginner crochet journey armed with just a crochet hook and yarn to create many crochet projects like pillows, blankets, sweaters, scarves and hats. But once you start to develop your craft, you'll soon realize a few more crochet tools will be in order. We're here to help you navigate the world of essential crochet tools and guide you toward some quality tools to add to your crochet kit.
What to Consider When Purchasing Crochet Tools
As we mentioned earlier, you could get away with simply picking up a crochet hook and some yarn to get started on your crochet journey, but you'll soon find out there are more crochet tools needed to help you create beautiful crochet projects.
​Yarn:​ Yarn is definitely one of the most fun crochet tools you'll be purchasing. The wonderful world of yarn is a beautiful place to spend your time. There are so many gorgeous, soft, colorful yarn options available to brighten your mood and make this new hobby enjoyable. Yarn comes in different colors, fibers and weights:
The color options are virtually unlimited with hand-dyed and commercially-dyed yarn.
You will have no trouble finding the perfect fiber for your crochet project with so many fiber choices available like wool, mohair, cotton, cashmere, angora, alpaca, rayon, nylon, polyester and acrylic.
Yarn comes in various thicknesses or weights, too. It is rated from lightest weight to heaviest: lace (0), superfine (1), fine (2), DK light (3), medium or worsted (4), bulky (5), super bulky (6), and jumbo (7). Worsted weight yarns will work up fast and are an inexpensive yarn for a beginner crochet project.
​Hooks:​ Crochet hooks come in 30 different sizes ranging from a small C hook to a K/6.5 millimeter hook. Crochet hooks are also made from different materials. There are aluminum, plastic, handcrafted wooden or polymer, bamboo and ergonomic hooks. Ergonomic hooks have a soft easy-to-grip handle that creates less stress on your hands while working.
​Scissors:​ Scissors are used to cut the yarn when changing colors or weaving in yarn ends. A small but pretty and sharp pair of scissors reserved strictly for your crochet projects is a good investment.
​Yarn Needle:​ A yarn needle, also called a darning needle or a tapestry needle, is a blunt tool that comes in plastic or steel. It is larger than a regular needle with a giant eye for yarn to fit through and a rounded tip. A yarn needle is used to weave in the ends of a project and to sew work together.
​Flexible Tape Measure:​ A tape measure is used to check the gauge and proper size of a crochet project. A flexible measuring tape is best for measuring round and straight projects. If crocheting garments, a flexible tape measure will also come in handy when gathering body measurements.
​Crochet Hook Case:​ A crochet hook case will keep all your hooks in order and make it easy to access the various hook sizes. It's nice to keep all of your crochet supplies together in one place especially if you plan to take your crochet projects with you while you travel.
​Stitch Markers:​ Stitch markers are used to keep track of rows, starting and ending stitches, stitch patterns, mark buttons, and the first stitch when crocheting in the round. If you are crocheting garments, stitch markers will also hold the panels together while you sew. Locking stitch markers won't fall out and can be easily removed.
​Yarn Winder:​ A yarn winder conveniently turns store-bought skeins or hand-dyed hanks into yarn balls that won't snag or tangle. A yarn winder would make a great gift for a loved one who is just starting their crochet journey.
​Blocking Mat:​ A blocking mat is made from dense, durable, interlocking foam squares. It helps to shape your crochet project and give it a professional, finishing touch. Quite often when we crochet, our stitches are a little too loose or a little too tight, so blocking will help to correct uneven stitches. To use the blocking mat, you simply dampen the finished crochet project and pin it to the blocking mat in the desired shape. As your crochet project dries, it will hold its shape.
​Yarn Bowl:​ A yarn bowl neatly dispenses your yarn and keeps yarn balls from dropping and rolling across the floor. Nobody has time for rolling balls of yarn! You can keep your yarn in one spot and keep it free of tangles and snags in a yarn bowl. There are many beautifully handcrafted yarn bowls made from wood, glass or clay. You can also purchase commercially manufactured bowls made of plastic. A yarn bowl would be another great gift for someone just starting out on their crochet journey.
​Digital Row Counter:​ Crocheting consists of following a pattern, counting and repetition. To save time and keep track of your rows and patterns, click a digital row counter each time a row is finished. A digital row counter is especially nice when working on larger crochet projects like a blanket.
​Project Bag:​ A project bag can be anything large enough to store your yarn, crochet tools and your current crochet project. Something with a handle that you can grab easily when heading out the door is perfect. It could be a tote bag you already have or you could purchase a special one just for all your crochet items. Why not make the most out of your time riding in the passenger seat or waiting for an appointment by bringing your crochet supplies with you wherever you go in a fun project bag?
​Crochet Books:​ A good crochet book will fill you with inspiration and help to expand your knowledge of beginner crochet stitches and techniques. Crochet books usually have definitions of crochet stitches, crochet patterns and crochet project tutorials.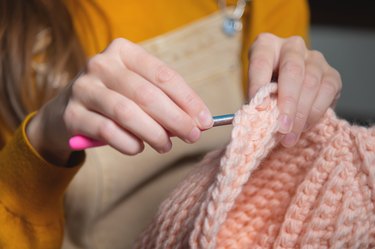 The Best Ergonomic Crochet Hooks
Boye 12-Pack Ergonomic Crochet Hooks
These Boye ergonomic crochet hooks have soft-grip handles and aluminum hooks. This set of twelve crochet hooks includes various sizes and is a good purchase to kickstart your crochet journey. You're sure to find the perfect size crochet hook to match just about any crochet project you would like to create. This package of crochet hooks contains 12 different sizes: B/2.25 millimeters, C/2.75 millimeters, D/3.13 millimeters, E/3.5 millimeters, F3.75 millimeters, G/4.25 millimeters, H/5 millimeters, I/5.25 millimeters, J/5.75 millimeters, K/6.5 millimeters, L/8 millimeters and N/10 millimeters.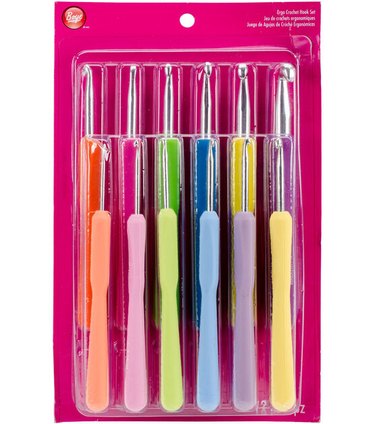 Feathered Friends Embroidery Scissors
Why not invest in a beautiful pair of sharp scissors to throw in your essential crochet tool bag? This gorgeous pair of scissors from Never Knot Knitting on Etsy is made of high-quality stainless steel with sharp points for cutting yarn and trimming. The charming engraved birds and intricate floral details are sure to bring a smile to your face each time you snip a tail or trim an end. You can get these delightful scissors in an antique gold or antique copper finish. Perhaps you'll love them so much that you'll want to purchase a second pair for your favorite crochet buddy as a special gift.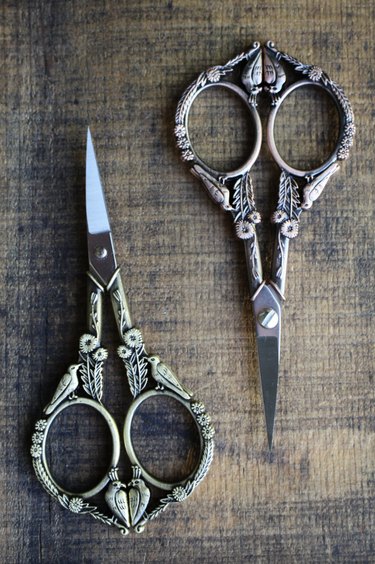 TureClos Large Eye Yarn Needles, 9-Count
These large eye, blunt tip, stainless steel yarn needles are just right for sewing up seams or tucking in yarn ends on all of your crochet projects. This set comes with nine tapestry needles in a lidded glass tube to keep your yarn needles safe and well-organized. Each needle is approximately 4.1 inches long and 0.4 inches wide. The eyes are large enough for people with poor eyesight or minor hand tremors to use, which is an added bonus.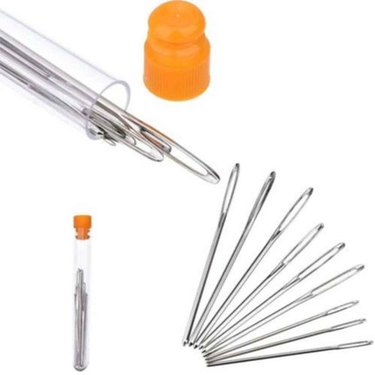 The Best Crochet Hook Case
Bee Print Crochet Hook Holder
This handmade crochet hook case is made from burlap and natural cotton canvas with an engaging honey bee design. Keep all of your crochet hooks as well as your scissors and yarn needles safe and organized in this beautifully crafted fabric crochet hook case. Just slip your crochet tools into the two rows of 20 pockets, roll it up, and fasten it with the sturdy leather strap. Choose the correct case for your crochet supplies by measuring the tallest crochet hook you have. This case comes in six different heights: 8-inch, 10-inch, 12-inch, 14-inch, 16-inch and 18-inch. Not only will your needles be beautifully organized, but you'll be supporting other DIY lovers as well.
Ceramiquecote Sheep Yarn Bowl
OK, seriously, what could be more appropriate and entertaining than a handmade ceramic sheep yarn bowl to keep your yarn untangled and safe? This wonderfully engaging yarn bowl would not only look great in your craft area but it would also make a wonderful gift for a special crochet buddy. It is 5 inches wide and 4 inches tall and made with a low-fire casting slip, then specially animated and painted by the artist herself. Keep your yarn accessible and support a handcrafting artist at the same time! That's a win, win in our book.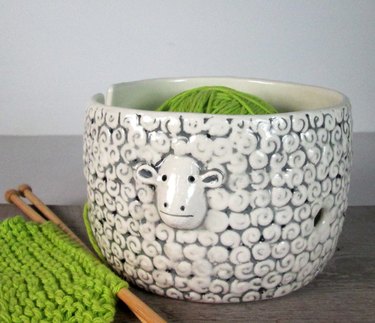 "Crochet Stitch Dictionary" by Sarah Hazell
This book will definitely become one of your favorite go-to crochet books. The "Crochet Stitch Dictionary" teaches you 200 essential crochet stitches with step-by-step photo tutorials. Master the waffle, silt, arcade, chevron, blossom, and herringbone half double stitch, just to name a few. There are 10 color-coded stitch sections: Basic Stitches, Fans & Shells, Bobbles & Clusters, Spike Stitches, Post Stitches, Mesh & Filet, Cable Stitches, Tunisian Stitches, and more. Get inspired with the colorful sampler pages at the beginning of each section. We're going to bet that "Crochet Stitch Dictionary" will become one of your new best friends on your crochet journey.