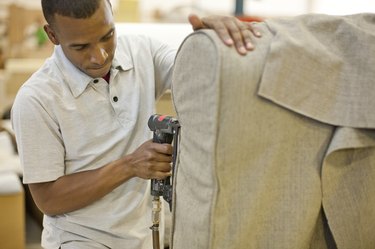 It happens to all of us. One day, that well-loved and comfy piece of furniture that we've enjoyed for years becomes too tattered to keep in our living space. Fortunately, you don't have to send it off to the dump quite yet. Instead, reupholster that favorite cozy piece and enjoy it for many more years. Upholstery is one of those home improvement DIY projects that almost anyone can do. You just need a good upholstery staple gun to make the job more efficient and frustration free.
Upholstery staple guns are used when a nail gun would be too much and when the materials you're working with are prone to splitting. In addition to upholstery, this device can also be used when decorating for holidays, installing delicate moldings, stretching canvases and laying carpets.
In order to determine which is the best staple guns for upholstery, we've compiled some information you'll need top help you choose the right upholstery stapler.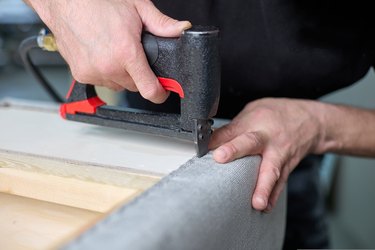 What to Consider Before Purchasing an Upholstery Staple Gun
Whether you self-describe as a DIYer and plan on a few small upholstery projects, or are an experienced professional, there a few things to consider before investing your hard-earned cash and determining the best staple gun for upholstery.
‌Manual Staple Gun:‌ A manual staple gun is the most common type of staple gun that is used on small projects like minor home improvement, DIY projects, hanging exterior decorations or precision woodworking projects. A manual stapler is a hand held, spring loaded, affordable, and portable type of staple gun option. More physical force is required to drive the staples in, so a manual staple gun can be hard on palms and hands. It's not the best for heavy-duty projects, and a manual staple gun has a lower capacity for holding the fasteners, so reloading staples will need to happen more frequently, which increases time and effort required for projects.
‌Electric Staple Gun:‌ Electric staple guns are stronger and more efficient than a manual staple gun but require a power source or a battery. Some electric staplers are cordless, while others have a cord to plug in while using. Powered staplers are trigger operated so less arm strength is required. You'll need to invest more money to buy an electric staple gun than a manual staple gun, but the investment will not be as much as buying a pneumatic stapler. This type of staple gun won't fit into tight spots very easily, but they're great when installing flooring, carpets, screens or upholstery projects that require a lot of staples.
‌Pneumatic Upholstery Staple Gun:‌ A pneumatic stapler gun uses an air compressor to fire heavy gauge staples. It is the most powerful staple gun option and is a must for professional contractors that need a heavy duty staple gun for massive amounts of stapling without exerting tremendous effort. A pneumatic staple gun is the most expensive but most durable stapler gun for carpentry projects. This type of staple gun is used on construction sites for framing and molding, for large upholstery projects and stapling into heavy duty materials.
‌Durability:‌ If your upholstery staple gun is going to get heavy duty use, a die-cast aluminum body will serve you best. No matter what the size of your upholstery project, you'll want to invest in a quality upholstery stapler.
‌Staples:‌ Staple thickness is measured in gauge. The lower the staple gauge number the thicker the staple. Upholstery usually uses a 22-gauge staple. A D-type staple holds things together, a U-type staple holds down cords or wiring and finally T-type staples penetrate deeply into hardwood and hold things together. Brad nails are used for in a nail gun or brad nailer for carpentry. Big projects need speed, accuracy and the ability to fire lots of staples without the need to reload often. To save time and effort, make sure the area that holds the fasteners—or bottom loading magazine—is large and holds a significant amount of staples.
‌Comfort:‌ Choose a heavy duty staple gun that fits your hand with an ergonomic handle. If your hand is small some types of staple guns have lever style triggers that work by pushing your body weight against it.
‌Power:‌ It's worth it to invest in the most powerful upholstery stapler that you can afford. More power means clean staple insertion. Clean staple insertion into hardwoods means you won't have to take the extra time and effort to manually hammer in the staples which could cause damage.
‌Safety Features:‌ As with all power tools, upholstery staple guns produce lots of force and power. Misfires can be deadly if the power stapler isn't used correctly. A rubber grip handle will prevent the stapler from slipping and firing staples into the wrong place. To prevent staples from firing when not in use or when stored, make sure the staple gun includes a safety lock on the handle. A long nose extension allows you to get into tight areas and be more accurate when using the upholstery staple gun.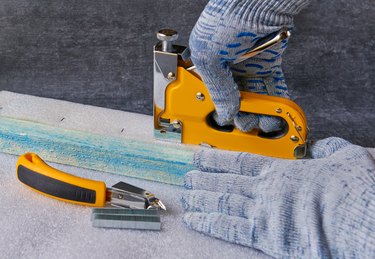 The Best Manual Staple Gun for Upholstery
The Stanley TR110 Heavy Duty Staple Gun is an affordable, well-built stapler. It is made from strong and sturdy Alloy Steel yet lightweight (0.75 pounds) it is an easy to handle squeeze trigger tool just right for stretching canvases, hanging insulation, stringing holiday lights or upholstering dining room chairs. Since it is a manual staple gun, there is no need to be close to a power source or a costly air compressor. The Stanley Heavy Duty Staple Gun has a safety handle lock and an easy-to-load bottom loading magazine to make loading fasteners a breeze. It also comes complete with a box of T-50 heavy duty staples and since it is a Stanley stapler, replacement fasteners will be easy to find.
The Best Cordless Stapler
Although a bit more pricey than a manual stapler, avid DIYers should definitely consider adding the Porter-Cable Cordless Brad Nailer to their toolbox. It can be used as an upholstery staple gun and so much more. It's great for upholstery, wood working, DIY projects, as well as home improvement projects like installing trims and baseboards.
This portable brad nailer works on 100% battery power that will last all day on one charge. There's no need to lug around a bulky air compressor and hoses when working on your home improvement projects. Even though it is a bit heavier than the Stanley manual stapler, at 5.9 pounds it is still manageable. One lithium ion battery is included with the Porter-Cable stapler that will shoot 1,300 nails in one charge. The battery charger is small and easy to pack. As if all of this isn't enough, it also comes with a 3 year warranty.
The Best Pneumatic Stapler
The Bostitch Crown Stapler is an easy-to-load, well-balanced, air-powered and comfortable trigger stapler for use in upholstery, finish work, installing trim and constructing cabinetry. At 3.3 pounds, it is a lightweight industrial design option for large and small DIY projects. It drives in narrow crown staples from 1/2-inch to 1 1/2-inches in length and countersinking adjustments can be easily made. The air release is back near the hose connection so you won't get a blast of sawdust filled air sprayed directly into your face as you use it. When the staples run out the stapler will automatically stop so you won't have to backtrack and find the blank holes. To top it all off, the Bostitch Crown Stapler comes with a 7 year limited warranty and a carrying case.
The Most Affordable Pneumatic Stapler for Upholstery and DIY Projects
The affordable Surebonder Pneumatic Stapler is air-operated so an air compressor is needed. This stapler has a safety mechanism to prevent accidental firing, an adjustable air exhaust, an ergonomic rubber handle and a quick release 100-staple magazine for an easy reload. It uses narrow crown, 18-gauge staples from 1/4-inch to 9/16-inches in length. Because of the Surebonder's ease of use, speed and power it has endless DIY project applications such as upholstery, attaching cabinet backs, making picture frames, repairing small furniture, woodworking, home improvement and craft projects. It comes with a high impact carrying case and at a lightweight 3.21 pounds, you can carry it with you to complete all of your DIY projects.