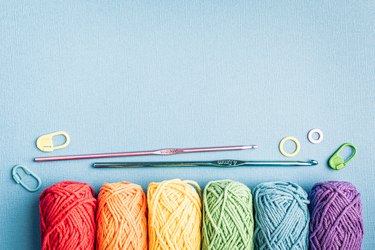 One of the reasons why we love crochet is that it doesn't require a lot of supplies—all you really need is some yarn, a hook, and maybe a tapestry needle (although, you can get by without one). That being said, whether you're a new crocheter or an experienced fiber artist, there are some additional craft tools that can make your process more efficient and take your projects to the next level.
From tension rings that double as everyday accessories to a genius yarn feeder that prevents skeins from tangling and rolling all over the floor, we scoured the internet for the best crochet supplies. Find our favorite crochet supplies, plus some advice on what to consider when shopping for crochet tools to help you on your crochet journey, ahead.
What to Consider When Shopping for Crochet Tools
‌Skill Level:‌ When shopping for crochet supplies beyond the essential crochet tools—e.g. yarn, a hook, and a darning needle—it's important to consider your skill level. Whether you want to improve your tension with a tension ring or often lose track of stitches and need a way to keep track through a digital counter, additional crochet craft supplies can help you elevate your work no matter what your skill level may be. With that being said, both beginners and more advanced crocheters alike can benefit from investing in certain additional tools, such as stitch markers, a blocking board (for granny square projects), and a gauge tool.
‌Organization:‌ For the most part, crochet projects don't require a ton of organization, however, it is something worth considering when shopping for additional craft supplies for your hobby. When it comes to your crochet hooks, you can keep all of your size options together in an organized manner with a carrying case such as the Sadies Home Celestial Suns Crochet Hook Roll, which holds hooks, scissor snips, darning needles and more. Preventing yarn tangles with a yarn feeder—like the SpinnKnitty Yarn Station—is another way to add an organized touch to your crochet practice, especially if you're concerned about your skeins falling apart or getting tangled.
‌Price:‌ The price of additional crochet supplies is also important to consider. Since all you really need to finish a project is a hook, some yarn and a darning needle, you don't need to spend too much money on additional supplies. However, some tools can elevate your project and your skillset to new heights. If you're new to crochet, it's worth learning with basic supplies and then evaluating what you need from there. For example, some crafters will benefit greatly from a crochet tension ring—such as the Seashell Crafter Swirl Crochet Tension Ring—while others might prefer to work without it. And, those who love to make granny square crochet projects might prefer to make them without any assistance, while others can ensure straighter edges with a granny square board like the Olikraft Handcrafted Wooden Blocking Board.
‌Crochet Projects:‌ The types of crochet projects you work on are also important to consider when shopping for additional crochet supplies. For most projects—whether it be a series of simple scarves or more intricate crochet patterns—tools such as a tension ring or stitch counter (like the Handsome Fibers Knitters Price Black Row Counter Ring or Lalylala Digital Row Counter) are a nice way to elevate your skills and ensure the right tension or keep track of your stitches. However, you only need a blocking board such as the Olikraft Handcrafted Wooden Blocking Board for granny square projects. If you're shopping for crochet kits, it also helps to look at the included supplies to see if you need anything additional, including crochet hooks, yarn, and other supplies like sewing needles and stitch markers.
‌Types of Yarn:‌ It's also important to consider the types of yarn you work with, especially if you're looking at what crochet hook sizes to purchase. From wool and acrylic to chunky and lightweight, consider the material and size of the yarn, plus the recommended crochet hook size on the packaging when shopping for crochet accessories. If you're following a crochet pattern or tutorial, check to make sure you're using the recommended types of yarn (including yarn size) when shopping for your crochet project.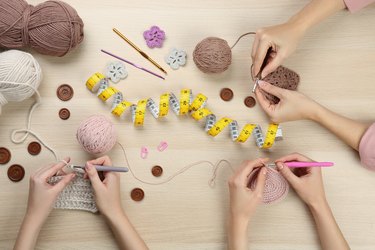 1. Olikraft Handcrafted Wooden Blocking Board
If you love a granny square crochet project, then you need blocking mats—AKA a blocking board—in your crafting arsenal. The Olikraft Handcrafted Wooden Blocking Board from Amazon is constructed from high-quality wood with a pegboard-like surface and stainless steel dowels to keep granny squares straight. The board comes in two sizes—8 inches and 11 inches—so you can choose which option best fits your crochet needs.
2. Yarniss Lighted Crochet Hooks Set
Whether you work with dark-colored wool or need a bit more light to see what you're doing, a set of light-up crochet hooks is a total game changer. The Yarniss Lighted Crochet Hooks Set comes with 9 hooks in different sizes ranging from 2.5 to 6.5, a rechargeable light-up ergonomic base, a set of stitch markers and a carrying case to keep everything organized.
3. seashellcrafter Swirl Crochet Tension Ring
Tension rings are fun accessories for crocheters because they not only serve as a stylish accessory but also as a functional tool to assist with stitching tension. The Seashell Crafter Swirl Crochet Tension Ring is constructed from aluminum wire and comes in 20 different colors, including gold and silver to match your ring stack. The ring is handmade and features a swirling design that allows for yarn to glide through it with ease and, of course, the perfect tension.
4. lalylala Digital Row Counter
Another way to take your crochet habit to new levels is by utilizing a digital row counter. The Lalylala Digital Row Counter comes in 14 colors and is designed to help you keep track of your project's rows with the ability to count from 0 to 99999. Like a small watch for your finger, you can keep the crochet gadget close while working away without losing count.
5. SadiesHome Celestial Suns Crochet Hook Roll
If you crochet a lot, you have probably built up quite the collection of crochet hooks, snips, needles and other tools. To keep everything organized together, invest in a carrying case such as the Sadies Home Celestial Suns Crochet Hook Roll. This handmade crochet hook case is constructed from a stunning blue fabric with celestial details and features eight slim pockets plus one wider pocket for all your organizing needs.
6. HandsomeFibers Knitters Price Black Row Counter Ring
If you don't want to fuss with a digital row counter, this ring from Etsy is the next best thing. The ring comes in sizes 7 through 12 so you can find the perfect fit for your index finger or thumb and is constructed from high-quality hypoallergenic stainless steel. It fits comfortably around the finger and is designed to rotate manually with every finished row.
7. SpinnKnitty Yarn Station
One of the trickiest things about crochet—and all yarn crafts in general—is how easily your skeins can get tangled, which not only takes time to sort out but can also mess with your tension. To keep your skein organized, consider the SpinnKnitty Yarn Station, which is specifically designed to keep yarn in one place for easy unraveling as you work through your project. The yarn feeders sort of resemble a paper towel holder and rotates for improved tension, too.
Whether you're a beginner or an experienced crocheter, locking stitch markers are a must-have. While you can get by with things like safety pins or even bobby pins, the SUZUYO Stitch Markers are a cheap way to elevate your project and make it easier to keep track of your stitches and design. We love these stitch markers because they are made from durable plastic, have a locking mechanism so they stay in place, and come in an organized case so you can keep everything together with ease.
9. SylvieDameyCrochet Multi-Function Sheep Tool
The Sylvie Damey Crochet Multi-Function Sheep Tool is another craft supply that all crocheters need in their arsenal. This tool—which resembles a ruler—is a multi-purpose tool that can be used in place of measuring tape as well as to check your gauge and crochet hook size. It also features a safe slit yarn cutter, eliminating the need for a pair of scissors. Plus, its adorable sheep design makes it the best crochet gift for those crafty people in your life.