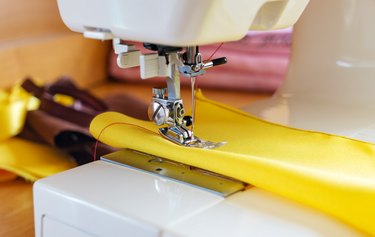 To create those beautiful evenly stitched seams, hems and bindings when sewing, you need the right tool for the job. Using the right presser foot will help you sew straighter, faster and make sewing seem almost effortless. A presser foot applies pressure and holds the fabric flat as it is fed through the sewing machine feed dogs while it stitches. The right presser foot will help you achieve precise stitching, zipper installation and smooth straight stitches. Most sewing machines include a standard presser foot, a zipper foot, a teflon foot and occasionally a blind hem foot and a button hole foot. Basic presser feet work great when you are first learning to sew but we think you'll be pleasantly surprised how using specialty feet will bring your sewing up a notch. We're here to help you maneuver your way through the world of presser feet so you can be sewing next level projects.
What to Consider When Purchasing Sewing Machine Feet
‌Low Shank Sewing Machine:‌ A low shank sewing machine measures less than a half inch from the bottom of the presser foot to the center of the screw. This is important to know so you can choose the correct presser foot for your machine.
‌Snap On Presser Foot:‌ A snap on presser foot has a release lever on the back of the shank used to pop off the foot and pop on a different presser foot.
Now let's take a look at the different presser feet available and the purpose for each of the different presser feet.
‌Standard Presser Foot:‌ The standard presser foot is also called a universal foot, a general purpose foot, a straight stitching foot or a multi-purpose foot. It is the most important presser foot that you will use for most of your sewing projects. You can use the standard presser foot to do straight stitching, zig zag stitching, ruffling, basting, forward and backward stitches, some quilting, topstitching, bias tape and even some buttonholes.
‌Zipper Foot:‌ The zipper foot is used to install zippers and make cording or piping. It holds the zipper in place while it sews it onto the fabric and you can sew very close to the zipper teeth or the bulky edges of cording or piping. A zipper foot is usually adjustable so you can sew either to the left or the right of the sewing machine needle. If you are sewing an invisible zipper you'll need an invisible zipper foot which has grooves on the bottom of the foot made specifically to allow the coils on the invisible zipper slide through smoothly while you sew.
‌Blind Hem Foot:‌ The blind hem foot has a metal guide for stitching accurate and invisible blind hems. It creates a blind stitch which is a finished look on both sides by catching just a few threads on the outside of the fabric and creates long stitches on the inside where it doesn't show.
‌Teflon Foot:‌ A teflon foot is a non-stick foot that glides over fabrics like Lycra, vinyl, leather, oil cloth and laminate. It can be used as a standard presser foot also. It is usually made of plastic with a special coating to allow fabric to pass smoothly under the foot.
‌Rolled Hemming Foot:‌ This foot is sometimes referred to as a hemmer foot or the rolled hem foot. A rolled hemming foot is used to create very narrow rolled hems on fine or sheer fabric. It has a curved front edge that will turn and sew the hem at the same time.
‌Gathering Foot:‌ The gathering foot gathers light thin fabric as you sew. You can gather and join at the same time when using a gathering foot.
‌Ruffler Foot:‌ A ruffler foot is similar to a gathering foot except you use it when gathering or making pleats on heavier fabrics.
‌Overlock Foot:‌ The overlock foot is sometimes called an over edge foot. It will bind the edge of knits and woven fabrics neatly by creating an over lock edge. It is similar to a serger stitch but it doesn't cut the raw edge like a serger does.
‌Buttonhole Foot:‌ The button you are using is inserted directly into the buttonhole foot to automatically sew the buttonhole to the correct length and create smooth professional looking buttonholes.
‌Quarter Inch Seam Foot:‌ This is also called a quilting foot. You use this presser foot to create perfect quarter inch seams. It is used when sewing anything that might need precise small straight seams: Piecing quilts, making doll clothes, bias tape and topstitching.
‌Walking Foot:‌ A walking foot is used when sewing several layers of fabric at once, especially when the fabrics are different weights or when you are sewing with batting. The walking foot helps to keep the fabrics from shifting as you sew layers together. Use a walking foot when sewing handbags, pot holders, slippery or thick fabrics and when quilting. The walking foot walks over the fabric and creates an even feed by picking itself up as it stitches so it doesn't drag the fabric along.
‌Cording Foot:‌ You will also hear this called a piping foot. Use a cording foot to professionally and neatly add piping or cording to sewing projects. The cording foot has a groove in the bottom of the foot to feed the piping through while—at the same time—stitching as close to the cording as possible.
‌Darning Foot:‌ The darning foot is also referred to as an embroidery foot or a free motion foot. This foot allows fabric to pass under the needle freely and create decorative stitches.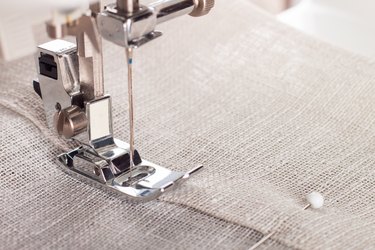 The Singer walking foot will fit Singer C1, C2, C3, C4 M1, M2 and M3 series. It will also fit on any low shank sewing machine like Brother Janome and Juki. The walking foot is sometimes called an even feed foot because it has its own set of feed dogs that work with the sewing machine feed dogs to feed the fabric through evenly while stitching. The Singer walking foot will keep layers of fabric from shifting while you sew, making it great for quilting, matching plaids or stripes and when sewing material with a nap or a pile.
This ruffler foot is made by Singer but it can also be used on any low-shank sewing machines such as Babylock, Bernina, Brother, Elna, Euro-Pro, Husqvarna, Janome, Viking, Juki, Kenmore, Necchi, New Home, Pfaff, Simplicity and White. It will create effortless uniform pleats and gathered ruffles on heavy fabric. The Singer ruffler foot will allow you to simultaneously create pleats and ruffles and stitch them to your sewing project at the same time. The adjustable screw will determine how much material is fed through your sewing machine and you can set it to different intervals for consistent pleats. This ruffler foot measures 6.5 inches wide, 4.25 inches tall and 8.5 inches in length.
This foot will give you better visibility during all of your free-motion quilting, embroidery and monogram sewing projects. It has a closed toe that will keep threads from getting caught in the foot while sewing. You can use the Singer darning foot to free-motion quilt on any low-shank sewing machine as long as the machine has the ability to disengage the feed dogs.
The Best Overlock Presser Foot
Mimic an overlocked serged edge when using the Dreamstitch over casting presser foot. Use this presser foot to lock threads around the raw edge to keep the raw edge from fraying. It is compatible with Babylock, Bernina, Elna, Euro-Pro, Janome, Juki, Kenmore and Brother sewing machines.
The Best Cording Presser Foot
Although small and inexpensive, the Yequin cording presser foot is mighty when adding piping or cording to pillows, quilts and garments. Use the Yequin cording presser foot to help you sew close to the cording for a professional and crisp finish. This presser foot will work with all low-shank Singer, Brother, Babylock, Euro-Pro, Janome, Kenmore, White, Juki, New Home, Simplicity, Necchi and Elna sewing machines.