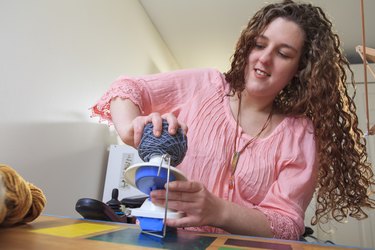 What do exercise, yoga, meditation, sewing, crafting, knitting and crocheting all have in common? Believe it or not, it's stress relief. Knitting and crocheting can help you achieve your physical and mental health goals. The repetitive movements of crocheting and knitting can calm the brain, as well as keep cognitive functions running smoothly. Crocheting and knitting have been connected with building self esteem, relieving anxiety and depression, postponing dementia, helping insomnia and even increasing happiness. So what's stopping us? Let's get our knitting and crocheting hats on.
To get started, what you'll need to do is wind yarn from the skeins or hanks into more manageable center pull yarn balls or a yarn cake. A yarn cake is a flat-sitting, easy-to-store, center-pull ball of yarn that won't tangle or roll around as you knit or crochet. It is possible to wrap yarn into a ball by hand, but it can be time-consuming, and the ends of the yarn can become a tangled mess. To get a yarn cake with a flat bottom, you will need to use a yarn ball winder. A yarn ball winder—or wool winder, as it is sometimes called—will save you loads of time and frustration when winding skeins or hanks into more manageable yarn cakes.
What to Consider When Purchasing a Yarn Ball Winder
‌Type:‌ There are several different types of yarn ball winders that are available:
‌Basic Manual Winder:‌ A basic manual wool winder is easy to set up. You basically clamp it to a tabletop or counter and you wind yarn using a hand crank to create the yarn cake. The hand-operated yarn ball winder is usually budget friendly and portable. These come in several different sizes depending on how much yarn you wish to wind.
‌Electric Winder:‌ An electric yarn ball winder is usually more expensive, but if you have baskets of yarn skeins to wind, a faster electric yarn winder will become your new best friend. You can also get electric yarn winders in various sizes from small to jumbo to heavy duty. You will want to choose one that spins easily and can be adjusted for both speed and tension.
‌Portable Winder:‌ Portable yarn ball winders are a smaller hand-held version of a manual wool winder. These are held in one hand and can be easily carried in a crochet tote or yarn bag.

‌Durability:‌ Determine how often you'll be using your yarn ball winder to decide whether you'd like a plastic or wooden wool winder. You will also want to make sure it has a decent grip, table protection and gear safeguards.
‌Plastic Winders:‌ Plastic wool winders are an affordable option for occasional yarn winding when a heavy duty model isn't needed.
‌Wooden Winders:‌ Wooden yarn ball winders are a more expensive but a more beautiful and sturdier option, especially if you'll be using your wool winder often.
‌Size:‌ Smaller yarn ball winders can hold 3 to 4 ounces of yarn. Larger wool winders can hold 16 to 20 ounces of yarn.
‌Yarn:‌ Yarn typically comes in two types when purchased: hanks and skeins. You will need to wind the yarn into a yarn cake before knitting or crocheting so you don't end up with a tangled mess.
‌Hanks:‌ Hanks of yarn are wound into a large circle, then folded. Hand-dyed specialty yarns are available in hanks.
‌Skeins:‌ Most commercially produced skeins of yarn are wrapped in a loose twist. They say you can find the center piece of yarn in a skein and start to knit or crochet directly from the skein, but it will usually end up in a tangled up mess.
‌Budget:‌ Most wool winders will range in price from $30 to $120. The frequency of use and type of yarn will determine how much to invest when purchasing the best yarn winder for your needs.
‌Yarn Swift:‌ A yarn swift is an accessory knitters and crocheters will need to support the yarn while winding. Just unfurl the skein or the hank into one big loop, place it on the yarn swift and wind away. The yarn swift will keep the yarn from tangling while using the wool winder. Many yarn swifts are made in an umbrella style that will fold up for easy storage.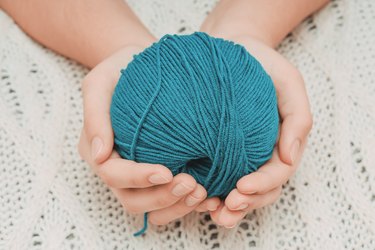 The Best Portable, Hand-Held Yarn Ball Winder
The Knitter's Pride lightweight and portable wooden yarn winder is made from polished laminated birch wood. It is 12 inches long and has a comfortable 4-inch circumference. There are grooves in the handle for an ergonomic grip while winding skeins and hanks of yarn into flat-bottomed, center-pull yarn cakes.
The Best Plastic Hand-Operated Yarn Ball Winder
For an affordable, easy-to-set-up and small plastic yarn ball winder, the Knit Picks Yarn Ball Winder is just right for a beginner or someone who doesn't crochet very often. The wool winder measures 5.8 inches long by 5 inches wide by 6 inches tall. You can spin a center-pull yarn cake up to 4 ounces. All you need to do is clamp it to any table top up to 1 1/2 inches thick, thread the end of the yarn skein through the yarn guide, secure the end in the spindle notch and start spinning.
The Best Wooden Jumbo Manual Yarn Ball Winder
The Knit Store wooden manual yarn ball winder is a good time-saving investment for making firm compact yarn cakes. It is made from hard maple, premium maple veneered plywood and sealed with Danish oil for a beautiful finish. It has a well-balanced design that you can use with or without a table clamp. The Knit Store maple wool winder even looks great on your tabletop or shelf when you're not using it. However, it comes apart easily if you need to put it away for storage. This yarn winder will hold up to one pound of fingering weight yarn and up to ten ounces of worsted weight yarn. The urethane belt will last up to ten years and it comes with a one year manufacturer defect warranty from the date of purchase.
The Best Large Yarn Ball Winder
The beautiful INTAJ handmade wooden yarn ball winder comes in two different woods: rosewood and beechwood. At 14-inches long, 9.5-inches tall, and 4.75-inches wide, this wool winder can easily wind up to 450 grams of fingering weight yarn into firm center-pull yarn cakes. The anti-friction bearing on the spool side allows for super smooth winding. It includes ant-skid rubber pads on the bottom to prevent sliding or scratching the table top. Add another $25.00 to your order and you can get a matching wooden umbrella swift. There is even a full video tutorial available on YouTube for complete instructions.
The Best Jumbo Yarn Ball Winder for Knitting and Crocheting
If plastic yarn ball winders just aren't cutting it anymore for you, try the Fashoknit jumbo wool winder. It comes in three different beautiful wood finishes: Grain finish, natural finish or rosewood finish. This wool winder will easily wind jumbo skeins or hanks as well as bulky yarns. Use the table clamp to secure it to the tabletop while winding center-pull yarn cakes up to 100 grams. This jumbo yarn ball winder comes disassembled so there is a video tutorial with assembly instructions included.
The Best Combination Yarn Ball Winder and Yarn Swift for Knitting and Crocheting
The Vintage Life rich-looking, sleek wooden yarn ball winder comes with a wooden umbrella swift to help hold the skein or hank of yarn while it is being wound into a center-pull yarn cake. The beautiful matching set, made from Sheesham wood, will look great on a shelf and add charm to your craft room. It will make a yarn cake up to 3 ounces and comes with a 100% satisfaction guarantee. Be aware that this yarn ball winder ships from India and may have additional taxes and shipping costs.
The Best Electric Yarn Ball Winder For Knitting and Crocheting
If you have some serious yarn ball winding to do, the CPointBox Electric Yarn Ball Winder is for you. This wool winder will quickly wind up to 500 grams of yarn. You can control the speed and the tension with the touch of a button. You can also evenly wind multiple strands of yarn at the same time. It comes complete with the winder, motor, cone, adapter, plug, tools for set-up, table clamps and even a video tutorial to make it easy to set up.