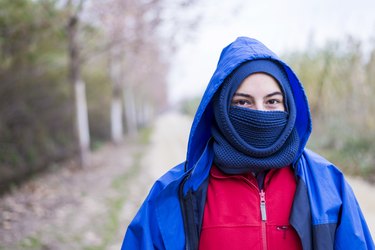 Since it's literally freezing in many parts of the country right now, you probably already have a lot of the winter gear needed to prevent you from freezing your ninnies off. But the winter accessory you probably never knew you needed is a knitted balaclava.
What's a knitted balaclava you might be wondering? (Although since you're here, you probably are already well aware that they're extra chic this season.) For those who don't know and are more than curious, a knitted balaclava is a knitted hood that wraps around the neck, some covering the face, to provide more warmth than a hat. If it does cover your face, it can also be pulled down and worn as a scarf. It's commonly worn in Nordic climates for obvious reasons, but it's made its way over to the U.S. where it may not be as cold as, let's say Iceland, but the temperatures are still low enough to want/need more head and face coverage.
What to Consider When Purchasing a Knitted Balaclava
‌Style:‌ In general, balaclavas all have a similar look, but while some may only cover the head and neck, others have a face covering with an opening for the eyes. If you live in a place with extremely cold temperatures, a knitted balaclava with a full-face covering can protect your face from getting frostbite, as well as prevent your jaw from doing that weird it's-frozen-can't-talk-right thing. A face covering also works as a COVID/germ barrier, although not medical grade, so there's that too.
‌Material:‌ Balaclavas can be knitted using lightweight, medium or chunky yarn. Lightweight yarn allows the balaclava to fit under a hat or helmet and is best for warmer temperatures (you know, like not freezing). Balaclavas made with medium and chunky yarn are worn alone.
‌Design:‌ There are lots of different balaclavas designs to choose from on the internet. We did our best to include a variety of colors, materials and patterns we think you'll love. From solid-colored balaclavas to crocheted balaclavas to super fuzzy ones, there's something for everyone.
We rounded up our favorite knitted balaclavas below that won't just keep you warm, they're chic and trendy too.
1. Bushuhandmade Knitted Wool Balaclava Hat
When it comes to knitted balaclavas, this unisex hat is a great neutral option. It comes in four color options that'll work well with most winter jackets, each with an opening for your eyes. It's handmade from yarn and cotton and feels soft and warm on the face.
2. MammyHug Knit Wool Balaclava Hood
If you're looking for a balaclava that feels more like the hood of a super cozy sweater rather than a hat, this is the one. Made of wool, acrylic and mohair yarn, this beige or gray snood will keep your neck and head warm while simultaneously looking extra stylish. The hood has a twisted cord drawstring so you can adjust the fit as needed.
3. MarinaAleksina Knitted Balaclava
You'll be the envy of many while wearing this thick, warm, incredibly soft and fluffy balaclava made from 95% angora wool. The hood has drawstrings to help you tighten or loosen it for a comfortable fit. You have the choice between a round crown or a sharp crown, the sharp being slightly pointy at the top of the head. There are a whopping 36 colors to choose from, so you're bound to find a color that matches your existing winter gear. As an added bonus, you'll be supporting a Ukrainian artisan.
4. Free People Spun Cloud Balaclava
Keep your head, face and neck warm with one of these chic knit balaclavas. The handmade chunky hood is made from wool and is designed with stretch to perfectly fit your head. Wear it with your warmest winter jacket or pullover for a cozy, casual look.
5. Bhavass Crocheted Balaclava
When wearing this gorgeous black and white crocheted balaclava, you might feel like you're wearing something your grandma made, and that's what's so special about this hood. Although it wasn't actually made by your grandma, it's completely hand-knitted from organic cotton, wool and acrylic. Choose from black and white or brown and cream.
6. AhaliStudio Knit Bear Balaclava
Yes, this hand-crocheted balaclava has bear ears, which is very adorable, but it's also super warm and can help you combat frigid temperatures. Your cheeks and nose don't have to suffer this winter. There's a long list of colors to choose from, and the balaclava also comes as a regular beanie.
7. J.Crew Chunky Knit Balaclava
It's cold out there, folks. This chunky blue balaclava adds a touch of color to your winter wardrobe and is sure to keep your head, ears and neck warm while you're off frolicking in whatever wintery climate you live in (it also comes in a shade of gray). It's made of alpaca wool and acrylic and runs a bit large for an oversized fit.
8. Madewell Retro Knit Balaclava
Inspired by classic ski gear, this retro-styled ribbed balaclava can be worn for a day on the slopes, running errands or taking your kids to the park. The hood is just the right thickness for cold weather without being too overbearing. It's made of cotton, polyamide and merino wool.
9. Free People Sugar Pie Stripe Balaclava
You're going to fall in love with this stunning multi-colored balaclava. The chunky, funky striped balaclava features vibrant colors that'll help you stand out and stay warm. It's hand knitted with wool fabrication by one of Free People's U.S.-based artisan partners.
10. Botenstudio Retro Knitted Balaclava
While wearing this retro-style knitted balaclava, you'll look and feel like you're wearing a sweater without the actual sweater part. The hood is a great way to keep warm while adding some color to your winter gear. It's handmade with a wool blend and comes in three colors: pink, green or beige.
11. Nerolli Knitted Balaclava
This balaclava is perfectly stretchy, which means it'll fit over a bun, a ponytail or any other hair accessory you might be wearing that you don't want to remove to stay warm. It has two drawstrings, so even though it's stretchy, it can be tightened so it stays put. The hood has a ribbed design in solid color options that'll be easy to pair with any outfit.
12. ASOS Reclaimed Vintage Knitted Balaclava
The only thing cooler than a brand new balaclava is a brand new balaclava that's been reclaimed from a vintage hat. This one in particular will help you stay warm as you step outside in the cold air, but it'll also help you look like you're straight out of the '80s—in the best way, of course.
13. Free People Space-Dyed Balaclava
Cozy up as you walk outside in this unique and super cool knitted balaclava, which features three funky space-dyed pattern options. It has a ribbed trim with drawstrings to ensure that your neck and head remain covered.
14. Uniqlo Knitted Balaclava (MARNI)
Add a splash of color to your outerwear with this knit balaclava. Crafted from bulky wool-blend fabric, the textured hood has a snug, yet cozy fit with a full-face opening. This unisex, color-blocking balaclava is also sold in brown and emerald green.