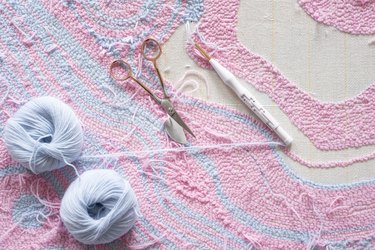 It's no secret that fiber crafts are having their moment, especially after the COVID-19 lockdown when so many of us took time to slow down and indulge in meditative and mindful crafts like crochet, knitting, weaving, and—of course—tufting. Tufting is an ancient textile technique that is often used to create works of art like rugs, wall hangings, and even small household items such as coasters (we've even seen some artists make tufted vase covers). Tufting continues to reign as one of the most popular DIY fiber crafts, especially amongst creators on social media and Etsy sellers. But, it's a little intimidating, especially since it requires a lot more supplies than just a hook or needle and some yarn.
If you want to get started on rug tufting and create your own rug, you're in the right place. From the key tufting supplies needed to create your work of art (think: a tufting gun, the best yarn for tufting, rug adhesive and backing fabric) to the best tufting supplies to get started, we're sharing a tufting 101 guide to craft supplies to support you during your first time making hand-tufted projects and beyond.
Key Tufting Supplies to Consider:
‌Tufting Gun:‌ If you want to create a tufted rug, a punch needle is not going to cut it. While you could ‌technically‌ use the manual tool, a tufting gun will make the cut pile tufting process faster and more enjoyable, plus it can help you achieve straight lines as a beginner. This tufting tool threads the yarn through it and creates that tufted look in a more automatic and symmetrical way. Although they are a bit of an investment, you can find more budget-friendly options by purchasing a tufting gun kit, such as the GBgeffy Tufting Gun Kit on Amazon.
‌Yarn:‌ Tufted rugs are made up of yarn, so this is another essential tool. And, although you can use different types of yarn, a medium-weight 100% wool yarn is highly recommended for its quality and durability, since some other types of yarn can easily fray or not stay intact when threaded through a tufting gun. If you want to go with something that isn't made from an animal product, medium-weight acrylic yarn is the next best thing as it's just as durable.
‌Tufting Frame:‌ Similar to weaving, you want to make sure your canvas is taut when tufting a rug. This will make the entire process easier and help with precision. Not to mention: It's super challenging to use a tufting gun on loose backing. In order to ensure the right setup, purchasing or building a tufting frame is a must. This will hold the backing fabric in place while you work.
‌Backing Fabric:‌ The backing fabric is your canvas when creating a tufted rug, making it an essential craft supply for this medium. Typically, tufted rugs (and punch needle artwork) are made with monks fabric as the backing, as it's sturdy and durable for creating a rug. However, you can also use strong tufting cloths made from other fabrics with an even weave to get a similar effect.
‌Scissors:‌ When it comes to scissors, most beginners opt for duckbill scissors, which is a good and budget-friendly way to trim a completed rug for that finished look. However, there are other tools for trimming tufted rugs, including electric trimmers such as the Stalwart Cordless Power Scissors, which are a little more of an investment but can make the trimming process much quicker. Other tufting rug trimmer options include the We R Memory Keepers Easytuft Carving Shears, which are easy to use and designed for beginners. In addition to scissors for trimming and finishing a rug project, also consider other scissors, such as sewing clippers for trimming excess yarn strings.
‌Rug Adhesive:‌ No rug project is complete without glue, and rug adhesive is considered one of the most essential components of making a tufted rug since its purpose is to hold everything in place. When gathering supplies for your tufted rug project, make sure to also purchase rug adhesive so you can complete your work.
1. GBgeffy Tufting Gun Kit
To get started on tufting, the first thing you'll need is a tufting gun. That being said, this tool can be quite an investment, so the GBgeffy Tufting Kit on Amazon is a good choice. For less than $200, you not only get a tufting machine, but you also get additional rug-making supplies like tufting cloth, a threading needle, nonslip carpet cloth, and a 12-pack of acrylic yarn in different colors. This cut pile machine is excellent for beginners who are just starting out and getting a feel for what all the different supplies do.
2. We R Memory Keepers® Easy™ Tuft Rug Tufting Tool
We R Memory Keepers make rug tufting approachable for beginners, thanks to their collection of easy-to-use supplies, including the Tuft Rug Tufting Tool. This tufting gun is a fantastic beginner-friendly option and features a rotating handle, needle threader and hex key. The gun is perfect for large rug projects as well as for those looking to create something smaller like tufted pillows.
3. Tuft Stuff Rug Tufting Cloth
To create any project, you need backing fabric. The best fabric is monks cloth, which you can buy by the meter at Tuft Stuff. We love this fabric because, in addition to its durability, you don't have to worry about waste as it can be used across many types of fiber crafts, including punch needle and embroidery. The fabric is also designed specifically for use with a tufting gun, so it holds up nicely without the risk of ripping when creating your work.
4. Tuft the World Instant Tufting Frame
To use a tufting gun—or created any tufted project—you'll also need a frame. And, although you can technically make one yourself, it can be a bit tricky for beginners, especially if you don't already have woodworking experience. The best pre-made option is the Instant Tufting Frame from Tuft the World, which allows you to create projects that are up to 24 inches square, and includes a yarn feeder to support your work. This frame ships flat but is super easy to assemble (much easier than making your own) and includes everything you need, except for clamps, to get started.
5. We R Memory Keepers Easytuft Carving Shears
Once finished, you can technically trim and clean up your tufted work with a pair of duckbill scissors. However, this can be a bit tedious so, if you want to invest in something more automotive, we highly recommend the We R Memory Keeper Easytuft Carving Shears. These sort of resemble an electric shaver and are used to trim and even out the tops of a cut pile rug. They're excellent for beginners, making the tedious components of rug-making a breeze.
Tufting—especially rug making—requires a lot of yarn. If you're looking for a high-quality 100% wool medium-weight yarn that is cheap, the Friends Wool yarn from Hobbii is one of our favorites for tufting. This wool yarn is durable enough to thread through a tufting gun, costs $5 per skein (and is often on sale for even less), and comes in 50 different colors, giving you plenty of options for creating!
7. Tuft the World Carpet Backing Adhesive
Rug adhesive is one of the key supplies for tufting, as it keeps your work together. The best rug glue is the Tuft the World Carpet Backing Adhesive, which is a water-based craft gluten and can cover up to 16 square feet of carpet. The glue is also faster drying than some other options, with a curing time of 12 to 48 hours, depending on the size and thickness of your surface.
8. We R Memory Keepers Easytuft Putty Knife, 2-Count
To apply rug adhesive, you'll want to use a putty knife, such as the We R Memory Keepers Easytuft Putty Knife. This knife was created specifically for tufted rug making and applying rug glue onto the back of a project while on a tufting frame. We love this option because, compared to putty knives you can buy at a hardware store, these cost under $5 and come in a pack of two, making them more budget-friendly.
9. TradeUnderlay Napping Duckbill 7-in. Carpet Pile Scissors
If you're not ready to invest in automatic shears, a pair of duckbill scissors are a budget-friendly alternative for trimming and finishing your work. The Napping Duckbill Carpet Pile Scissors come top recommended by tufters. It boasts a high-quality duckbill blade designed specifically for carpet making, plus it has a comfortable grip, which is a must when working on larger projects. Compared to the more automatic cutting shears, they have a low price tag that makes them all the more appealing.