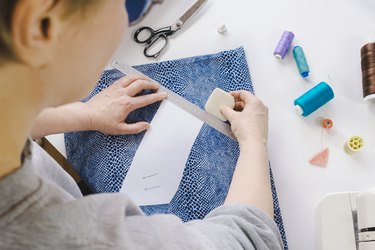 If your Instagram feed has been blowing up lately with beautiful sewing projects, if you find yourself binge-watching reruns of sewing reality shows, and if you've been aimlessly cruising up and down the aisles of fabric stores running your hands along the soft and colorful fabric textures, then the universe might be telling you its time for you to try your hand at sewing. But where to begin? After choosing the right sewing machine, the best cutting tools and the best cutting mats, it's time to look into gathering up some marking tools. The marking tools that will work best for you really depend on the fabric you'll be using, what kind of sewing project you plan on doing and what type of pattern markings you'll need to mark. We recommend trying out several different types of marking tools because you never know which marking tool will become your favorite go-to.
What to Consider When Purchasing Marking Tools for Sewing
Since there are many different types of marking tools for fabric, it's important to familiarize yourself with the different types before purchasing.
​Tailor's Chalk:​ Tailor's chalk is a solid chalk in the shape of a triangle or a rectangle with pointed edges. It is more compressed than school chalk and will create smooth, straight, fine lines on almost all fabrics. Tailor's chalk is especially good on light or dark fabric because you can find chalk in contrasting light and dark colors. It also is compatible with textured fabric. Tailor's chalk is an easy-to-use and easy-to-hold fabric marking tool option. You can sharpen it to keep a nice crisp line and it will erase easily by simply brushing it away.
​Chalk Pencils:​ Chalk pencils are an affordable and sturdy marking tool option. Chalk pencils come in blue, white or pink so you transfer the markings from pattern pieces on to light or dark colored fabric. They won't get all over your hands and you can usually sharpen them with a regular pencil sharpener for ultra fine, crisp lines. Some chalk pencils work like a mechanical pencil and come with a chalk cartridge and an eraser. If the chalk pencil you purchase has a little wax built into it, the marks will stay on a bit longer while you work.
​Washable Marking Pens:​ Washable Marking Pens are a clean, easy and precise choice for marking fabric. Washable markers tend to be inexpensive and come in a wide variety of colors that will show up on many different fabrics. You can even use regular water soluble marking pens that children use for coloring. But if you choose this option, you will want to test the marker first because even though it says washable marker on the box, they will stain some fabrics.
​Tracing Wheel and Dressmaker's Carbon Paper:​ Tracing wheels and dressmaker's carbon tracing paper are good for marking the outlines of pattern pieces and dart placement. Tracing wheels are similar to a pizza cutter and come with smooth and spiked wheels. To trace the pattern markings onto your fabric, place a piece of dressmaker's carbon onto the wrong side of the fabric between the fabric and the pattern piece. Roll the wheel over the lines, notches and other pattern markings to transfer the marks to the fabric. Dressmaker's carbon paper comes in many different colors so it will create visible marks that contrast with light or dark fabric. You can even mark fabric without the dressmaker's carbon tracing paper by simply placing the pattern pieces onto the fabric then running the spiked tracing wheel over the pattern markings and it will make tiny holes in the fabric that can be ironed out later.
​Disappearing Ink Pens:​ Disappearing ink pens look like felt-tipped markers but the marks from these erasable pens vanish over time with little effort or when exposed to heat or water. The very fine tip on a disappearing ink pen makes it good for embroidery and marking precise lines, dots or circles. They come in bright, highly-visible, different colors for use on light and dark fabrics. Disappearing ink pens work well on projects that will be completed quickly since the marks might disappear before your sewing project is completed.
​Chalk Wheels:​ Chalk wheels have a serrated edge wheel that traces the pattern markings and deposits chalk as it moves along the markings. Chalk wheels are similar to tailor's chalk but they use powdered chalk instead of a solid piece of chalk. Many chalk wheels include a brush to help erase the chalk lines when you're finished.
​Hera Marker:​ Hera markers are a sturdy plastic tool with a sharp tip that creases the fabric with pressure to mark lines from the pattern pieces, like notches, circles and dots.
​Soap Slivers:​ Soap slivers are one of the most affordable marking tools that have been around for a long time. Soap slivers glide over most fabrics easily and work well on light and dark fabrics because they wash right out. It's a great way to use up those last slivers of soap from your shower or you can use the small complimentary hotel soaps to mark your pattern pieces.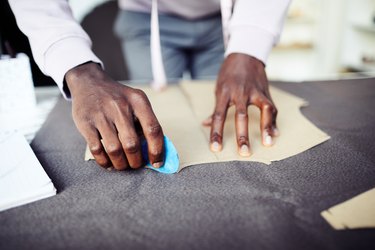 The Best Tailor's Chalk for Sewing
Ogrmar Tailor's Chalk, 10-Count
To apply temporary pattern markings on fabric, and to ensure contrasting fine lines, the Ogrmar Professional Tailor's Chalk comes in four different colors: white, red, blue and yellow. The thin, easy-to-hold, solid triangular block of tailor's chalk has a sharp edge for precise pattern marking.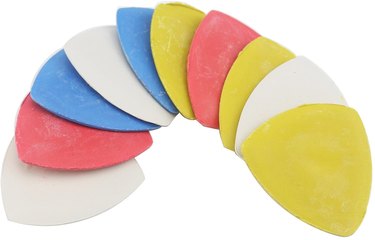 The Best Chalk Pencils for Sewing
Dritz Chalk Cartridge Set, 38-Count
Keep your fingers clean while marking your fabric with the Dritz Chalk Cartridge Set. The 38-piece set includes eight colored chalk refills, eight white chalk refills, a plastic cartridge that holds the chalk while you mark, a sharpener to keep the chalk ultra sharp, and a reusable plastic box for easy storage. The 4-millimeter chalk refills come in nine different colors: pink, orange, red, light blue, purple, dark blue, yellow, black and white.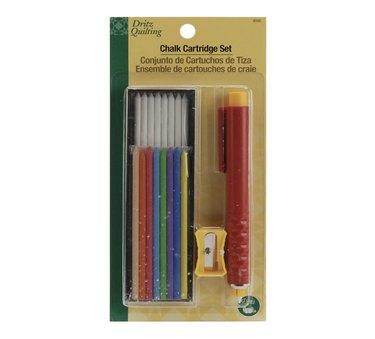 The Best Washable Marking Pens for Sewing
LEONIS Erasable Marking Pens, 5-Count
Make sewing fun again with the LEONIS erasable marking pens. These small but mighty water soluble fabric marking tools make vibrant, precise lines on most light colored fabric and some dark fabrics as well. These erasable pens are compact for easy storage and convenient transport. Each sharp, firm tip will hold its shape throughout the life of the pen. The company has tested this pen and it will draw at least 1,640 feet of lines for you. To vary the thickness of the line, just put more or less pressure on the fabric marker. The LEONIS erasable marking pens come in a package of 5 pens, so if one rolls under your couch, you can continue to work until your next vacuum day. Use them for quilting, sewing, embroidery and other craft projects.
The Best Tracing Wheel for Sewing
Dritz Serrated Tracing Wheel, 1-Count
You can use the 6-inch Dritz tracing wheel to mark darts, pleats, notches, tucks, pockets and buttonholes on lightweight, delicate fabrics, multiple layers of fabric and bulky fabrics. This budget-friendly tracing wheel works well with Clover dressmaker's carbon paper. The Dritz tracing wheel handle has an ergonomic design to provide comfort while you work. You can also purchase this tracing wheel with a smooth wheel instead of a serrated wheel.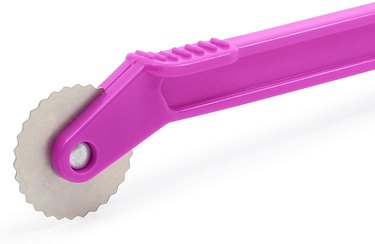 The Best Hera Marker for Sewing
The 5-inch Clover Hera Marker creates lines by creasing the fabric without leaving fabric marker or chalk marker residue. Because the shape is the same on both sides of the Hera Marker, both left handed and right handed sewists can use this Hera Marker to mark accurate straight lines and swirly lines. The Clover Hera Marker works well for marking hems and practicing pattern making. Use it on different fabrics like jersey and cotton, and since it doesn't rely on ink or chalk, it will never run out and you'll be able to make marks with the Hera Marker as long as it is intact.