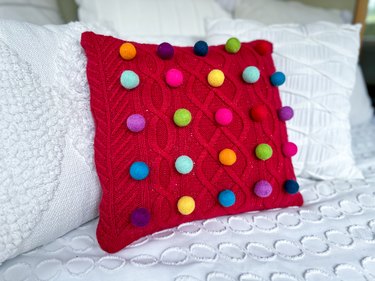 Maybe you have a few cable-knit sweaters stored away in your closet just waiting to be revived. Perhaps you've simply always loved the look of vibrant, chunky cable-knit garments. Or maybe you're looking for an eco-friendly craft to spruce up your home decor. Whatever the reason, we have a cable-knit pillow craft complete with colorful pompoms that you're sure to love.
The best part? You can repurpose a long-forgotten sweater or pick one up from the thrift store, so this tutorial won't break the bank. With just a few simple crafting supplies and a dash of creative energy, you'll soon have a super-soft throw pillow to brighten any couch, chair or bed.
Your DIY decorative pillow awaits!
Video: Cheery Pom Pom Pillows Made From Cable-Knit Sweaters
Things You'll Need
Sweater or fabric with cable-knit pattern

Sharp scissors

Clips or straight pins

Pillow form

Chopstick


Pompoms

Hot glue gun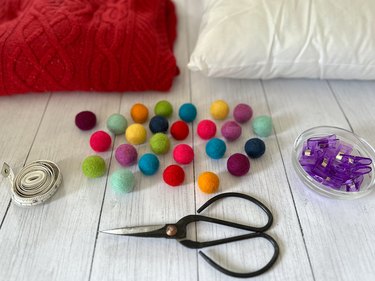 1. Measure and cut sweater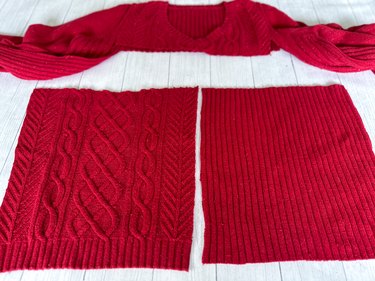 Begin by measuring pillow form's size and then add an extra 1/2 in. to that measurement to accommodate 1/4-in. seam allowances. With a sharp pair of scissors, cut sweater based on adjusted measurements.
Tip
Cut each layer of sweater separately to help keep cable-knit design straight.
2. Clip sweater pieces together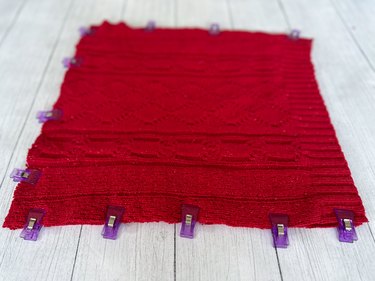 Place two sweater pieces together with right sides (pretty sides) facing each other and line up finished bottom edges of sweater. Use clips or straight pins to secure pieces together.
3. Sew with zigzag stitch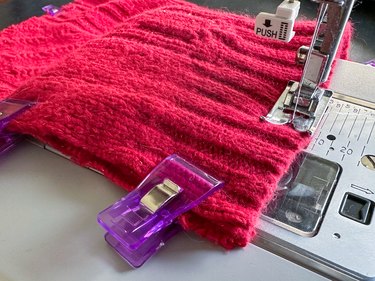 Adjust sewing machine to zigzag stitch setting. The zigzag stitch provides flexibility, allowing knit throw pillow cover to stretch without risking broken seams. Carefully stitch along edges, maintaining a 1/4-in. seam allowance and removing any clips or pins that were used for securing as you sew. Remember to leave an opening of approximately 10 in. along the side that shares finished bottom edges.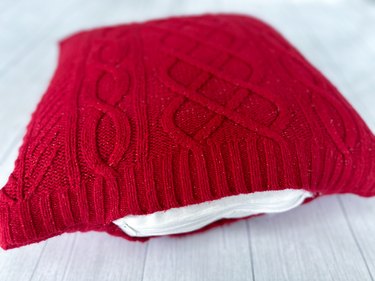 Turn cushion cover right side out using a chopstick to push out corners. Insert pillow form into opening and adjust to fit pillowcase.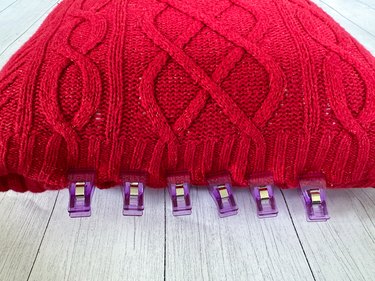 Turn under edge of opening 1/4 in. and clip or pin in place. Hand sew opening closed.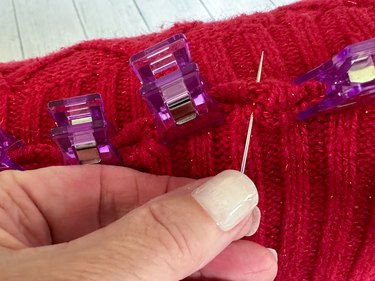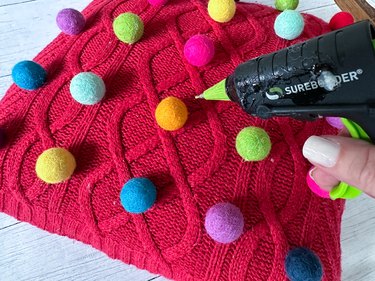 Use a hot glue gun to attach pompoms to front of accent pillow.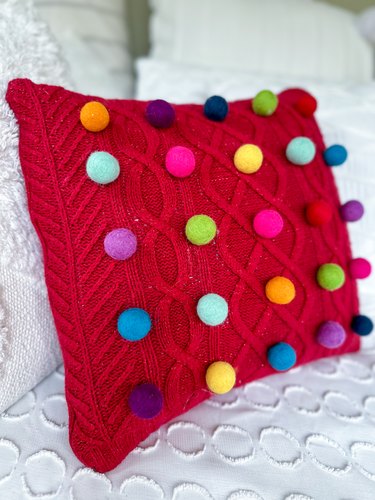 Tip
To make the pillow cover washable, check out our tutorial for adding a zipper closure. You can also embellish your completed pillow by adding tassels to edges!
And with that, your decorative throw pillow with pompom accents is complete! Pair completed square pillow with a throw blanket, quilt, accompanying lumbar pillow or matching duvet cover to make your living room or bedroom even more inviting.
Whether you're seeking a year-round boho look or using seasonal colors to decorate for the holidays, our DIY cable-knit throw pillow makes a dreamy addition to any home decor scheme. Pull that unworn, oversize cable-knit sweater from the depths of your closet and get crafting!