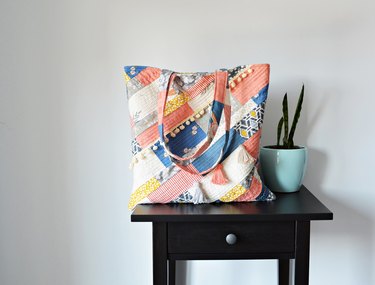 A quilt can be used as a bed covering, a throw blanket or even as a decorative piece of wall art, but quilts aren't just for keeping you warm at night and giving your bed some textured color. A recent trend has designers making quilt clothes out of quilt blankets.
Several Etsy makers have shops dedicated to quilt clothes, including quilt coats, quilt shirts, quilt hoodies, quilt vests, quilt hats, and even quilt items for babies and kids. The makers' fresh perspectives rework hand-stitched quilts into wearables, giving new life to quilts, which is a welcomed variation of the classic quilt. Did you know that quilt blankets can be traced back to medieval times? It was definitely time for an update.
While many makers source quilts from vintage stores or draw from their own collection of quilts, some allow you to send in your own quilt to have it reworked into clothes, which is a beautiful way to repurpose a meaningful quilt that may have otherwise remained in a closet. Quilts are finally seeing the light of day and I'm here for it.
I've been looking for the right quilt coat to add to my winter/spring wardrobe, and in my search, I came across some really cool Etsy shops that sell all kinds of quilted clothes. Scroll on to check them out along with my favorite item from each shop.
Vintage quilt dresses, jackets, shirts, hats and more
For a variety of quilted wearables, look no further than LuccaMonnieClothing, which offers one-of-a-kind quilt coats, shirts, dresses and more. If you prefer to rock a jacket with a small amount of patchwork as opposed to an entire quilt jacket, this shop has that as well. This colorful spring/summer sleeveless dress is made from a vintage quilt top. The fabric was never turned into a blanket, so the fabric is light and airy, making it perfect for a dress. There is only one dress available (in fact, the entire shop consists of one of each item, making them that much more unique), and the shop owner gives specific instructions on how to measure to make sure it'll fit.
Vintage quilt crop tops, dresses, coats and more
MythandLoreVintage doesn't just sell quilted clothes, the shop has a plethora of handmade items. Most notable is this super cute quilt top in a women's size small. It's slightly cropped at 17 inches in length and measures 21 inches from armpit to armpit. Even though it might feel like everywhere you look there's someone wearing a crop top, you've probably never seen someone wearing a quilt crop top. Like other items in the shop, this handmade item is so unique that only one exists. It's versatile enough to be worn on a lunch date with girlfriends, to your favorite music festival or to pick up your kids from school.
Repurposed quilt shorts, jackets, shirts, purses, bandanas and more
The JilliePWearables shop is fully dedicated to repurposed, vintage quilt fashion. Some of the items like jackets, bandanas and baby bibs are completely made of quilted fabric, while other items like denim jackets, sweatshirts and shorts are adorned with boho quilt patches. This pair of repurposed, high-waisted, cuffed denim shorts in particular has two quilt butterflies on the back pockets. The shorts are a size 2 and the shop accepts returns within 21 days if you discover that they don't fit.
Repurposed quilt jackets, pullovers and skirts
If you're looking for a handmade, one-of-a-kind quilt jacket, but you prefer a shop with plenty of options, check out oscilatey. The quilt jackets come in various styles and colors, my favorite being this oversized quilt coat with large pockets that can fit your phone, keys and snacks for your kids (and for yourself). There's only one available and it comes in a unisex size large. The shop also sells pullover jackets, skirts and adorable patchwork teddy bears.
Vintage quilt jackets, vests, dresses and more
It's hard to choose just one item from the runtBySarah Etsy shop to show you because they are all chic and perfectly stylish. In fact, I had a hard time deciding which vest I wanted to show you, but I have a job to do. Not only will this colorful vest repurposed from two vintage quilts keep you warm, but it'll also be a conversation starter. The conversation will start something like this, "That vest is amazing, where'd you get it?" You'll have to break the news that there's only one like it but plenty of others to choose from.
Vintage quilt jackets, totes, earrings and necklaces
If you're feeling artsy, check out RowHouseCreative's Etsy shop. Along with clothes and accessories made from various fabrics, the shop sells quilt jackets and totes, as well as necklaces and earrings made out of quilt scraps. The repurposed quilt tote shown here is a cozy and stylish way to hold all your things. It's large enough to work as a diaper bag, a travel bag, or to hold a laptop and other items. It's the perfect statement piece to add to any outfit for a casual occasion.
Quilt coats and accessories
KikisQuiltyPleasures' shop is more than just a punny name. The shop sells quilted car coats and chore coats, a throwback to the early 1900s, as well as quilted Christmas ornaments. Take a look at this mid-thigh legnth quilt coat that's incredibly special. It's made from a "1930s Grandmother's Flower Garden quilt" with an aqua border that the Etsy maker repurposed on the cuff and hem. The car coat touts a genuine shearling collar and oversized interior pockets. The coats offered in this shop are all handmade and on the pricier side, but the shop is currently offering a 10% discount with the code HAPPY2023.
Quilt coats, sweatshirts, tops, shorts, bags and more
Looking for cute summertime quilted clothes? Janemwithlove has shorts, sleeveless shirts, lightweight jackets and sweatshirts with quilt blocks sewn on. As for my favorite piece from the collection? This Grandmother's Flower Garden quilt tank top (if only the matching shorts were still available too!). It's a size small—22.5inches wide and 20.5 inches long—and is colorful and comfy. Pair it with denim cut-offs in the summertime or layer it under an oversized knit cardigan during brisker temperatures. There are a few matching pieces (tank tops and shorts) available in the shop if you're keen on a quilted set.
Upcycled quilt denim jackets, coats, dresses and bandanas
A denim jacket is a must-have closet staple for many people, and this 2000s GAP light wash jean jacket has been embellished with a hand-stitched Goose in the Pond quilt block that was forutnately salvaged from a damaged 1940s quilt. The jacket is 100% cotton and a size small. Check out the other listings in the RedemptionDryGoods shop to find more jackets, unique dresses and quilt bandanas for your collection.
Custom upcycled quilt jackets and more
Is there even a point in wearing clothes made from cool, vintage quilts if you don't have a piece adorned with cats? Probably not. In addition to this purrfect (sorry) cat coat, SophieMadeDesigns also creates custom jackets made from upcycled and reworked quilt blankets. You can choose the fabric you want and the maker will use it to design your coat with snap closure in the front along with two front pockets. You can also input your sizing info to ensure it fits. The custom jackets take 7 to 10 days to construct once you place your order.