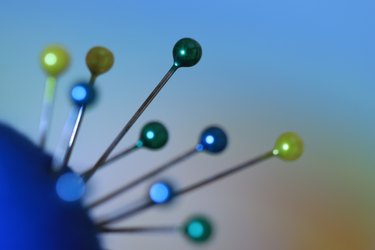 Never underestimate the power of a sewing pin. Straight pins may be the tiniest sewing tool in your sewing room but they are definitely one of the mightiest. Pins securely hold patterns in place while cutting and hold fabric while fitting on a body or a dress form. They are vital when attaching sequins, trims and beads. Pins tightly hold layers of fabric together while quilting and anchor seams as you stitch them in place. Use them when piecing quilts and appliquéing to keep everything in place. Since sewing pins are so versatile and are such an important part of sewing, there are various types of sewing pins for each type of DIY sewing project you might be attempting. Before you purchase pins for your sewing project, it's critical to understand the many unique characteristics of each kind of sewing pin that will be living in your pin cushion.
What to Consider When Purchasing Sewing Pins
‌Characteristics:‌ There are five attributes to a sewing pin: head, point, length, thickness and metal.
‌Head:‌ The head is the top of the sewing pin. It can be flat, metal, plastic, glass, multicolor, and come in different shapes or sizes. Small metal flat head pins will not melt when touched by a hot iron so it is good to use a metal flat head pin when a sewing project requires the pins to stay in place while ironing. A flat head is also good to use when hand sewing because the head is so small and the thread won't get caught on the head. One drawback to a flat head pin is it's harder to grip or see while working on your sewing project. A plastic head pin is easy to see because it comes in multicolored shapes and sizes. It's also easy to handle while working on your sewing projects. Since it is made of plastic and will melt if touched with a hot iron, you'll need to make sure to remove this type of pin before pressing. Glass head pins are a good option when you need to keep your sewing pins in place while pressing seams because they won't melt when they come in contact with a hot iron. They also come in different colored heads to make them easy to see.
‌Point:‌ There are three different types of sewing pin points. Extra sharp fine pins that have a very well defined tapered point so it will go through delicate fabrics without leaving a hole or snagging the fabric. Sharp all-purpose pins will go through most medium to heavyweight woven fabrics. Ball point pins have a rounded point so they will go through knit fabrics without snagging the threads.
‌Length:‌ One rule of thumb when determining which length of sewing pin is best for your sewing project is, the thicker the fabric or layers of fabric, the longer the pin should be. Most common sewing projects will use an all-purpose pin with a length of 1 1/16 inch up to a pin with a 1 1/2 inch length. If you're sewing through multiple layers of fabric or quilting, then a 1 1/2 inch to a 2 inch length of pin will be best. If you're working with sheer fabrics or doing detail work, 1/2 inch to 7/8 inch pins will be best.
‌Thickness:‌ The thickness of your sewing pin will depend on the delicacy of your fabric. For delicate sheer fabrics, use a o.5 millimeter sewing pin. An all-purpose sewing pin will be 0.6 millimeters and works best for lightweight to medium weight fabrics. For medium to heavyweight fabrics choose a 0.8 millimeter sewing pin.
‌Metal:‌ Most pins will be made from a rust resistant material such as brass, stainless steel or nickel plated so the sewing pins won't leave marks on the fabric.
‌Type:‌ The type of sewing pin you choose will be influenced by the type of fabric your sewing project requires.
‌Glass Head:‌ These pins are a high quality, strong, durable, and common type of sewing pin. This type of sewing pin is easy to grip because they are usually round. Multicolor glass head pins are also very visible so they won't get left in the fabric. This type of sewing pin is perfect for sewing projects that require the pins to stay in place while you use a hot iron to press pleats, tucks, darts and hems.
‌Ball Point:‌ Often, ball point pins are used when sewing with jersey, stretch knits and delicate lingeries. The rounded points won't tear the knit weave. It comes in varying thicknesses or lengths and the shaft is usually nickel plated so it won't rust. Ball point pins quite come with a plastic head so they aren't made to leave in your sewing project while pressing with a hot iron.
‌Stainless Steel:‌ Stainless steel pins are thin and made to use with delicate materials. The plain metal head won't rust or melt when it touches an iron.
‌Plastic Head:‌ Plastic head pins come in different shapes like flat, flower, butterfly and round. The multicolor heads are easy to spot and grip. This type of pin also has a rust resistant nickel plated steel shaft. Since the head is made of plastic it cannot be left in your sewing project while pressing with a hot iron or it will melt.
‌Quilting:‌ Quilting pins are extra long and stronger than most sewing pins so you can push them through multiple layers of fabric. They are used for piecework and patchwork quilts. Long quilting pins are also used when basting several layers of fabric together. Flowerhead quilting pins have a long, flat head and will lie completely flat for use in patchwork. You can stitch very close before removing them so the seam won't slip while you sew. An appliqué pin is very small and used for pinning tiny pieces of fabric or pinning curved seams. Curved safety pins are very small, flexible and can hold layers of fabric together instead of basting when quilting.
‌Silk Pins:‌ Silk pins are extra fine, long and very sharp. They are used when sewing silk, crepe, chiffon and other delicate fabrics. Because silk pins won't leave pin marks and you can use fewer pins to avoid tears, holes and snags. These glass head pins have a nickel plated steel shaft and won't rust or melt when using an iron.
‌Bridal and Lace:‌ Bridal and lace pins are made of a rust-free brass and won't leave marks when working with expensive fabrics or when sewing important garments like bridal gowns.
‌Fork:‌ This style pin has a double-headed and slightly bent tip. They are used when sewing with slippery fabrics and they pin into both sides of the seam to help create a perfectly matched seam.
‌T-Pin:‌ T-pins have a T-shaped head and are used when tailoring and pinning fabric through buttonholes and for pinning fabric while working on upholstery. This durable, corrosion-resistant sewing pin is nickel plated and is easy to grab and remove. T-pins can also be used for display boards and other craft projects.
At a 1 3/4 inch length, the Dritz quilting pins are long enough to secure multiple layers of fabric, synthetic fur, plush velvets and basting other bulky fabric. The extra long stainless steel shafts are strong and durable. They come in a package of 500 quilting pins enclosed in a reusable plastic box. You can also use the Dritz quilting pins in other DIY craft projects like scrapbooking, card making, posters and gift boxes.
The Best Glass Head Sewing Pins
The Sunelyst straight pins with colorful pearlized glass heads can be used for quilting, dressmaking, home decor sewing projects, corsages and other DIY craft projects. To liven up your sewing days, the glass head pins come in six different fun colors: red, blue, yellow, black, white and green. The Sunelyst glass head, stainless steel, rust resistant, straight pins are 1 1/2 inches in length. Plenty long for basting multiple layers of fabric together, pinning patterns to fabric or securing seams while sewing. The 4 millimeter glass ball head is easy to grip and use. No need to worry about removing the pins while pressing your sewing project with a hot iron since the glass heads will not melt and ruin your fabric. These sewing pins come in a package of 500 and the reusable plastic case works great for storage and easy access.
The Best Ball Point Sewing Pins
These multicolor, plastic head sewing pins have an extra fine 0.5 millimeter nickel plated shaft and a rounded ball point tip-just right for all your stretch knit sewing projects. The Dritz ball point pins come in three lengths: 1 1/16 inch, 1 1/4 inch, and 1 1/2 inch. You can also purchase them in packages of 75, 100, 175, 240, 350, 400 and 600 pins.
The Best T-Pins for Sewing
The Blulu easy-to-use, nickel-plated stainless steel T-pins are simple for seamstresses, tailors, knitters and jewelers to grasp and remove. They are strong, durable and rust resistant. The Blulu T-pins come in two different packaging options. You can buy a package of 100 1 1/2-inch t-pins and 50 2-inch T-pins or you can buy a package of 150 2-inch T-pins.