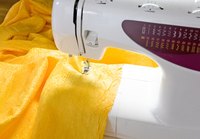 All you need for a sewing room is a small room and a few accessories. Some home sewers create a sewing room out of a child's room after the child grows up and moves away. Others set aside a spare room or expand an existing closet to create the sewing room. Every person has his or her own idea of how to decorate and design the room, but certain things remain the same.
Storage
One of the most important things you need in your sewing room is storage, and lots of it. Even if you work on only a few pieces a year, you still need room to store things and hide those pieces away. Use your storage as part of the design in the room. Start with one long table pushed against the wall, then add storage bins, drawers and cabinets underneath. Inside each drawer, use plastic dividers and plastic boxes. Clearly mark your boxes and drawers to indicate what's inside. If you use a separate work table for cutting your cloth pieces, add more storage under that table. Add racks to hold additional bolts of fabric when you're not working. When you need a new piece of fabric, simply unroll the bolt from the rack.
Sewing Decorations
Hang quilt racks around the walls of your sewing room to display quilts you've made. If you prefer making clothing, buy a few dressmaker mannequins and hang your favorite pieces on those. Add a full-length mirror on one wall, allowing you to see how clothing hangs on your body. You'll also want to hang a dry-erase board for writing down ideas and thoughts, and a cork board for hanging patterns while you're working. For a unique look, display vintage patterns in frames around the room.
Flooring
When it comes to flooring in your sewing room, you need to rip out any existing carpet and replace it as soon as possible. Even light-colored carpeting is a problem because loose pins and dropped needles disappear into the background, making them nearly impossible to find. Instead use tile, wood or faux wood flooring, which make it much easier to locate and sweep up any sharp objects before stepping on them and harming yourself.