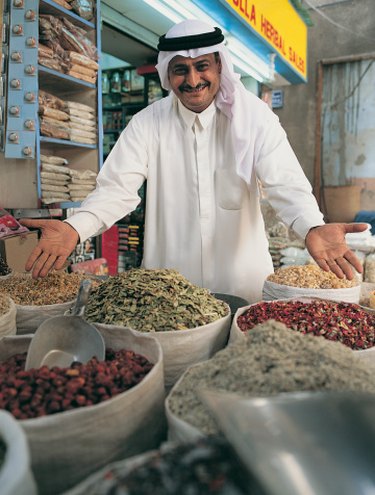 Arab culture has an abundance of attire to choose from when making a costume. For example, in the Gulf nations, men commonly wear long, white robes with white draping headdresses. Women generally wear black decorative robes with headscarves that partially cover their hair. Today, most Arabs dress in Western style clothing, but for costume parties, it can be fun to dress up in a more traditional Arab (or perhaps Bedouin) style of clothing.
Male Gulf Region Costume
Step 1
Visit a local Arab/Middle Eastern store in your area to find ready-made long white robes for sale. Many Arab grocery stores will also carry traditional robes and head scarves for men.
Step 2
Order traditional Arab clothing from any of the numerous online stores such as Shukr, Desert Online and Al-Hannah. Many stores will refer to the clothing as 'Islamic.' Most of the time, the two are interchangeable. If in doubt, call the company and double check.
Step 3
Tie a turban around your head or wear a keffiyah, a draping white cloth with a black ring placed on top to hold the cloth in place. Wear brown sandals to finish the look.
Traditional Female Costume
Step 1
Visit a local Arab/Middle Eastern store in your area or online to find an long, embroidered and colorful robe or a plain black robe.
Step 2
Tie a colorful scarf around your head like a turban, or wear a head scarf. Place a black cloth over your head, and then drape one edge of it over the opposite shoulder to hold it in place.
Step 3
Wear sandals and lots of gold color jewelry.
Step 4
Apply black eyeliner, called kohl, around your eyes.