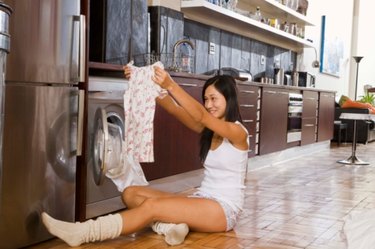 Clothing made out of 100 percent cotton is notorious for shrinking in the washing machine and dryer if the proper care instructions are not followed. Shrinking cotton shirts requires straying away from a cold-water wash by using hot water and the longest wash cycle possible instead. The first wash typically offers the most shirt shrinkage; however, each hot-water wash after continues to make the cotton shirt smaller.
Things You'll Need
Washing machine

Iron

Drying rack (optional)

Ironing board
Shrinking Shirts in the Washer
Step 1
Place your cotton shirt by itself in the washing machine. Add a small amount of detergent per detergent directions located on the back of the bottle.
Step 2
Set your wash machine to on "Small" to indicate a "small' load, meaning less water is used during the wash cycle.
Step 3
Set your wash machine on the highest possible temperature such as "warm" or "hot," as high temperatures promote shrinking.
Step 4
Set your washing machine dial or push the button to indicate a "high" or "cotton" cycle versus "permanent press."
Step 5
Turn your wash machine dial, so it points to the longest wash cycle such as 14 minutes versus six minutes. The longer the shirt is in the wash machine, the higher the potential is for it to shrink.
Step 6
Run your wash machine. Take the shirt out of the wash machine and set it on a drying rack to air-dry.
Step 7
Iron the shirt on "high" heat to promote further shrinking.