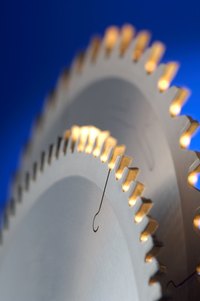 Many miter-saw repairs require taking the machine to a repair shop, but there are several repairs that you can perform. Common repair items include power cord, switch and guard replacement. Plastic and rubber parts are most susceptible to sustain damage or wear due to a weaker material structure than the metal parts. Power cords should be inspected regularly for cuts and deteriorating rubber. Here are steps on how to repair miter-saw power cords.
Things You'll Need
Phillips screwdriver
Flat screwdriver
Remove the screw and clamp securing the cord to the saw housing. The screw is near the cords entry point into the saw housing.
Loosen the housing screws where the power cord enters the saw. This area is located near the trigger switch.
Remove one side of the housing with the Phillips screwdriver. This housing location depends on the particular saw housing configuration which is located near the trigger switch.
Remove the power cord wires from the switch by loosening the terminals with the Phillips screwdriver.
Remove the rubber boot from the power cord. The rubber boot is a flexible rubber piece which serves as a cord protector at the cords' entry point of the housing.
Discard the damaged power cord.
Cut the outside sheathing of the power cord with the wire strippers approximately 3-inches from the raw end and discard the 3-inch piece of insulation.
Cut the insulation from the individual wires with the wire stripper, 3/4-inches from the raw wire ends.
Install the rubber boot on the power cord by feeding the wires into the boot and sliding it down the cord.
Re-attach the wires to the switch terminals in the same locations as the removal procedure.
Attach the housing by installing the screws with the Phillips screwdriver.
Install the cord clamp and screw.