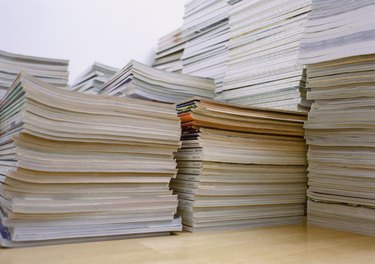 In an increasingly digital world, there's nothing quite like the calm that comes from holding a magazine in your hands, feeling the paper and dog-earring the page where you left off. If you still regularly hit the newsstands or wait patiently each month for your favorite publication to arrive in your mailbox, you know the importance of a solid magazine holder. An overflowing magazine collection can quickly turn into a wobbly pile of dust-covered chaos, so precarious that it all but ensures you'll never read them again.
Instead, with the help of a sophisticated magazine holder, you can create an organized and stylish space for your favorite publications to live. Perhaps you need one next to your couch, so you'll always have a magazine within arm's reach. Maybe you need another one for the wall of your spare bedroom, ensuring your guests have reading material. Your desk might need one too; that way you can easily reference your favorite magazines.
Either way, magazine lovers, rejoice! There are plenty of fellow print fanatics out there—including us—so we narrowed down the 11 best magazine holders that will solve all your storage issues.
What to Consider When Purchasing a Magazine Holder
‌Capacity:‌ Before clicking "add to cart" on any magazine holder, consider how many issues you'd like it to hold, and how thick those issues tend to be. (What good is a contemporary magazine holder that can only accommodate a small portion of your collection?) Determine the number of magazines you intend to store, then choose a holder that can comfortably contain them. A magazine holder's capacity will also inform its versatility to hold other items, like books and newspapers, too. Be sure the space you're considering—whether on your desk, hung on the wall or on the floor near your couch—can accommodate the magazine holder's dimensions too.
‌Material:‌ When it comes to magazine holders, the market is filled with options in all kinds of materials. Some are made with wood or leather (real or faux), while others are constructed out of acrylic or metal. Which do you prefer? There's no wrong answer. Each material can be durable and stylish, so choose a design that complements your existing decor.
‌Durability:‌ The functionality of a magazine holder is dependent on how durable it is. If the construction is wobbly or unstable, not only will it be annoying, but potentially unsafe—especially if you have little ones or curious four-legged friends around. Be sure to follow the instructions for wall-mounted magazine racks carefully, and take a peek at the maximum weight it can hold too.
Go ahead, dust off those magazines. Then scroll to find the best magazine racks, each of which would be a solid and sleek home for your favorite reading materials.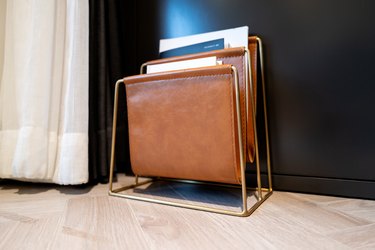 This isn't your dentist's wall-mounted display rack. This chic-as-can-be steel wire magazine holder would be a sleek home for your favorite publications, whether in a home office, living room or bedroom. With two tiers, this design could double as an entryway organizer, where you store outgoing mail or nearly overdue library books—anything you need to grab right before heading out the door. However you use this gold magazine rack, it's bound to be a beautiful addition to your home decor.
2. Calliope Magazine Storage Stand
To instantly elevate your interior design, add this low-profile iron magazine storage solution to your Urban Outfitters cart. Its spacious silhouette allows for plenty of books and magazines (or even firewood!), yet it can conveniently be housed next to a side table or anywhere else it won't get tripped on. The arc-shaped handles make it especially easy to move from space to space, and its versatility is unmatched.
3. Rifle Paper Co. Peacock Magazine Holder
Leave it to Rifle Paper Co. to create a pretty patterned magazine holder. Designed with their iconic floral and peacock print, this paper-wrapped magazine holder could double as a file organizer too—holding whatever chaos you need to calm on your desk. Turn it around for a streamlined view of the design, and use the metal label holder to make note of what's inside.
4. Mkono Macrame Armrest Magazine Storage
Working with a small space? If every square inch of your living room or bedroom is put to work, consider adding this couch caddy to your Amazon cart. This handmade macrame design can store newspapers and magazines—or whatever else you need close by and organized—without stealing precious floor space. May we suggest also putting your remotes in it too? That way you'll never have to dig through the couch cushions looking for them again.
5. Mercer41 Cean Freestanding Magazine Organizer Holder
Have you ever seen a chicer magazine holder? We haven't. This slim style can be placed on a kitchen countertop or living room floor to hold the latest issues of your favorite magazines without taking up too much space. (It's great for organizing mail or newspapers too.) The handbag-like handles make it extra easy to move around, and its refined design feels far more expensive than it is.
6. Yamazaki Home Magazine Rack - Steel
Calling all minimalists! This Yamazaki Home magazine rack is the pick for you. With four dividers, it provides a streamlined way to display and organize the latest and greatest issues of your must-read magazines. Instead of scrolling your phone at night, prop this rack up next to your bed for good ol' fashioned reading material. It's slim and sleek—a fit no matter your interior's style. Bonus: No assembly is required!
7. Leather Strap Magazine Holder
Turn your magazines into wall art with these leather straps that are handmade by an Etsy artist. Each order comes with a one-and-a-half-inch wide leather strap as well as a two-inch brass ring. There are seven shades of leather to choose from, including walnut, chocolate and black, so you can customize the look to your exact color scheme. Of course, you'll need to be mindful of how much weight your nail and wall can bear, so this option won't hold a significant number of magazines, but it will display them in a fun and fashionable way.
8. Aisung Metal Magazine Rack
Looking for a functional and versatile magazine holder? This option is simple but stylish, and one of the most affordable options too. (Win/win!) Add this to your next Amazon order, then place it on your coffee table for easy access to your collection or set it next to your favorite cozy chair for a prime reading location. This throw-it-in-and-go magazine rack makes cleaning up a breeze too.
9. FIRADE Wall Magazine Rack
We can't decide what we love most about this magazine rack: Its versatility, its laid-back rustic aesthetic or its affordable price point. Good thing we don't have to choose. There's no shortage of ways to put this rack to work, whether holding books and magazines, mail and paperwork, or piles upon piles of children's artwork. (All masterpieces, we know!) The inside basket measures 16 inches wide and 3 inches deep, making for plenty of room for issue after issue or painting after painting—whatever you need to organize.
10. CalmHomeCo Handcrafted Magazine Holder
This solid wood magazine stand is the priciest option on this list but for good reason. It's art. Made from 100% natural walnut hardwood, it's hand-crafted by master woodworkers and preserved with natural oils, ensuring a lifetime guarantee. (More than a lifetime really, since it's bound to become an heirloom, generation after generation.) It's a purchase you can feel good about, since the makers plant a walnut tree for every purchase, updating you every six months on the health of your specific tree. Here's betting your magazines will feel proud being displayed on this beauty too.
11. Threshold Faux Leather Magazine Organizer Brown
Say hello to this oh-so-handsome magazine basket and newspaper holder. It looks far more expensive than the actual price tag, especially with its eye-catching gold criss-cross sides and textured faux leather. It's a sturdy design with a large capacity and gives you an excuse to shop at Target too. What's not to like?