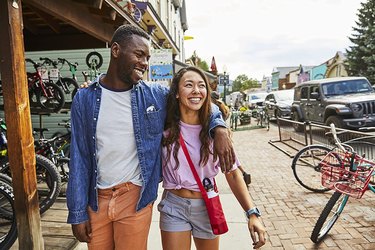 Are you the type to always have an emotional support water bottle within arm's reach? If you can't leave home without hydration in hand, you know the annoyance of carting a bottle around all day. (And the dry mouth that occurs if you don't.) As much as we love our reusable water bottles, they aren't always the most convenient to carry—especially if you already have two full hands. The solution? A water bottle holder.
Whether you're headed out on a bike ride, a hike or to run errands, a water bottle holder will keep your hands free and hydration close. That's why we've narrowed down the best water bottle holders in a range of styles and price points. Scroll on to find the right fit for you.
What to Consider When Purchasing a Water Bottle Holder
‌Size:‌ We've all been there, excitedly opening an online purchase only to realize—oops!—we didn't read the dimensions closely enough. It may sound obvious, but if you have a favorite water bottle (or two), make sure yours will fit into the holder you're eyeing. Most will fit a variety of sizes, but check the capacity of the holder before clicking "add to cart" to ensure it can hold enough H2O for your needs.
‌Material:‌ Water bottle holders should be made from durable, lightweight and water-repellent materials—especially if you plan to take it out on exercise excursions, like hiking or cycling. Nylon and neoprene are great options that'll withstand repeated use, wick water (and sweat), and have a light-as-a-feather feel that won't weigh you down, no matter what kind of adventure you're on.
‌Adjustability:‌ If you invest in a quality water bottle that fits ‌just‌ right, you'll be able to comfortably wear it for hours at a time. An adjustable strap is always helpful to get a proper fit, and if you're prone to achy shoulders, look for ones with a thicker, padded strap.
‌Additional Features:‌ Some water bottle holders do just that (hold)—and only that. Others have exterior pockets to stash other essentials too, like your phone or keys, or even insulation that keeps your water cold. The more features, the more likely the carrier will have a higher price tag, so consider how and where you'll use this carrier before committing to one.
Read on for the 10 best water bottle holders that'll keep you hydrated with your hands free.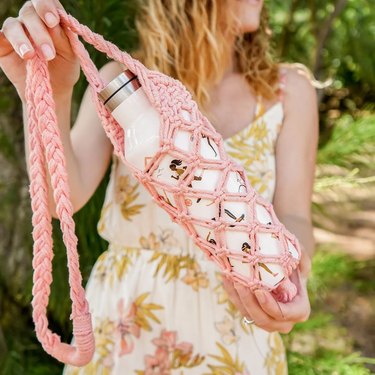 1. Baggu Puffy Water Bottle Sling
Water bottle carriers don't come much cuter—or more comfortable!—than this puffy quilted Baggu design. Made from a durable, water-resistant nylon material, it's equally as functional as it is stylish. The adjustable strap allows you to get the perfect fit, whether you're wearing it as a crossbody or over the shoulder. It also fits most standard-sized water bottles and features a secure drawstring closure to keep your bottle in place. No matter where you're headed, whether out for an all-day hike or a carefree stroll through the farmers' market, you'll feel stylish and hydrated with this by your side.
2. CALPAK Water Bottle Holder
Go ahead, add this Calpak design to your wishlist now. It's one of the best water bottle holders, and it's easy to see why. Let us count the ways. First, its insulated interior keeps your water cold, and its multiple exterior pockets allow you to leave your tote bag at home. (Designate one as your phone pocket, and stuff the others with your keys, sunscreen, wallet—whatever you can't leave home without.) The water-resistant ripstop nylon is nearly indestructible, so while this holder is on the pricier side, it'll last for, well, ‌ever‌. This carrier is available in a range of color options too, including subdued neutrals and conversation-starting patterns. Now, the hard part: Choosing a color and pattern. Leopard print or gingham? Daisies or a retro sunset?
3. Eddie Bauer Water Bottle Sling
You'll never forget your water bottle at home when you have this cute carrier. (Because you'll want to show it off, of course.) Not only is it stylish, but even better, it's comfortable too. The padded shoulder strap makes you almost forget you're carrying it, and the exterior pocket can keep small essentials safe, so you'll be hands-free to hold a kiddo's hand or carry multiple bags of groceries. This bottle sleeve comes in three colors—black, ecru and pink satin—so you can find the best fit for your wardrobe, and perhaps buy the other two for family members.
4. Fjällräven Kanken Bottle Pocket
While this water bottle holder bag, with its cinchable drawstring closure and durable vinylon fabric, can't be worn as a sling, it's a must-have for Fjällräven superfans. If you already own one of their classic Kanken backpacks, add this drink holder to your Amazon cart before checkout. It slides into the side pocket with a steel frame, which frees up space in your backpack all while keeping your water bottle within easy reach. This is equally as useful for kids since this ensures their water bottle won't leak all over their homework, as it would be for you to wear on a hike.
Leave it to JanSport to create a timeless-looking water bottle pouch. After all, the heritage brand has been designing classics, including your beloved backpack from elementary school, since 1967. This sling looks like that backpack too. It's made out of woven nylon, with a suede bottom and a drawstring closure that secures your water bottle, no matter its size. Another bonus: This sling has a stretchy mesh pocket on the exterior that creates cargo space for your other can't-leave-home-without-them items, like keychains, credit cards and more.
Think of this water bottle sling bag as a mini cooler—one you can wear across your body and that doesn't have to be drained of ice at the end of the day. This bag, made with a durable and abrasion-resistant fabric, is not only cool on the outside (how fun are those color-blocked hues?) but literally cool on the inside, as it's insulated to keep your water and perhaps even a small snack cold. Strap this on for adventures of all kinds, and rest easy knowing a sip of water is always within arm's reach.
7. BeautifulHonua Macrame Water Bottle Holder
For a water bottle sling with a handmade touch, opt for this macrame design, which would rack up plenty of "I love your water bottle holder!" compliments. It's available in 20 colors and three lengths, so you can get just the right fit and style for you. Since it's made out of 100% natural cotton rope, with a double layered handle for extra sturdiness, it's plenty durable too. Still, it veers more on the fashion side than the "I'm going for a 10-mile hike" vibe. Instead, use it to walk a wine bottle over to your neighbor's house for a backyard happy hour. Spare yourself a DIY project (don't you have enough of those?) and buy this one from Etsy instead.
8. Waterfly Crossbody Sling
If a simple holder, one that carries your water bottle and not much else, doesn't cut it, consider this backpack-like sling instead. Strap this one on for a long bike ride or any other adventure that requires some carry-on gear. (It can be worn on your front or back, and the reversible strap allows you to wear it on the left or right too.) Two mesh pockets can hold your water bottle, and the pocket on the strap makes grabbing your phone just as easy. Even better? It's available in a wide range of colors.
9. Lululemon Water Bottle Crossbody Bag
Whenever you're on the go, whether to drop the kids off at school or on your way to hot yoga, this bag will be the last thing you grab before heading out the door. (And perhaps even the only thing.) It's big enough to fit most water bottles, and the cinchable top keeps it secure, no matter your bottle's size. You'll love its durable, water-resistant fabric too. Slip your gym card, keys and lip balm into the exterior pocket, and you won't have to tote around a purse either.
10. Hydro Flask Packable Bottle Sling
Not one to shy away from attention-grabbing colors? This Hydro Flask style is the bright, bold water bottle sling for you. (Whether you have a Hydro Flask or not.) It comes in two sizes: medium (fits 32-ounce and 40-ounce wide mouth bottles) and small (fits all standard mouth bottles and 16-, 18-, 20- and 24-ounce wide mouth bottles). There's a wide, adjustable strap that you can carry over your shoulder or across your chest crossbody style. When it's not in use, this sling packs up small into its own pocket, making it a breeze to throw into a suitcase or keep in your car—wherever it's bound to come in handy.