Come on Barbie, let's go...shopping for earrings! Anyone who has spent time drooling over footage from the movie ‌Barbie‌ knows that our title character has the most enviable earring collection since Liz Taylor. Every one of Margot Robbie's outfits is more delightful than the last—and perfectly accessorized. Maybe you can't replicate Barbie's wardrobe without Hollywood stylists and unlimited cash, but you can absolutely replicate her jewelry collection.
Read on for a roundup of 10 budget-friendly pairs of earrings, all inspired by the fashions of ‌Barbie.‌ (Eat your heart out, Skipper!)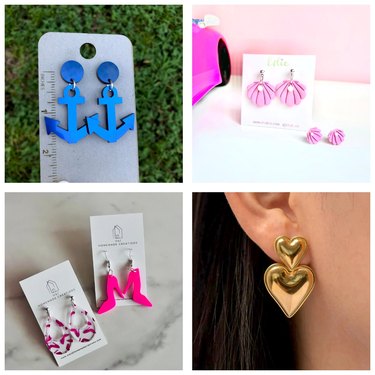 1. Pink seashell earrings
Barbie's the queen of dressing on-theme, so obviously, she rocks pink seashell earrings when she and Ken hit the beach. It might seem over the top to pair your copycat version from Etsy seller Eflie with a matching pink seashell necklace, but when in Barbie world, we do as Barbie does. Pile on the pink jewelry!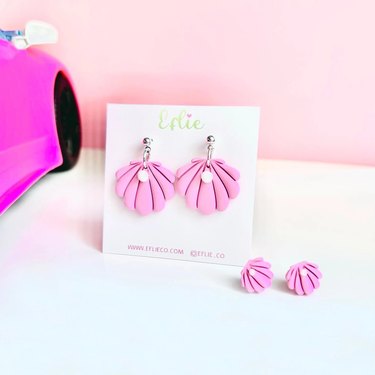 Tip
Ever tried making your own clay earrings? Barbie's pink seashells are a fun project for beginners. Check out a tutorial for DIY pink seashell earrings from TikToker @sleepymothstudio. You'll need supplies like polymer clay and a craft knife with a sharp blade. Feel free to personalize your pair by adjusting the size of the shells or bedazzling them with tiny rhinestones.
2. Oversize gold heart earrings
Barbie doesn't wear exclusively pink earrings. In the movie, a '70s-styled Barbie rocks a pair of huge gold hearts while disco dancing in a sparkly gold jumpsuit. Wearing earrings that dust your shoulders is kind of a lot for everyday life, though. Capture the spirit of Barbie's retro bling in a slightly more wearable way with these gold heart drop earrings from Etsy seller SparkleEnergyCo.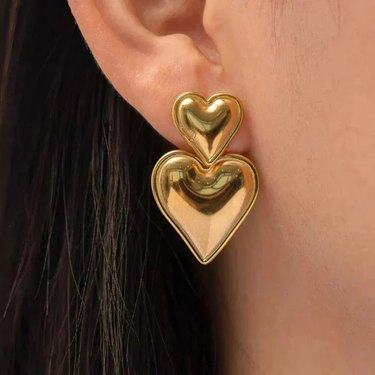 3. Neon yellow hoop earrings
Even if a pair of neon hoop earrings (like these acrylic ones from Etsy seller MuseArtJewelry) aren't your typical style, you'll be glad to have them handy the next time you're invited to an '80s party. In the meantime, you can pair them with a hot pink visor and roller blade down to the theater with your own Ken in tow (and wearing matching spandex aerobics gear, naturally).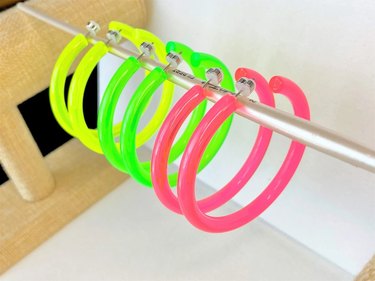 Barbie can truly do it all—including, presumably, captaining a sailboat. Copy her nautical look from the movie with metallic blue anchor earrings from Etsy seller DallasMdesigns. Pair them with blue sunglasses, a blue and white striped shirt and a canvas tote bag to achieve total "yacht club Barbie" vibes.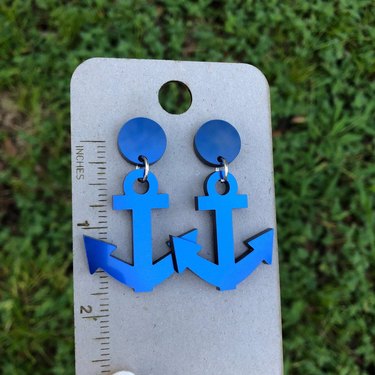 5. Silver tassel earrings
Loving Barbie doesn't necessarily mean you want to wear hot pink glitter heart earrings. Luckily for the boho crowd, she wears subtler silver accessories in at least one scene of the movie. These similar sterling silver tassel earrings from Etsy seller TibiCollection are on-theme without screaming "Barbiecore."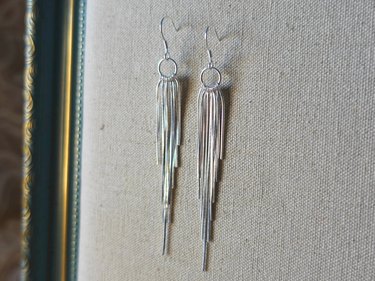 Barbie's high heels are so iconic that the first ‌Barbie‌ trailer started with a scene nodding to them. While her career and outfit changed hundreds of times, the height of her shoes remained consistent for decades. So, Barbie shoe earrings from Etsy seller MnJHomemadeCreations (in her signature Barbie pink, of course) are an obvious way to pay tribute.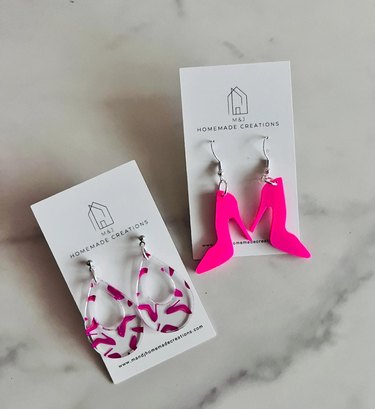 Craving more Barbie style inspiration?
If you can't get enough of the brilliant fashions coming out of ‌Barbie‌, check out these Instagram accounts for more content!
@andrewmukamal, the stylist who brilliantly dressed Margot Robbie for months of ‌Barbie ‌promotion
@barbiestyle, for hilariously styled and posed photo shoots starring Barbie dolls
@azusabarbie, for a look into the life of a Barbie-obsessed LA influencer
The original 1959 Barbie doll wore a black and white striped bathing suit—and a pair of hoop earrings, of course. From day one, it was clear that this gal would always be dressed to the nines right down to her tiny doll earrings. These handmade polymer white hoop earrings from Etsy seller SoulandStyleShop are a good dupe for a pair that Barbie wears in the movie. And if you own a black and white bathing suit of your own, they'd also be the perfect accessory for a vintage Barbie-themed photo shoot by the pool.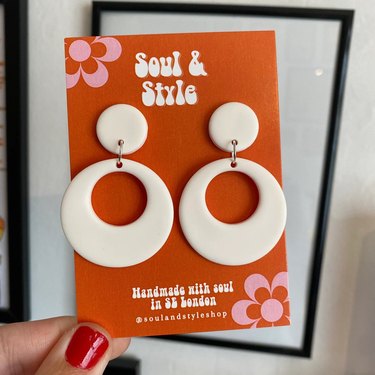 8. Pink pearl dangle earrings
Maybe you want to pay tribute to your favorite childhood doll without wearing anything that screams "these are Barbie earrings." Pink pearls accented with rose gold are the perfect choice. Think pink pearl dangle earrings like these ones from Etsy seller DaintyRomance or go even more subtle with pink pearl stud earrings.
These white and pink flower earrings from Etsy seller Eflie are classically sweet and girly. Wear them with a matching necklace and pink gingham dress before climbing behind the wheel of your pink Corvette convertible. (A doll girl can dream, right?)
10. Barbie movie meme earrings
Talk about statement earrings. Once the ‌Barbie‌ trailer came out, it didn't take long for Etsy sellers like MilosMarvelousCrafts to create pieces featuring the most hilarious "‌what‌ did I just hear?" line. Wearing "Do you guys ever think about dying?" earrings is definitely going to earn you some strange looks in the grocery store, but your fellow Barbie fans will have nothing but compliments.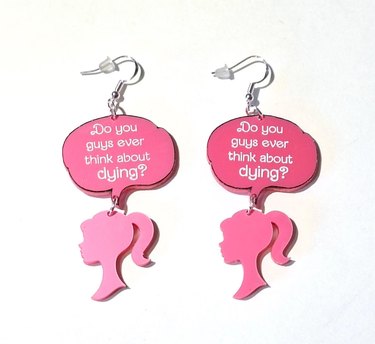 Anyone can channel Barbie with the perfect pair of earrings—no high heels required!