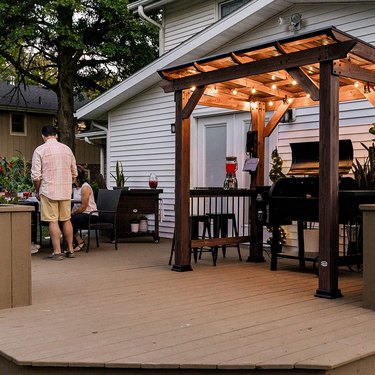 Grilling season—however you personally define it—is the best time of the year. Unfortunately, nothing in life is ever perfect, and that often applies to the weather while we're grilling. You may need to contend with rain, snow, or just the back of your neck burning even faster than an unattended chicken wing. The solution to all of these problems (and to protecting your grill itself against the elements) is a grill gazebo, one of the real essentials of outdoor living. It's simply a modest, open-sided shelter, with either a fabric canopy or a hard metal or polycarbonate roof to keep the rain and sun away. We've picked six of the best grill gazebos for your backyard or outdoor patio, and explain what sets them apart.
What to Consider When Purchasing a Grill Gazebo
‌Permanence:‌ Are you looking for something you'll install once on your patio and leave in place forever? If so, you'll want a hardtop gazebo with a sturdy steel frame. On the other hand, if your grill typically lives in the garage and only comes out for parties or tailgating, you might find a popup barbecue canopy with a lightweight aluminum frame to be a more practical solution. You'll find there are good options at both ends of the spectrum, and at most points in between.
‌Type of Protection Needed:‌ Advertising for your typical patio gazebo tends to speak of "protection from the elements," but what exactly are the elements you need protection from in your specific backyard? Intense sun, heavy rain, high winds and snow load are all potential hazards to you and your grill. The specific combination you're faced with will have an impact on which gazebo you choose, where you situate it, and how (or whether) it's anchored.
‌Ambitions:‌ Your approach to grilling should also factor into your decision. If you have a lavish outdoor kitchen and love to entertain, you may need an oversized grill gazebo (and a fair-to-middling outdoor patio) to accommodate your cookers and your guests. If you have just a single, modest grill and cook mostly for yourself, you can opt for a much smaller gazebo. Bigger doesn't necessarily mean costlier—there are budget large gazebos and pricey small ones—but going smaller often means you'll be able to buy higher quality within a given budget.
‌Available Space:‌ This consideration can often interfere with the ambitions we've just discussed. A large gazebo demands a large space, which you may or may not have at your disposal. Measure your available area carefully before you start gazebo shopping, and remember that many models have side shelves (or even bar counters) that may cut into the space your guests need for sitting, standing and socializing. You'll also want to measure your grill or smoker, and make sure the gazebo leaves enough room for you to cook comfortably. If your space is awkwardly arranged, you may even need one gazebo for your grill and a second one to protect a dining/seating area.
Tip
An ordinary backyard gazebo may not be suitable for use with your grill, however well-constructed it may be. A barbecue grill gazebo always has a double-tier roof to allow smoke to vent out while you're cooking, and if it has a fabric roof, the fabric will be fire-rated. That's not necessarily the case for a standard-issue gazebo, so check the sales literature closely (or reach out to the manufacturer) if you want to repurpose an existing gazebo for grill use.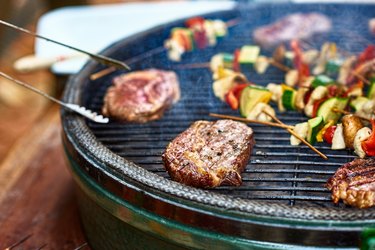 The Best Overall Grill Gazebo
You can find lower-priced gazebos and higher-end, sturdier gazebos, but this one from Sunjoy hits the sweet spot for price and durability. The entire structure, including the frame and the two-tier hard top, is made of powder-coated steel for durability and corrosion protection. At 8 feet wide, it will accommodate most grills and smokers with room to spare. There are a pair of side shelves as well, which you can use for serving or as a place to stash your prep and your barbecue utensils while you cook. For occasions that run until after dark, there's also a hook you can use to hang a light to illuminate your grill. The legs' base plates can be secured to the ground with stakes, or you can drill into your patio or deck and bolt them down for greater wind resistance. This isn't intended as an all-climate, year-round gazebo, but it will stand up to some snow and wind.
The Best Four-Season Grill Gazebo
This upgrade gazebo has a footprint that's similar to our top pick, but it's just slightly bigger and better. It's an extra foot deep, which gives you more room to work (or sit), and the shelves to either side are broader. Unlike the all-steel grill gazebo from Sunjoy, this one uses powder-coated aluminum in the frame—to keep the weight down, while maintaining durability—but has a steel roof so it can stand up better under a snow load. That's important because the Sojag actually can be used year-round in most climates (though if you live in a heavy snow area, you should clear the roof after any big snowfall just in case). If you plan on leaving it in place year-round, it's best to use the pre-drilled holes in the frame to anchor it to your patio or deck.
The Best Popup Grill Gazebo
Soft-top gazebos with a removable polyester cover can be a really good option if you're looking for protection on a budget. This one from Charmeleon, for example, gives you the same basic footprint as our top grill gazebo from Sunjoy—5 by 8 feet, plus side shelves—but at a fraction of the price. In fact, it actually gives you a larger protected area, thanks to a collapsible awning that provides another 20 square feet or so of shade and shelter when raised and acts as a wind barrier when lowered. You can anchor it to your patio if it's going to stay in place, but the Charmeleon can be raised and lowered easily enough to make it a great take-along option when you're tailgating, camping or grilling at the beach.
The Best Budget Grill Gazebo
There are lots of budget grill gazebos out there, and they vary pretty widely in quality. Many are fairly flimsy, but a few are surprisingly well-made. This one from Kozyard fits into the latter category, with a solidly-constructed frame of powder-coated steel and feet that are pre-drilled so you can anchor the frame to your deck or patio. You'll also get the obligatory pair of side shelves, as well as a set of four magnetic LED lights that you can move around the gazebo as needed for nighttime visibility. It's able to stand up to some degree of wind, rain or even light snow, but as with any barbecue tent, you're better advised to take down the canopy if you're expecting any serious weather. Overall, it's a surprisingly good product for renters or those who need a gazebo that's easy to set up and take down (so you can keep your backyard space free for multiple uses).
The Best Wood-Framed Grill Gazebo
At the other end of the scale from portable and pop-up gazebos, you can find models that are intended to be permanent structures on your deck. A prime example is this wooden grill gazebo from Backyard Discovery, a company best known for making sturdy pergolas in cedar or steel. It retains the style (and permanence) of the company's pergolas but adds a durable roof in black steel to protect you and your grill. When we say "sturdy" and "durable" we mean it: The structure itself is rated for winds of up to 100 mph, and the roof will support a 30-inch snow load (that's over a ton of snow!). You'll also get steel shelves for prep or to serve as an outdoor bar, and there's a weatherized power block that plugs into your outdoor outlet to provide three conventional plugs and three USB outlets. The standard version is 8.5 by 5.5 feet (just a little bit larger than most competitors), but there's also a larger "XL" version available in cedar or steel and in sizes of up to 12 by 9.5 feet.
The Best Oversized Grill Gazebo
If you have a really lavish outdoor kitchen, or if you entertain on a grand scale, you'll want something more than the standard-issue grill gazebo shelter. This one from Warmally will absolutely fit the bill, as long as your backyard (or backyard patio) is large enough. At a whopping 12 by 20 feet, it's larger than four standard 5-by-8-foot models, and it's more than double the size of Backyard Discovery's oversized Saxony XL grill gazebo. That gives you plenty of room for both a grill and a smoker, as well as multiple seating and dining areas.
The frame of this gazebo is made of heavy-duty powder-coated aluminum, with a steel roof for added durability and better snow load. The metal roof requires fewer screws than those from many competitors (speeding and simplifying setup) because the pieces are designed to slide together and lock. There's also a gutter system to direct rain to corners, rather than have it cascade down all sides (the gutters are relatively narrow, to prevent being fouled by leaves, so they'll still spill over in heavy rain; it's one of life's little compromises). It comes with double-tracked curtains and mosquito netting, so you can use either or both as needed to provide privacy, block the wind, and keep out those pesky biting critters. Note that both the netting and the curtains are flame-resistant, but you'll still want to be careful about letting them get close to your grill.