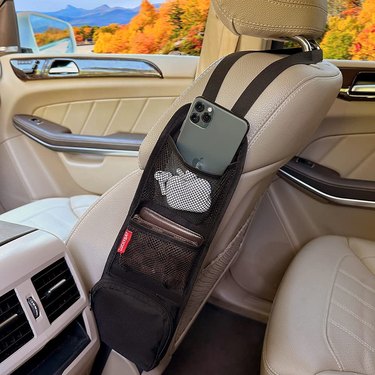 Long car rides can require a lot of supplies to keep your passengers entertained—especially if your passengers happen to be kids. We put together a list of the best car organizers to help make your time in the car more enjoyable, from front seat organizers to backseat organizers to organizers for the trunk, there's something for all types of organization.
What to Consider When Purchasing Car Organizers
​‌Passengers:‌ The car organizers you purchase will largely be based on the passengers you normally have in your car. If it's just you and your partner, front seat organizers might be all you need. If you have kids, backseat organizers will make car life go a lot smoother.
‌Type:‌ There are several types of car organizers that can help keep your belongings safely put away while remaining accessible while you're driving. Front seat organizers include pouches that attach to the side of the passenger seat, seat gap organizers and trash cans. Backseat organizers can hold activities and tablets for kids as well as water bottles and snacks. Trunk organizers are good for preventing miscellaneous items from rolling around, including groceries, umbrellas, extra shoes and sports equipment. A small trash can will help keep your car clean. The more people you have in the car, the less room you'll have for their belongings and potential luggage if you're traveling, so adding storage space like a cargo box will add some square footage.
‌​Budget:‌ The purpose of car organizers is to make your ride more comfortable with less stuff in your way. Most accessories that can make a positive impact on your car trips are pretty inexpensive—all within the $6 to $50 range, the big budget item being a cargo box if you go that route.
In addition to the car organizers you desperately need, get ready to find some organizational ideas that could fix car clutter problems you didn't even know you had.
1. H Helteko Car Backseat Organizer, 2-Pack
Keep your back seat organized while giving your kids access to all the activities they could possibly need with this two-pack of back seat organizers. They hang on the back of the front seats, letting your kids store games, books, snacks, toys, tablets, and whatever else they might want while on a long car drive (or a short car drive). It even has two cup holders. The organizer is securely held down by straps so it always stays put. It comes in two color options: black or gray.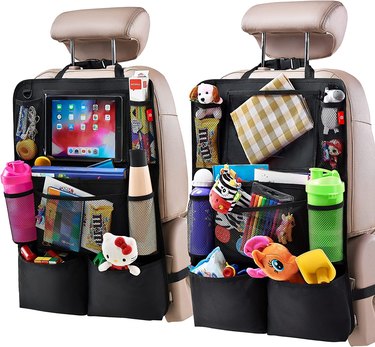 2. Kafeek Car Seat Snack Holder
Whether you're going on a road trip or picking your kids up from school, it's never a bad idea to have extra snacks and beverages in the car. This snack pouch hooks onto the back of the front seat, making it reachable for the passengers in the back and a quick reach behind for those in the front. It's insulated to keep beverages or perishable food chilled. There are two cup bottle holders on the outside of the pouch and a net that holds small snack items. There's also a tissue or wipe dispenser at the bottom, which is especially convenient for messy hands and noses.
3. Fortem Car Trunk Storage Organizer
If you have a trunk full of stuff that tends to slide around while you drive, you could probably use this trunk organizer. The sturdy box has non-slip strips to prevent sliding as well as adjustable straps to secure the box in place. It can be used as a holder for grocery bags, donations, toys, a portable toddler potty and more. The storage container comes in three colors and three sizes: standard, large and extra large.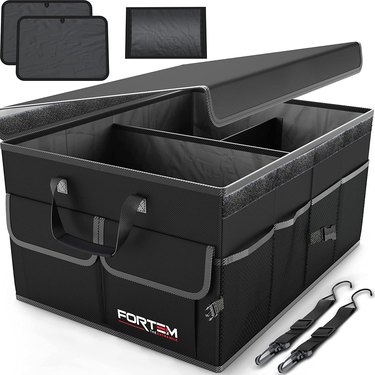 4. Surdoca Car Trunk Organizer
If you keep important auto products or other safety car accessories in your car, like a first aid kit, tools, jumper cables and more, this hanging organizer is a great option. It hooks onto the headrests of the seats in the back row of your car, and it can hold a wide variety of items. There are several large storage pockets with velcro closures along with netted pouches.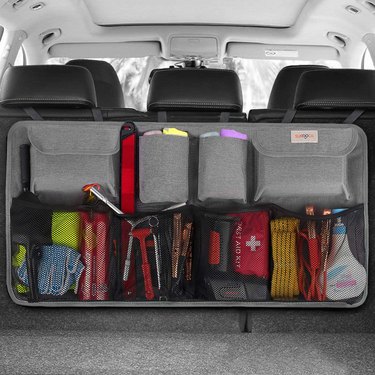 5. Luckybay Car Seat Side Organizer
How many times have you dropped your phone into the deep abyss, AKA the gap between your seat and the center console? If you're like us, it probably happens often enough for this car seat side organizer to come in handy. It hooks onto the headrest of the passenger seat and works as a phone holder or holder of snacks, keys, a beverage, loose change, and so on.
6. Lusso Gear Car Seat Gap Filler
This faux leather car seat gap organizer won't just give you a place to hold your necessities like your cell phone, sunglasses, keys, pen, money and more, it'll save you from having to shove your hand down the center console crack only to get stuck on the way up. The pouch has spacers that can be adjusted for a secure fit between the seats. Choose from black or brown.
7. Hotor Car Trash Can with Lid
As it turns out, you don't have to throw your trash in the middle console of your car or on the floor—trash cans for cars exist and they're small and ready to make your car ride better. This nylon vehicle trash tote, along with its mesh pockets, gives you plenty of space to store your trash without needing to empty it every day. It can be hung on a headrest or placed on the ground. It can also pull double duty as a place to store toys snacks, drinks or other belongings. The trash can is available in 2 gallon or 3 gallon sizes in various color options.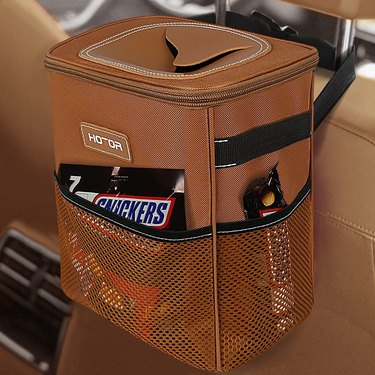 8. Lusso Gear Kids' Travel Tray for Car Seats
This genius tray can hold an iPad or tablet (so your kids don't have to), snacks, art supplies, books, water bottle and more. Pretty much anything your kids would bug you for during a long car ride can be at their fingertips. The tray hooks around the car seat or booster for safety and it comes in eight colors and designs.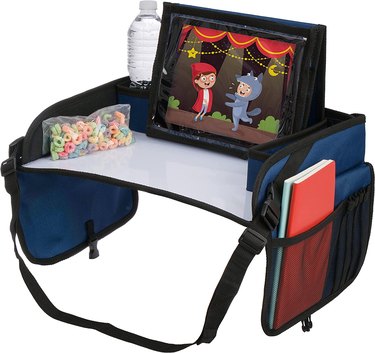 9. LivTee Car Seat Headrest Hooks, 4-Pack
Instead of throwing your bags or purse in the car, only to get knocked over or stepped on, try these headrest hooks. They hook onto a headrest on your front seats or rear seats. The 4-pack comes in black or beige.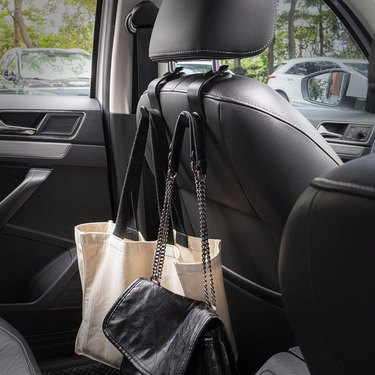 10. Kartisen Car Sun Visor Organizer
A great way to keep your small essentials in arm's reach is a sun visor organizer. This one can hold your phone, pen, glasses, money and more. It has a large zippered pocket along with several small open pockets. The sun visor organizer comes in black, beige or gray, matching the color of most car interiors.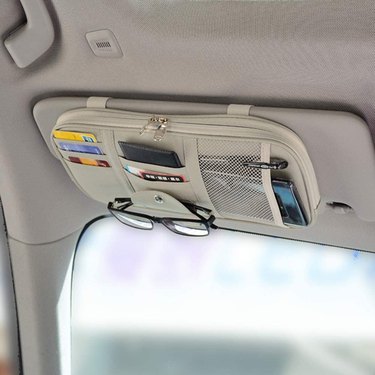 11. SportRack Vista XL Cargo Box
SportRack Vista XL cargo box provides 18 cubic feet of interior capacity, giving you extra space to load your luggage or road trip gear. It has a rear opening and comes with a lock and key to secure your belongings inside the box and fasten the box to the rack. The cargo box fits on top of SportRack systems, square bars, round bars and most factory racks—but you should check the fit guide before purchasing just to make sure.