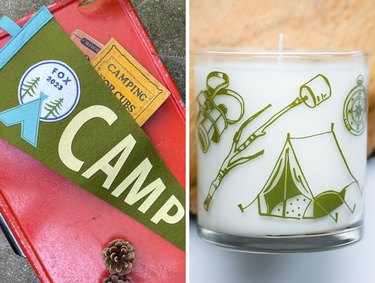 Whether or not "bug juice" means anything to you, there's something delightfully nostalgic about summer camp—even if watching ‌The Parent Trap‌ was the closest you got to attending camp yourself. Surrounding yourself with camp-inspired decor and eating camp-inspired snacks are two fun ways to reconnect with a simpler time.
And let's be honest: There's also something hugely aspirational about summer camp once you're an adult. Checking out of real life for a week? Disconnecting from your phone to spend your days canoeing and doing arts and crafts with a group of new best friends forever? Sounds pretty dreamy! Alas, you can't step back in time to your childhood summer camp days—but you ‌can‌ embrace the summer camp aesthetic at any age with our collection of camp-inspired recipes, crafts and decor ideas.
1. Summer Camp Party Theme
Just because you're old enough to get married doesn't mean you have to give up your summer camp dreams! As inspiration for your own camp era, check out what TikToker @sarahjcummings did to pull together a summer camp–themed bachelorette party for a friend. The decor ranged from faux tabletop campfire decor and handmade felt pendants to embroidered tote bags as gift bags—perfect for actual camping trips. This would also make a fun birthday party theme!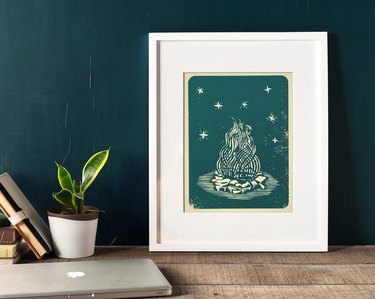 Keep the summer camp aesthetic alive year-round with wall art that reminds you of relaxing in the great outdoors. Etsy artists (including @StarfangledPress, who created this this whimsical campfire art print) create pieces that evoke the feeling of summer nights under the stars.
Every summer camp experience seems to include plenty of time in and around water, from canoe expeditions to splash wars in the lake. If you don't have access to a pool or body of water but still crave that refreshing water element of summer camp, consider creating a DIY slip 'n slide. TikToker @shrtcts shows off a safe and effective way to get slipping and sliding using nothing more than a tarp, garden stakes, a hose and a healthy dash of baby shampoo. Get ready to feel like a kid again!
Two of our favorite summer camp elements? S'mores and crafts! With inspiration from TikToker @wewearcute, combine the two in an educational way by DIY-ing a solar oven using nothing more than a cardboard pizza box, construction paper, tin foil and—of course—marshmallows, graham crackers and chocolate! This easy science experiment results in delicious homemade treats. What's not to love?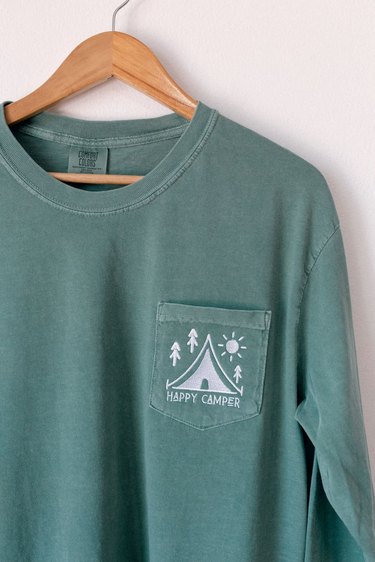 Add camp vibes to your summer wardrobe with an embroidered "Happy Camper" top from Etsy creator OhSarahJean. Order a batch for your family to wear during a summer camping trip, or snag a few for friends before a camp-themed bachelorette weekend so everyone can take home a souvenir. Embroidery can be added to a variety of shirt styles (including crewneck sweatshirts and long-sleeved tees), so you'll find the perfect fit for that chilly late-night campfire.
Tip
Curious about what summer camp life looks like now? Check out these TikTok accounts for a peek inside:
6. Homemade Friendship Bracelets
Wouldn't you be delighted if your BFF handed you an unexpected handmade friendship bracelet? Spread the summer camp vibes far and wide by making your own embroidery bracelets—this tutorial from TikToker @strawberryyknots will show you how. The lightweight creations are small enough to fit in a standard envelope, so you can send them to far-away friends (like your summer camp besties from back in the day!).
If you can't make it to camp, bring the camp into your home with a timeless themed candle from Wisconsin-based Etsy artisan vital. This rustic and retro soy candle comes in a reusable glass that's decorated with outdoorsy tools and camping gear. The best part? You can choose your own scent—and we recommend opting for Mountain Pine or Citronella to really capture that summer camp vibe.
Summer Camp Movies and TV Shows
Need something to spark your inspiration? Fire up a playlist of these summer camp–themed recommendations:
‌Camp Rock‌ franchise
‌The Parent Trap‌ (1961 or 1998)
‌Sleepaway Camp‌ (1983)
‌Salute Your Shorts‌ (1991–1992)
‌Theater Camp‌ (2023)
‌Wet Hot American Summer‌ franchise
This summer, your hair isn't greasy or messy—you're just going for a "summer camp aesthetic"! That's your story and you're sticking to it. Complete the laid-back look by DIYing some summer camp–ready scrunchies using cotton bandanas, as demonstrated by TikToker @shirkdesigns. Worn with your rattiest tank top, a pair of overalls and some hiking sandals, you'll be ready for archery lessons. (Remember, there's no such thing as bad taste at summer camp. As long as you're comfortable, you're dressed perfectly!)
9. Personalized Camp Pennant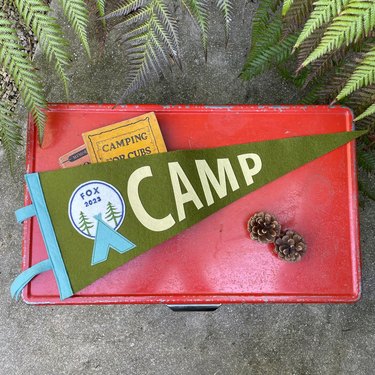 For another summer camp–inspired home decor touch, consider ordering a customized handmade felt pennant from Etsy artisan @pineandbearUK (which offers free shipping to the United States!). Add your surname or a loved one's first name alongside woodsy decals for a vintage-inspired feel. Regardless of where this fun piece is displayed, it's sure to conjure that cool camp mood.
Maybe you can't steal away to sleep-away camp this summer (pesky adult responsibilities!), but that's okay—summer camp is a state of mind. With this roundup of suggestions, you can celebrate all the fun and nostalgia ‌without‌ all the mosquito bites.