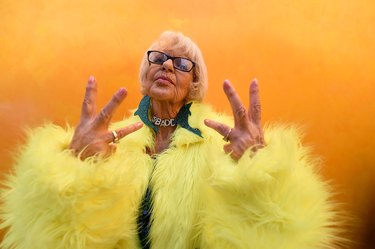 Gen Z and millennials might be prevalent across social media, but with a bit of exploration, you can switch up the demographics and add some "granfluencers" to the mix! Yes, we said "granfluencers," aka influencers who fall into the traditional grandparent age category. Take Baddiewinkle (pictured above), who first rose to Instagram fame in 2016 at the age of 85, or Iris Apfel, who's still sharing fashion and interior design inspiration at the age of 101.
Senior influencers use social media to share the same kinds of funny videos that younger generations embrace. But they also provide a unique perspective that sets them apart: wisdom earned through decades and decades of life experience. Couldn't we all use a little sage life advice from internet grandparents? To help you explore the trend, here's a roundup of eight "granfluencers" who are so worth following.
Lynn, who goes by Lynja, describes herself as "just a regular mom with killer cooking skills." We'd argue that most regular moms don't have more than a million Instagram followers, a YouTube channel with nearly 6 million subscribers or a TikTok account with a whopping 15.1 million followers! Lynja's life story is equally amazing: She's actually a retired MIT-trained engineer. Her distinctive voice and charmingly simple special effects are just as much of a draw as the easy, crowd-pleasing recipes she creates. (The sound editing will also appeal to ASMR lovers.)
With more than 2 million Instagram followers, it's safe to say that a lot of us want to go to brunch with Babs. She got so popular in 2022 that she became a repeat guest on ‌Today‌, showing host Hoda Kotb the right way to load a dishwasher and sharing ideas for throwing a New Year's Eve party. Whatever kind of advice or guidance you might need about cooking, hosting, decorating or life in general, Babs has it.
Think of "Grandma" (Lagetta Wayne) of Grandma's Garden as a farm-to-table influencer, except the things she cooks come from her own extensive garden instead of a farm. Her TikTok videos cover everything from planting seeds to harvesting veggies and cooking them in delicious ways. When it's cold and dark outside, take a virtual tour through Grandma's Garden and try to count how many different varieties she grows.
It doesn't get much more wholesome than this duo of 80-year-old grandparents who collaborate on beautiful art and stories about their lives. Each piece is dedicated to the couple's grandchildren and features writing from Grandma Marina accompanied by vibrant watercolor illustrations from Grandpa Chan. The warmth is palpable in every post, and the duo even published a book in 2020 called ‌Looking Back Life Was Beautiful.‌ We're not crying, you're crying!
Think of Grammie Angel as your very own personal Italian grandma, complete with loads of easy-to-follow cooking knowledge and a warm, bright personality to match. With more than 155K followers on TikTok, Grammie Angel is certainly making her mark with recipe videos detailing timeless dishes like strawberry shortcake pie, rhubarb crisp, Italian wedding cookies and, of course, meatballs. Yum!
90-year-old TikToker Judi (also known as Gramma Judi) posts videos with the help of her family. Based in Illinois, Judi's content covers a little bit of everything: jokes, advice, live Q&As, cooking tips and homages to her love of knitting. Her infectious smile, colorful outfits and sense of humor make watching Judi's videos feel like being wrapped in a warm hug. We can only hope to be so delightful at 90!
Dr. Slater's status as a fashion icon was established long before TikTok came around. While working as a Fordham University professor in 2014, she garnered so much attention for her personal style that she started a fashion blog called Accidental Icon. These days, she's a writer and activist who uses Instagram to document her "vintage hipster" life in Peekskill, New York—a life that extends beyond fashion. Dr. Slater's account also highlights gardening endeavors, upcycling tips and more.
Grandad Frank was made for TikTok. An Irishman in his late 70s, he's willing to go along with whatever trends are sweeping social media at a given moment with the guidance of his teenage granddaughter. His dancing and lip-syncing skills might be, shall we say, pretty average for the typical septuagenarian—but his enthusiasm more than makes up for it! You'll also find the occasional cooking video or product review (he recently shared his top tips for removing cat hair from the sofa!).
You respect your elders, right? Of course you do! Make sure your feeds reflect this respect by following some sweet, sassy, wise and all-around awesome social media "granfluencers."