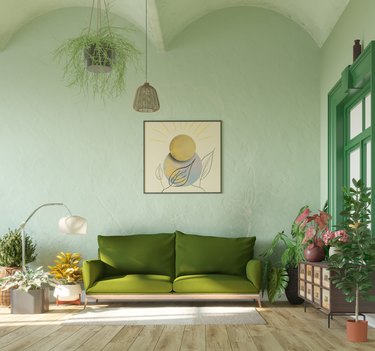 Picture this: You're meandering along the cobblestone streets of a quaint Italian village, pistachio gelato in hand. The breeze off the ocean is cool, the soothing sounds of distant music fill your ears and the sun's rays have melted that pistachio gelato ‌just‌ enough that you can really admire its subtle green hue. Time is meaningless, and all is well.
OK, back to reality. We might not all be able to afford a European getaway, but we ‌can‌ capture those Italian summer vibes by embracing a trend: pistachio-inspired everything!
Much like an Italian summer, the pistachio trend is full of simple charm. The lovely greenish pistachio tone (and, of course, the pistachio nut flavor itself) provides a fresh yet timeless vibe that's understated and purely pleasing. Whether you're making over your space with a pistachio-inspired color palette or bringing those Italian vibes to life with a little help from pistachio-scented candles, read on for eight ways to go nuts for all things pistachio.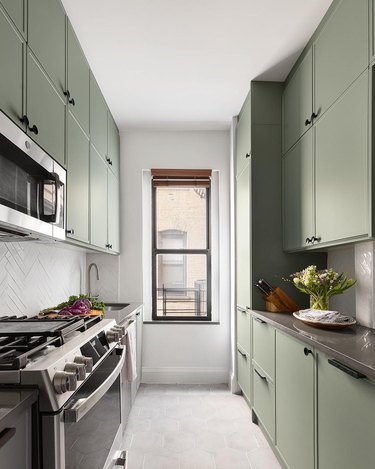 Not sure how a pistachio-themed color palette might translate to your home decor? Check out the aptly named @pistachiobyelaine Instagram account for inspiration. Consider using shades of medium green accented with pops of browns and deep purples. We think the pistachio palette looks especially lovely in a kitchen setting like the one pictured here!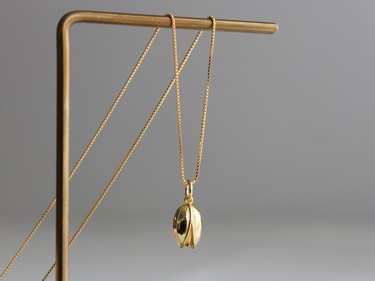 Wearing a gold-plated pistachio necklace could serve tribute to your favorite nut...or serve as just a quirky fashion choice! This pendant, made by Etsy seller SkyesPurpleCloud, will probably strike most people as a simple decorative bauble until they take a closer look. (That's when you'll find your fellow pistachio fanatics.)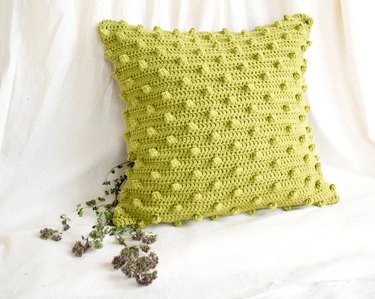 Embrace the brighter end of the pistachio color palette with a pistachio-inspired crochet pillow cover from Etsy artisan rosehipandrain. This handmade cotton beauty is just bright enough to bring out those more vibrant undertones in your pistachio-inspired wall art while adding a textured effect to any sofa or bed. We'll be napping with our heads on this 16 x 16-in. gem until further notice!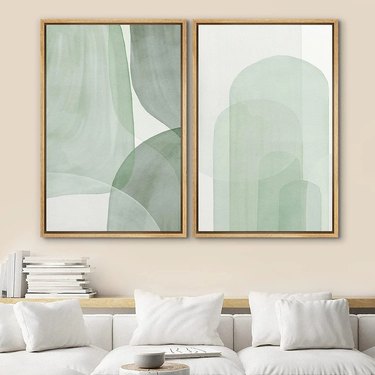 The medium green hues associated with the pistachio color trend are neutral enough that they'll probably work as wall art throughout your home. Search for mellow abstract prints in shades of pistachio green, like this pair from Etsy artisan DustinWay. To bring in other shades of the pistachio color palette, hang green prints in brown or deep purple frames.
5. Pistachio skin products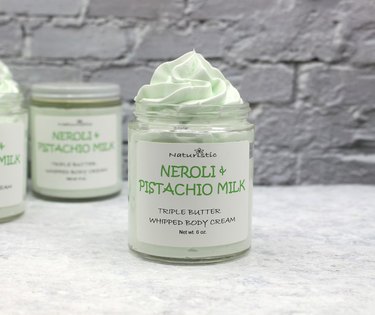 You might already have skin care products containing shea butter, almond butter and other tree nut oils in your bathroom. Why not try pistachio skin products next? Etsy sellers like NaturisticBath create body creams, oils and other lotions and potions that contain pistachio.
A Few Sweet Pistachio Recipes
What if you love eating pistachios as much as you love admiring their shade? Enter: pistachio desserts! If you're craving something a little less common than chocolate chip cookies or you're searching for recipes for special occasions, think pistachios. These five TikTok recipes for pistachio desserts are a good place to start. Enjoy them while sitting beside your pistachio-inspired wall art!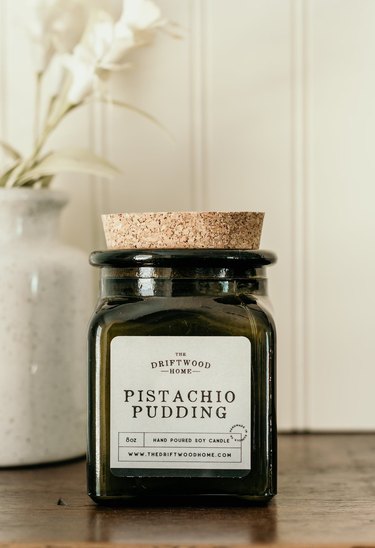 Have you ever walked into someone's home, sniffed the air and asked, "Is that pistachio I smell?" Probably unlikely. Give your standard vanilla- and flower-scented candles a break and shake things up with a pistachio-scented candle like this one from Etsy seller TheDriftwoodHome. The pistachio smell is ‌just‌ sweet and nutty enough to be pleasant without making your mouth water like some food-scented candles do. (We're looking at you, fresh bread candle!)
This DIY from TikToker @duyguturgok combines the best of both worlds: pistachio hues and literal pistachio shells! She uses wooden skewers, hot glue and loads of pistachio shells to create eye-catching "flowers" for a bouquet. Completed skewers are paired with other dried plants and are displayed in a stunning, pistachio-colored vase. We love when fun crafts double as home decor.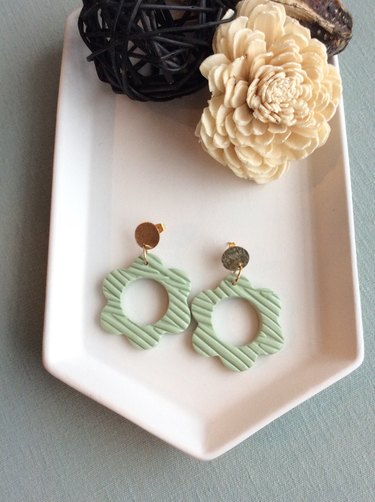 Last but not least, here's a less literal take on pistachio jewelry than the fun pistachio necklace above: pistachio-inspired earrings! These handmade ceramic beauties from ADSClayArt on Etsy are made with stainless steel fixtures and measure just an inch in both width and length. We think these would make an absolutely stunning accessory to wear while strolling through a small Italian town, pistachio gelato in hand...
Anyone else ready to paint their whole home pistachio green? We know we are! Light up a nice pistachio candle and go nuts have fun with this trend!