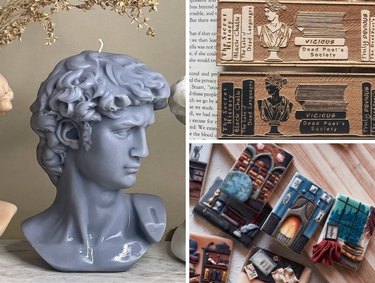 Ever found yourself longing to wander the hallowed, Gothic halls of a New England college or don a blazer and sip Earl Grey tea in a candlelit library? Perhaps you're obsessed with the aesthetic of Edinburgh, Scotland. Or maybe you recently watched the film ‌Dead Poets Society‌ and thought you'd fit in perfectly—sans the less-than-cheery outcomes. If any (or all!) of these scenarios strike your fancy, you might just be a dark academic.
If you've never heard of dark academia, it's just what it sounds like: an aesthetic all about embracing academic tropes and styles (think: classical literature in the form of dusty books, dimly lit libraries, preppy cardigans, homages to Greek texts) with a dash of cozy cottagecore thrown in (we're talking lots of candles, nods to nature and a general longing to embrace the past)—all with a slightly Gothic, dark spin and an intriguing inkling that participating makes you part of some secret society.
Ready to dive headfirst into all things dark academia? If so, we've gathered inspiration from across social media to help you explore the subculture. From home decor DIYs that will set the mood to recipes with total dark academia vibes, there's a little something for everyone. You'll feel like you're enrolled at a mysterious boarding school in no time with these darkly delightful ideas.
1. DIY Decoupage Portrait
Looking for a dash of dark academia energy in your next crafting project? TikToker @9rotto uses Mod Podge to create a decoupage portrait of ‌Frankenstein‌ author Mary Shelley (certainly a darling among dark academics) that would fit perfectly into any home library (or dorm room!). The addition of Shelley's signature takes this craft up a notch—we can imagine creating similar portraits to honor every beloved writer or iconic dark academic.
Tea is popular among dark academics for its cozy, classic vibes—particularly the London Fog, a drink consisting of Earl Grey tea, hot milk and a dash of vanilla. If you're looking for a sweeter take on the London Fog, consider this recipe from @maraacaitlinn on TikTok, who whips up an Earl Grey ice cream float by dropping a scoop of vanilla ice cream into a piping hot cup of tea. Talk about a perfect treat for the next meeting of your dark academia book club!
3. Classical "David" Bust Candles
Want to elevate the dark academia vibes in your home? Consider snagging a homemade soy candle from Etsy maker PhillyCandles. Featuring the bust of Michelangelo's ‌David‌, these intricately crafted candles stand six inches tall and come in scents such as lavender, sage and honey. Can't you just picture curling up with one of your favorite dark academia novels as this candle flickers on your desk? (If you ask us, though, it's almost too beautiful to burn.)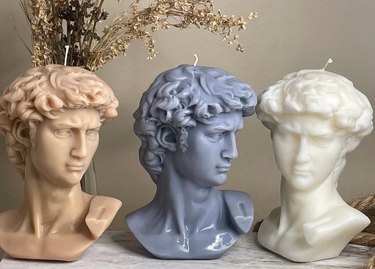 4. Dark Botanical Wallpaper
Continue the at-home celebration of dark academia with this botanical wallpaper from WonderBerriesDecor on Etsy. It's just dark enough to keep the moodiness alive and just beautiful enough to add an eye-catching touch to any room. Here's where that thread of admiration for nature comes into play, as the wallpaper's featured birds and plants will surely inspire deep discussion among members of any secret society of dark academics.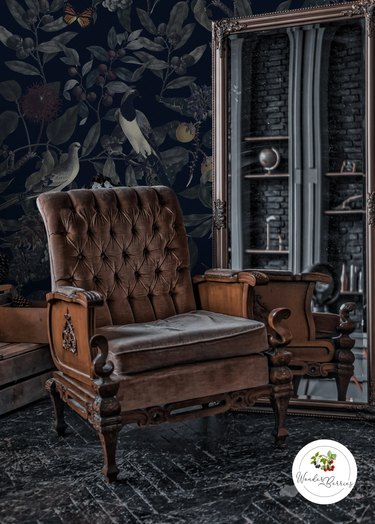 Every dark academic needs somewhere to record their deep, philosophical thoughts as well as poetry inspired by classic literature. The perfect place to do so? On vintage paper, of course. If you don't have any journals from the Edwardian era lying around, fear not: TikToker @vellichorrr has a fun tutorial for making aged paper at home. Impressively, this is achieved with nothing more than plain white printer paper, a plate and—get this—a small amount of coffee. With your "aged" paper in hand, all you need is a feather plume pen to get writing!
Oh no! It's the day of your weekly secret society meeting and you've just remembered that it's your turn to provide snacks! Don't panic. With these amazing dark academia-meets-library cookies from TikTok baker @thecookievirtuoso, you've got all the inspiration you need to whip up a batch of sweet treats (or place a custom order for future enjoyment!) that will inspire even more excitement among your fellow dark academics than an in-depth lamentation about why the humanities are dead. Delicious!
7. Clay Snake Bone Earrings
Are you the sort of person who likes to wear your passions on your...ears? We've got just the thing for you. With a pair of clay snake bone earrings from Etsy maker FoxyMethod, you can proudly show off your admiration for dark academia color schemes and motifs while drawing plenty of compliments for your unique style. The jewelry maker also describes these earrings as "dark cottagecore" and "romantic goth," so there's an opportunity to explore several subgenres with your pretty new pair.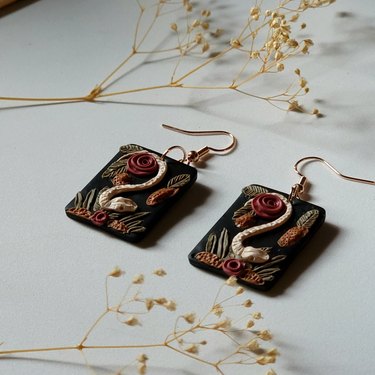 8. Handmade Wood Bookmarks
If you're not donning a sweater, on the constant pursuit of knowledge and always carrying around at least three books, are you really even a dark academic? We think not, and you're going to need bookmarks to hold your place as you dive into multiple works of classic literature at one time. Thankfully, The Bookish Den (whose work can be explored on both Instagram and Etsy) crafts incredible wood bookmarks that totally fit the bill. Of course, we'd be remiss not to recommend the dark academia-specific bookmark, which highlights iconic titles from the genre. (‌The Secret History‌ by Donna Tartt, anyone?)
Well, there you have it: a whole slew of inspiration and ideas to help you bring the distinct vibes of dark academia into your real life. At the end of the day, the dark academia aesthetic emphasizes learning, questioning, discussing and—of course—plenty of moodiness. It's not just for young people at boarding schools, and you don't have to live among Gothic architecture to embrace its many wonders. Sometimes all it takes is an Earl Grey float and a good book.