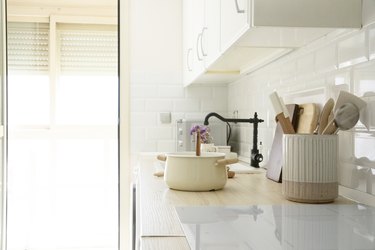 Though most of us probably wish we could keep all of our dishware and kitchen products neatly tucked away inside cabinets for that model kitchen look, there are bound to be some items that require easier access—or else won't fit. That's where kitchen countertop storage comes in. From corner shelves to spice racks to mug trees, there are numerous countertop storage and organization options that range from specific-use to highly versatile.
Not all kitchen countertop storage looks good, though. Some manufacturers nail the basics but come up short on the style front, or otherwise look cheap. And you don't want to end up with something that looks like it belongs in the shower stall instead of the kitchen! Fortunately, you don't have to overspend in order to get kitchen countertop storage that looks premium. We've scoured the internet for all kinds of countertop storage that looks fantastic, but won't cost a fortune (OK, some choices might still seem a bit pricey, but we strove to remain under a certain budget, and you get what you pay for). At any rate, you can find something both functional and classy.
What to Consider When Purchasing Kitchen Countertop Storage
‌Available Space:‌ It goes without saying, but survey the amount of available counter space you have before purchasing something. Paying attention to product dimensions helps, too. Some countertop storage, like mug trees or stacking shelves, are designed to minimize their footprints and capitalize on vertical real estate, while other products, like most bread boxes, may require more horizontal space.
‌Versatility:‌ When it comes to kitchen countertop storage, products range from general use to hyper-specific. Products like shelves, Lazy Susans and hinged boxes are more flexible in terms of what you can store on or inside them, whereas items like salt cellars, bread boxes, mug trees and cookbook holders are designed for storing a particular type of product. What you get depends on your needs and amount of counter space, but you can always get a mix of both.
‌Style:‌ While style is subjective, you really don't have to settle in this regard. If you don't care that much about appearances and would rather save a bit of money on something more utilitarian—which often means sacrificing multiple color schemes or receiving something made from cheaper materials—more power to you. But if you want to match your kitchen's style, be it modern farmhouse, contemporary, Spanish-style, mid-century modern or French country-style, you don't always need to spend a lot in order to get something that gels with your existing interior design or looks a bit more elegant.
With that said, check out our favorite kitchen countertop storage picks below: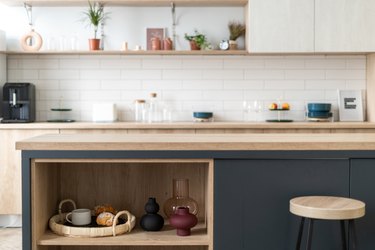 This three-tier kitchen shelf tucks neatly into the corner of your wraparound countertop. Made from sustainable bamboo, it measures 9 1/2 inches tall and 10 inches deep, offering enough space for dishes, spice jars or a combination of the two. Assembly is easy; it comes with instructions and all the hardware you'll need, including a screwdriver.
2. Rosdorf Park 4-Quart Stainless Steel Kitchen Canister Set
This set of four hammered stainless steel canisters holds a total of 4 quarts and is ideal for storing flour, salt, spices and grains. Available in glossy silver or copper, each canister features a BPA-free airtight translucent lid to keep ingredients fresh.
3. Art Nouveau Stainless Steel Kitchen Canister Set of 4
For something a little more intricate-looking, try this similar set of four kitchen canisters that collectively hold 8 1/2 quarts of ingredients. Their beautiful design evokes 1910 Paris and each piece is handcrafted and artistically finished by skilled artisans. The canisters range in size from 4 inches in diameter and 6.37 inches tall to 6 3/4 inches in diameter and over 10 inches tall.
4. Foundry Select Bamboo 2-Layer Bread Box
If you're frequently bringing home fresh-baked bread or delicate pastries, you may be interested in this gorgeous two-layer bread box that looks straight out of the baked goods section in your local grocery store. It features see-through BPA-free drop-down lids complete with tiny air holes and round knobs, as well as a handy spot to store a bread knife.
5. Gaspard 2-Piece Stainless Steel Square Accent Storage Shelf Set
Store small dishes, spice jars, salt and pepper shakers, olive oil and more with this sleek stainless steel accent shelf, which will fit nicely against your backsplash on your countertop. It features two tiers and measures 14 inches at its tallest, 17 1/2 inches at its widest and 6 inches deep.
6. PUERSI Handmade Wooden Cookbook Stand
Access your favorite recipes without straining your neck using this beautiful cookbook stand. Made from carbonized solid wood, it sports a clear and natural wood grain, but features smooth edges and is finely sanded for comfortable handling. It can comfortably hold cookbooks between 8.3 to 9 inches wide and 11.7 to 12.8 inches tall. Get it in brown or white finishes (we think brown looks better, but you do you).
7. Sur La Table Marble and Acacia Cookbook Holder
For something that looks a little more luxe, you can't go wrong with this elegant cookbook holder from Sur La Table. Made from brilliant white marble and acacia wood, it features a flat, solid slab for great support and measures 10 inches wide and 12 inches long. It includes a hole at the top for hanging it when not in use, if you prefer.
8. Old Havana Butter Dish
Butter stored at room temperature doesn't last as long (around 30 days) as it does refrigerated, but darn it if this isn't one of the prettiest butter dishes we've seen. If bread and butter are your, well, bread and butter and you eat them often, this mint-colored, richly detailed dish will keep your butter at the perfect temperature for spreading. It's made from glazed stoneware in Portgual and is even dishwasher-safe! You butter jump on this one before it's gone.
9. Farmhouse Spiral Egg Display
Warning: If you live in the U.S., for your own safety, we don't recommend this egg display or storing your eggs unrefrigerated. However, for our readers in the U.K. or Europe, it's probably OK. This is due to key differences in how eggs are processed in the U.S. versus in Europe, which affects the likelihood (or not) of salmonella infection. Unfortunately, displaying eggs on your countertop simply isn't a good idea in the U.S.—no matter how cute it looks—unless they're fake.
That being said, if your eggs are safe to display, this egg display from CountrySparklesStore on Etsy is not only functional but artistic. 3D-printed using quality plastic, each egg display boasts a spiral design and is available in three sizes (12, 18 or 24 eggs) and up to nine colors.
Again, to our U.S. readers or anyone who lives in a country where eggs must be refrigerated, stay safe and stick to fake eggs with this display, store something else or pass on it.
10. Cacti Freestanding Napkin Holder
Whether you keep your napkins on your kitchen table or on the counter, this napkin holder styled after potted cactus plants sure looks good. Made from iron with a powder-coated finish, it's rust-free and designed to last forever. It measures 1.6 inches wide, 5.5 inches long and 4 inches tall.
11. Barnyard Designs Farmhouse Napkin Holder
For a more rustic look that's more country than desert oasis, this charming napkin holder is a perfect fit for the modern farmhouse aesthetic. Made from quality distressed wood, it measures 3 inches wide, 5 1/2 inches long and 5 1/2 inches tall and comes in a more natural-looking brown and white finish or painted white with sanded edges.
12. Authumberdale Vintage Napkin Holder With Salt and Pepper Shakers Caddy
If you like your napkin holders to be multifunctional, this neutral-looking piece not only holds napkins but includes built-in caddies to hold salt and pepper shakers, silverware and more. It's made from solid wood (available in two finishes) and measures 7.3 inches wide, 9.4 inches long and 5.6 inches tall.
13. Acacia Expandable Riser
This expandable riser can display spices and other small items alongside your kitchen countertop backsplash. Made from acacia wood, it features a pull-out section that slides easily in and out, and when fully expanded, the riser can hold up to 30 spice jars or 21 canned goods. It measures 12 inches wide (up to 21 1/2 inches expanded), 10 1/2 inches long and 6 inches tall; each step is 3 1/2 inches deep.
14. Kamenstein Bamboo Inspirations 16-Jar Spice Rack Set
The beauty of this stylish wooden spice rack is its flexibility: You can prop it up like an easel to stand freely on your countertop, fold it down to store in a drawer, or even mount it to your wall to save extra space. Not only does it include 16 small spice jars, but the spices, too. Everything fits neatly to minimize the space it requires. The spices include sea salt, pizza seasoning, bay leaves, coriander, fennel, parsley, basil, celery, salt, chives, crushed mint, marjoram, seasoning salt, Italian seasoning, oregano and rosemary.
15. Kamenstein Criss-Cross 18-Piece Spice Jar and Rack Set
OK, this one's a bit of a cheat since it's not designed to sit on your countertop, but we couldn't resist including this eye-catching wall-mounted spice rack set that can double as a focal point if you don't have a kitchen backsplash. Its striking criss-cross pattern accommodates 18 spice jars, which are also included, complete with labeled lids. In theory, you ‌could‌ also set it up against the wall without mounting it. There's no assembly required, but mounting supplies aren't included.
16. Marble and Glass Serving Cloche
For anyone who's big on fresh fruits, cheeses and pastries, this marble and glass serving cloche is your friend (and a stylish one, at that). The marble base measures 15 inches in diameter, while the base and lid together stand 13 1/4 inches tall. To clean, simply wipe down with a dry cloth.
17. Auledio 2-Tier Countertop Fruit and Vegetables Basket
This two-tier fruit and vegetable basket may not be fancy, but it's still sleek and neutral-looking enough that it will fit right into most kitchen styles. Better yet, it includes a hook for hanging bananas, so you can display all your fresh fruits in one spot. Made from iron, the upper basket measures 8.66 inches in diameter while the lower basket measures 11 inches across, and the entire thing stands 15 inches tall. Minor assembly is required.
18. NAGAWOOD 2-Tier Fruit Stand Kitchen Countertop Storage
For a farmers' market aesthetic, you might instead opt for this wooden two-tier countertop fruit stand from NAGAWOOD. It features two stacked, slightly staggered wooden trays that contain slats that allow for optimized airflow. The structure stands just 10 1/2 inches tall and measures 12 inches wide. Some assembly is required.
19. Rabaha 16" Acacia Lazy Susan
This beautiful Lazy Susan made from 100% sustainable acacia wood is classy-looking and will fit in with various kitchen styles. Measuring 16 inches in diameter, it's large enough to store a number of spices, condiments, a tea set and more without taking up too much real estate on your kitchen island or tabletop. It seamlessly rotates thanks to its 360-degree rotation bearing, providing easy access from all directions.
20. OROPY Vintage Wood Coffee Mug Holder Stand
Mug trees are great, but most of them can only safely hold around six to eight mugs. If you've got more than a dozen, this finely-crafted wooden mug holder stand will come in handy. It's double-sided with sixteen hooks so you can hang up to 16 mugs; plus, you can store additional mugs on its base. The stand measures 16 1/2 inches wide at its base, 5.9 inches deep and 17.1 inches tall.