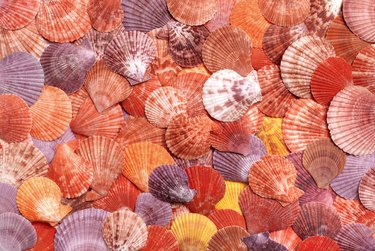 Mermaids are having a moment. The release of the live-action ‌The Little Mermaid‌ was the driving force behind "mermaidcore" gaining popularity on social media, and the inclusion of Mermaid Barbie in the ‌Barbie‌ movie only helped. So, if you've been mildly obsessed with mermaids since you first saw cartoon Ariel brushing her hair with a dinglehopper, it's your time to shine.
The mermaidcore aesthetic tends to veer toward boho, beachy vibes, but there's also plenty of room to have fun with kitschy decor. Read on for a roundup of ways to dress, decorate, accessorize, eat and drink like a mermaid—no tail necessary.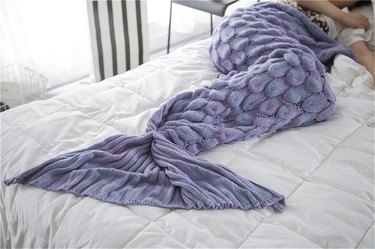 Crafters with the skill to knit or crochet can find a variety of patterns online to make their own mermaid tail blankets. The rest of us can benefit from their skills by buying snuggly, soft versions on Etsy! This one-piece purple mermaid tail blanket from DuvetCover3DStore on Etsy comes in an array of colors and patterns so you can match your blanket to the rest of your home decor.
A modern mermaid understands the importance of hydration. Granted, this mermaid cocktail from TikToker @liv.yah is no substitute for water, but it sure will look great in the afternoon sun as you sip it while wearing your favorite mermaid-inspired swimwear. It's made with blue curacao, green midori, tonic water and edible glitter. You could also easily experiment with mermaid mocktails using fruity embellishments or by tinting lemonade with blue and green food coloring to turn it aqua. Dazzling!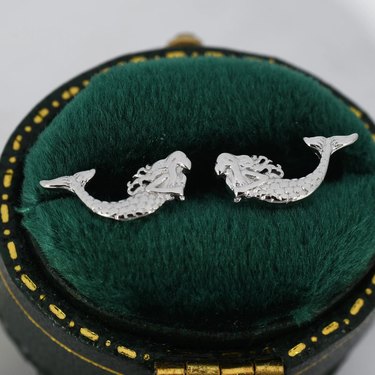 Mermaid jewelry could be a great gift for a sea-obsessed loved one ‌or‌ a fun addition to your own rotation (treat yourself!). Pay subtle tribute to the queens of the sea with mermaid stud earrings from Etsy seller SilverRainSilver. They're timeless enough to remain part of your collection no matter what's trending.
Tip
Want to master the full mermaidcore look in preparation for an upcoming costume party? TikTok is full of makeup tutorials, but @gleamingaby's over-the-top mermaid makeup tutorial is a fun place to start. Hint: You're going to need fishnets and a ‌lot‌ of eye shadow. Pair this makeup look with a sequin-laden crop top or corset, whimsical blouse, pastel-toned maxi skirt or even a glittery bikini top and a pair of pearl earrings to complete the perfect mermaid costume. Talk about high fashion!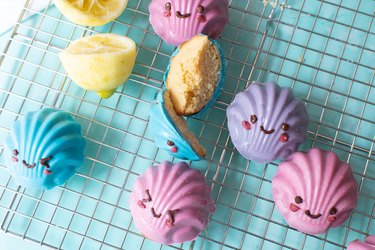 Creating themed cookies is always a tasty and low-commitment way to participate in a fun social media trend. With our seashell madeleines recipe, you can whip up your very own mermaid-friendly treats right at home. These sweet seashell cookies feature pretty pastels, like light pink and lavender, but they'd look just as beautiful with shades of aquamarine or seafoam green—and even a few edible pearls for a beaded vibe. Oh, and did we mention they're delicious?
Tip
For artisans who make custom tails and the swimmers who wear them, mermaid culture is more than just a trend—it's a way of life. Some of the top "mermaid influencers" to check out on TikTok include:
Making your own decorative candles using seashells is an easy craft project that straddles the line between boho and kitschy—perfect for achieving a mermaid aesthetic. Plus, you can adjust the color and scent of DIY candles. To get started, round up seashells you've brought home from beach trips or buy decorative shells from a craft store. TikToker @thefashionaries demos an easy method for making them.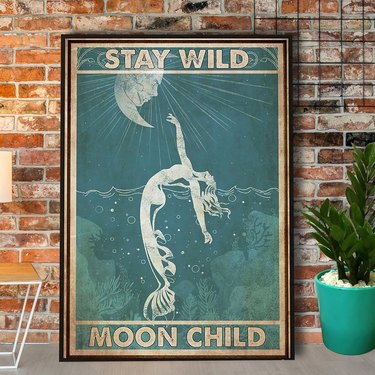 Trends come and go, but if you love earth tones and boho vibes, you'll love this mermaid-inspired "Stay Wild Moon Child" print for a long time. Get it from Etsy seller Wendieiera and add a whimsical touch to any wall. We think it would be particularly charming in a beach-themed bathroom or bedroom.
Ever dreamed about living under the sea? Tragically, humans' need for oxygen makes this an impossibility—but we can transform our yards into under-the-sea-inspired wonderlands fit for a mermaid by following this DIY coral tutorial from TikToker @popcharlotteballoons. You'll need spray insulation foam, yard stakes, spray paint and a bit of patience. The resulting "coral" is a totally unique addition to any outdoor space (and party theme, as @popcharlotteballoons demonstrates).
8. Mermaid temporary tattoos
Whether you're trying to take a mermaid costume to the next level or you're simply bored at home and looking for a fun project, giving yourself mermaid scale temporary tattoos is definitely the answer. These versions from Etsy seller MermaidTattoos come in a variety of colors and can last for several days.
9. Mermaid greeting cards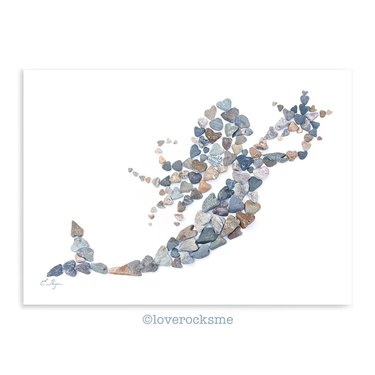 It's a shame that sending greeting cards has become a bit of a lost art. Wouldn't you love to receive one in the mail from a friend just because? Flip the script and write to a loved one with mermaid greeting cards from Etsy seller LoveRocksMeAndMaine. Or, for another decorative mermaidcore touch, stick one in an old picture frame and display it. (Good thing Ariel wasn't able to write a greeting card for Prince Eric explaining her whole deal, or ‌The Little Mermaid‌ would have been a much shorter fairy tale.)
In a serious world, couldn't we all use a little more light fun and fantasy? That's exactly what the mermaidcore trend is all about, so throw on your favorite swimsuit, whip up a batch of seashell cookies, cozy up in your crochet mermaid tail and embrace it with all the enthusiasm of Ariel!
Feeling inspired to check out more home decor, DIY and fashion trends? Be sure to check out our Barbiecore trend report to explore another unique aesthetic.