If you ask us, it's never too early in the year to shop smartly, and Wayfair's Fresh-Start Sale is definitely a savvy way to save money. The online sale promises up to a whopping 70% off, including up to 30% off bedroom furniture, up to 40% off sofas and sectionals, up to 50% off cookware and bakeware, up to 70% off area rugs and much more. There are generous discounts across every department. To entice shoppers even further, Wayfair boasts fast and free shipping on orders over $35. Whether you're looking to get a major head start on planning your home's spring makeover or just need to buy that one item you've been putting off, Wayfair's incredible deals should make it one of the first places you look. The sale runs through Jan. 18.
Here's just a mere snapshot of all the great home and kitchen products on sale:
1. Selah 20" Tall Solid Wood Tree Stump End Table
This beautiful, natural-looking side table by Sand & Stable almost looks straight out of James Cameron's Pandora, with its distressed finish and tendril-like legs reminiscent of a jellyfish. Made from sustainably-sourced plantation teak wood and handcrafted by artisans in Indonesia, the table stands 20 inches tall and comes in either a white or natural finish. A slightly taller, 22-inch model is also on sale.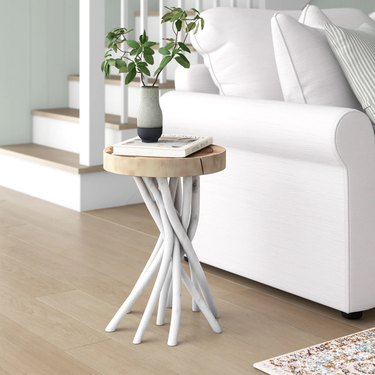 2. Manningtree Manufactured Wood Nightstand With LED Light
Ambient lighting has become a trend in luxury and sports cars, but now, it's making its way into furniture, as well! This sleek and futuristic nightstand features two drawers separated by a wraparound LED light strip that offers a soft, illuminating glow. To add to the effect, the front and sides feature glass panels for a glossy finish. The top drawer opens by pushing into it, while the bottom drawer slides out easily. The nightstand measures 18 inches long, 23.6 inches wide and 15.4 inches deep. It's available in three color schemes: white, black and brown, each with a multicolor LED backlight you can change with a remote. Assembly is required, but the tools you'll need are included.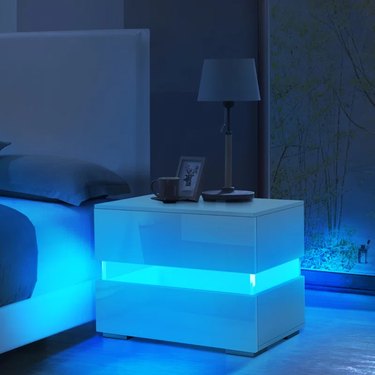 3. Syverson Manufactured Wood Armoire
An armoire is a great purchase if you're looking to transform a bonus room or office without a closet into a guest bedroom or flex space. This clean-lined, modern silhouette armoire by Mercury Row features two large swing-open doors, a bottom drawer, a clothing rod for hanging clothes, and plenty of extra storage space below that. Measuring approximately 70 inches tall, 31 1/2 inches wide and 19 inches deep, it offers ample storage space for a guest spending a week or two at your place, without a huge footprint. Assembly is required.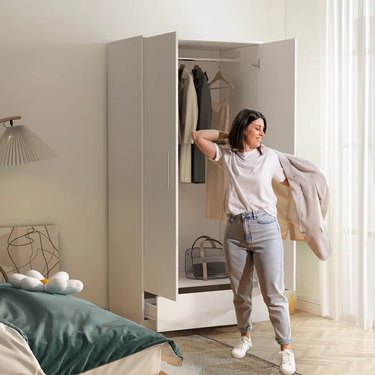 4. Santibanez 8' x 10' Handmade Braided Jute Area Rug
Not ready to commit to a brand-new carpeting job? (Hard floors are in, anyway.) An area rug is the perfect solution. This one by Rosecliff Heights measures 8 feet wide and 10 feet long and is hand-woven and braided in India from natural jute fibers. It's neutral-looking enough to fit in with most home styles, and it's just as durable as it is sophisticated. It has a low pile height of 0.35 inches, allowing for convenient placement in entryways and under furniture, and it won't obstruct doorways. In addition to the 8- by 10-foot rug, there are 36 other sizes and shapes to consider—including ovals and squares—so you can find the rug that will look right at home.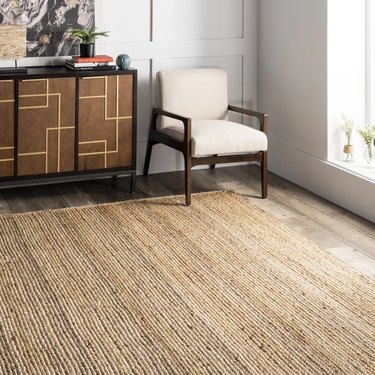 5. Rectangle Walker Power Loom Rug by Kelly Clarkson Home
Does a jute rug sound too coarse for you? Try this power loom area rug curated by Kelly Clarkson, instead. Made in Turkey from 100% polypropylene, a synthetic material designed for high-traffic areas like living rooms and entryways, it's got more of that traditional carpet feel that's softer under your feet. Its low pile height of 0.3 inches offers just enough comfortable padding while remaining easy to clean. Featuring a bright blend of sky blue, light gray, ivory, bright blue, mustard and caramel in an Oriental-inspired pattern, the area rug will look just as good in a modern farmhouse-style home or a contemporary penthouse. This particular rug measures 6 feet and 7 inches wide and 9 feet long, but you can choose from 11 other sizes and shapes, including round and square.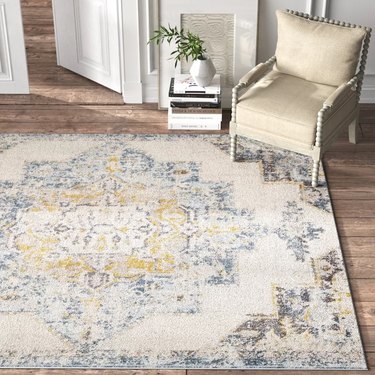 6. Warrenton LED Flush Mount
It might not be recessed lighting, but it's pretty close. If you're interested in upgrading the lighting to your main rooms in the least intrusive way possible, these LED flush mounts by Zipcode Design are a fast, easy and stylish solution. No need to call an electrician, and no need for those dated-looking light fixtures that protrude 10 inches from the ceiling. A metal circular frame houses an integrated LED light that casts its light downard and offers a translucent white glow to any room. You can install the LED mount on a dimmer switch so you can adjust the level of light depending on the time of day. The hardwired fixture is available in four finishes (black, polished chrome, satin nickel and white) and four diameters ranging from 5 to 11 inches.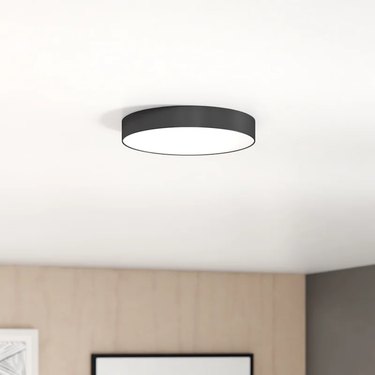 7. Amandev 63" Column Floor Lamp
For those who prefer their accent lighting to be both stylish and multifunctional, this 63-inch column floor lamp is a real looker. Made from a manufactured wood frame that contains three shelves for storing books, photo albums, pottery, succulents or other knick-knacks, the top portion consists of a socket for a single 100-watt medium-base bulb (not included) ensconced within an off-white rectangular shade. A small pull-down chain switch dangles from the top section. The socket is compatible with LED bulbs for more efficient lighting, and the entire piece stands a little under 63 inches tall. It's available in seven colors, including white, aqua, gray and light pink.
8. Farberware Dishwasher-Safe 15-Piece Aluminum Nonstick Cookware Set
If all the cooking you did over the holidays made you realize you (or your relatives) are in desperate need of a new cookware set that's not marred by scratches or chipped nonstick coating, this 15-piece aluminum nonstick cookware set from Farberware is about as good a deal as it gets. It comes with everything you could need: two saucepans, two frying pans, a Dutch oven, a baking sheet, four shatter-resistant glass lids and five Prestige cooking utensils. And did we mention the nonstick coating already? The pots and pans are oven-safe up to 350 degrees Fahrenheit and dishwasher-safe, and the smartly-designed nylon kitchen utensils won't scratch your set's cooking surfaces. Choose from seven color finishes, including black, aqua, champagne and red.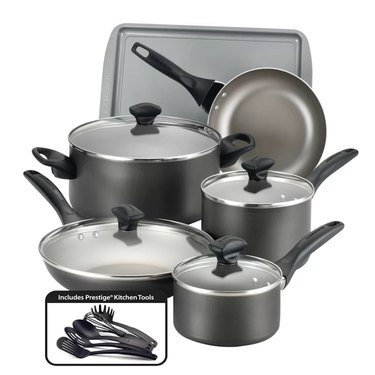 9. Farberware 10-Piece Nonstick Bakeware Set With Cooling Rack
Calling all bakers! Farberware comes in strong again with another enticing deal on bakeware, and really, it's a home baker's dream. The diverse set includes two baking sheets, five cake pans (round and square), a loaf pan, a muffin pan and a cooling rack, so you can make everything from sheet cakes to banana bread. Every piece features a PFOA-free nonstick coating to make clean-up a breeze.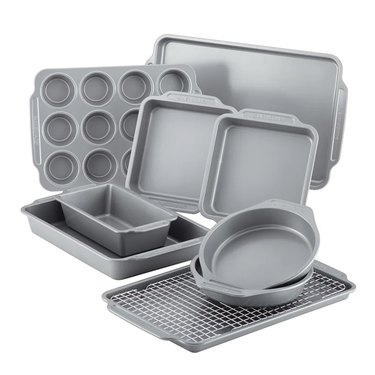 10. Cuisinart 4-Slice Toaster
OK, being able to toast only two slices at a time using most toasters isn't that big of a deal (unless you're really hungry!), but come on, the idea of doubling your toaster output in the same amount of time is at least a little appealing, right? This retro-looking toaster by Cuisinart handles four slices of toast (or frozen waffles, or bagel halves, etc.) at once, and thanks to its dual controls, you can toast them on two different settings simultaneously—perfect for when you're preparing breakfast for multiple people with different tastes. It'll take up a little more counter space than a regular toaster, but at 10 5/8 inches long and 10 1/4 inches wide, it's still got a relatively small footprint. Choose from up to six different color finishes.