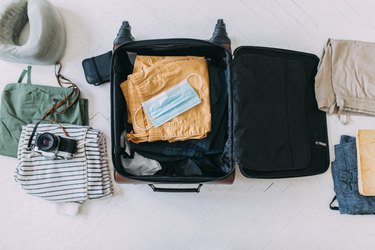 Lost luggage. Tangled necklaces. A phone clinging onto 10% battery. No matter where your next trip takes you, whether you're hitting the open roads or soaring through the sky, even the easiest travel days can become stressful in a moment. To feel like a true travel pro, all you need are a few oh-so-useful products, smart designs that can slip into your suitcase, getting ahead of all potential travel snafus, and solving issues before they even happen.
No need to spend all day online shopping either. We narrowed down the best travel products and accessories from one spot: Amazon. From chic earplugs (yes, they exist) to a wireless audio transmitter (yes, that also exists), scroll on for the Amazon travel essentials you'll immediately want to add to your cart, and then add to your suitcase. Bon voyage!
To protect your precious ears on a long flight, you'll want a set of TikTok's favorite earplugs. Whether you're seated next to a screaming baby or simply trying to muffle the roar of the plane itself (in-cabin noise can range from 37 decibels to greater than 110), Loop Quiet earplugs will greatly reduce the clatter around you so you can peacefully doze off, but still hear the beverage cart coming down the aisle. Each package comes with one set of earplugs (which are available in six colors) with four sizes of silicone ear tips and a petite carrying case. Not only are they effective and cute, but they're reusable and washable too, so consider them a sustainable option to disposable earplugs.
2. Cincha Travel Belt for Luggage
Balancing your purse or tote—whatever you're sneaking under the plane seat in front of you—on top of your carry-on luggage is a delicate dance. To ensure it doesn't end in the contents of your purse spilling all over the airport floor, add this travel belt from Cincha to your Amazon cart. This sturdy and stylish nylon strap, which you might recognize from an episode of "Shark Tank," keeps your essentials (whether a diaper bag, briefcase, weekender bag or otherwise) tied together. Plus, it comes in delightful colors and patterns, so you'll look cool and feel confident that your bags are safely connected, even while running through a terminal to catch your connection.
3. Ostrichpillow Luxury Travel Pillow
Whether you're taking a road trip or a transatlantic flight, sleeping while on the go never provides the best beauty rest. One solution to getting more quality zzz's while sitting upright: A comfy neck pillow, like this one from Ostrichpillow. This isn't your average travel pillow that you'll find in an airport gift shop; this one offers ergonomic neck support with high-density memory foam and a velcro strap that lets you achieve the perfect fit. It also has a machine-washable sleeve, which secures its place as one of the best must-have travel accessories.
4. Paravel Cabana Passport Case
When compiling your packing list, near the top should be the smallest but most essential items. Passport? Check. Travel documents? Also check. Global entry card? Yep. Keep them all safe and organized in this chic passport case, which features eight card pockets, one large interior pocket and a secure snap closure. Bonus: It's made from upcycled plastic water bottles with recycled vegan leather details, so it's a purchase you can feel good about. No more rifling through your purse looking for your important card—"I know it's in here somewhere…"—or returning home with an unfortunately bent passport.
If worries of lost luggage keep you awake the night before a getaway, here's an easy solution: An Apple AirTag—or, maybe several Apple AirTags. The miniature device pairs with the Find My app so you'll always know the precise location of important items, like your toiletry bag, wallet or luggage itself. The peace of mind alone is worth the purchase.
6. Portable Digital Luggage Scale
Add this Amazon find to the "gadget you didn't know you needed" list. Over 13,000 reviewers give this compact digital luggage scale with an easy-to-read digital display a thumbs up. Instead of worrying your travel bag will exceed the weight limit, which can cost you upwards of hundreds of dollars, you can weigh it yourself before heading to the airport. Simply hook it onto your luggage and give it a lift. (Hint: leave the heavy boots at home.)
7. Nomader Collapsible Water Bottle
If you've ever had to chug your water bottle before stepping through TSA, add this inventive design to your Amazon cart. Breeze through security with it empty, then fill it up at the airport to stay hydrated throughout your flight. After you've sipped every last drop, it rolls up for compact storage. The sturdy, leakproof bottle can loop around your wrist and attach to your bag too and comes in eight colors, so each member of your family can have their own without any mix-ups.
8. Bagsmart Jewelry Organizer Case
No one wants to land in paradise to find their jewelry in a tangled mess. Instead, keep your baubles safe and organized in this jewelry case. It features five compartments: A buckle band for rings, a buckled necklace strap, an earrings panel, a zippered pouch and a side zippered pocket. The slim design easily fits in your luggage, and the handle makes it a breeze to carry too. Accessorizing your vacation outfits just got a lot more fun.
9. Alitayee USB C Travel Power Strip
With the myriad of electronics we carry, a power strip is bound to come in handy. This one, which is lightweight and compact, offers three standard plugs as well as three USB ports. With just one power strip you can revive the battery life of your phone, iPad, camera and more. (Just keep in mind that it doesn't support laptops that need a higher charging voltage.) Simply plug it in with the 3-foot-long retractable extension cord, then rest easy knowing that you'll be at 100% battery in no time.
10. Twelve South AirFly Duo Bluetooth Wireless Audio Transmitter
Meet your new favorite travel essential. This small device, which wirelessly transmits audio from an in-flight entertainment system to your AirPods or noise-canceling headphones, will make flying all the easier. We've all had headphone wires fall into our food (yuck) and get tangled when your seatmate gets up and trips on them (annoying), yanking them out of your ears (ouch). Instead, this clever device eliminates the need for cords and has a battery life of over 20 hours, getting you through even the longest of overseas flights. No wonder they're one of our top Amazon travel must-haves.
11. FYY Electronic Organizer
Cords and chargers and cables, oh my! This waterproof travel case organizes all your electronic accessories—a must especially if you're traveling with USB drives, SD cards and other little pieces. It's practical and protective, with a soft sponge inside and a durable exterior, and allows you quick and easy access to your phone charger when your battery gets low. Just think: No more rummaging through your entire bag for everyone at the gate to see what you packed. Instead, slip this into your purse, backpack or suitcase's exterior pocket.
12. BAGAIL Eight-Set Packing Cubes
The trick to an organized suitcase? Packing cubes. This set of best-selling packing organizers from Amazon (they have nearly 17,000 reviews!) is a TikTok favorite, and it's easy to see why. First of all, they're made of smooth, water-repellent nylon, which protects your clothes from wrinkles and stains from whatever hair product inevitably starts leaking. The set of eight includes cubes of multiple sizes as well as a shoe bag, sock bag, underwear bag, cosmetic bag and a drawstring bag. That way you can keep your dressy outfits together, casual looks in another cube and dirty clothes completely separate. You'll wonder how you lived without them for so long. The cubes are sold in 13 different colors and patterns.