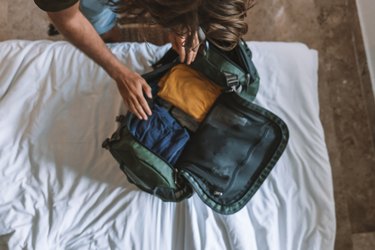 When you're headed on a weekend trip, the best type of bag is a weekender bag. Sure, you can throw all your stuff in a few reusable Trader Joe's bags or a couple of old backpacks if you're going on a roadtrip, but that isn't the most efficient route—or the most stylish. The right weekender bag is all the luggage you need for your trip. It's designed for a quick trip, typically one that lasts two to three days or even a long weekend. The ideal bag is lightweight and the size is somewhere between a backpack and a carry-on suitcase and can hold clothes, shoes, toiletries, chargers and sometimes has a spot for a laptop.
What to Consider When Purchasing a Weekender Bag
‌Capacity:‌ Perhaps the most important thing to consider when buying an overnight bag is the amount of space it provides. If you tend to pack light, you can probably get away with a minimalist bag. If you're more of an over packer, you'll want to buy a bag that suits your needs while still being small enough to be considered a weekender bag and not a full blown suitcase.
‌Type:‌ There are a few types of weekender bags to choose from, including duffels, backpacks and totes. A duffel bag typically has a carry handle and a shoulder strap so you can hold it hands-free, and some have separate compartments for shoes or dirty clothes. Backpacks are of course the most popular hands-free option; you just have to make sure the backpack is designed for travel and not for school, otherwise it might not have enough room for all of your overnight items. A tote is a stylish travel bag option that always has a carry handle and often a longer shoulder strap. It also often has interior pockets or compartments to keep things separate. You can find some weekender bags that have trolley sleeves, small pockets or attachments that let you slide the bag over the handle of a suitcase.
‌Style:‌ A weekender bag is kind of like a purse or any other travel bag. Sure, its main job is to hold your overnight essentials, but it should also have a style you love. There are plenty of different styles, colors and designs to choose from that match your personality and vibe.
‌Price:‌ The price of weekender bags ranges from as little as around $15 all the way to several hundred dollars. Leather bags are usually the most expensive, but they're also stylish and can last forever. A cheaper bag might be easy on your bank account, but it might not withstand the wear and tear of travel.
To help you narrow down your search, we rounded up the best weekender bags of 2023. Check them out below.
The Best Overall Weekender Bag
Inside this duffel bag you'll find a large main compartment for the bulk of your clothes and other items, along with three smaller compartments for toiletries and other essentials. It also has two exterior pockets for small items like sunglasses, your phone and keys. The bag has trolley sleeves and an adjustable shoulder strap, making it easy to lug through the airport or on any trip. The bag is also water-resistant, so you can throw a wet bathing suit or sweaty gym clothes inside without a worry. There are 20 colors to choose from.
The Best Budget Weekender Bag
Whether you're headed on an overnight trip or a weekend getaway, this duffel can hold all of your things for an incredibly good price. For just under $15, you get a bag with a ton of space inside, three exterior zippered pockets and an adjustable and removable padded shoulder strap. The bag is collapsible so when you aren't using it, it can easily be stored. It's also a great gym bag option. This travel duffel comes in two colors: black and gray.
The Best Splurge-Worthy Option
If you want a bag that's built to last, any of Away's bags will do. The Everywhere Bag is one of the company's best sellers—and for good reason. Not only is this travel tote sturdy, durable and made from high-quality materials, it has a wraparound zip opening that gives you easy access to the spacious main compartment. It has trolley sleeves and a top handle that is sized to fit over your shoulder. It also has a crossbody, padded removable shoulder strap for added comfort and convenience. This water-resistant tote has a 15-inch laptop pocket and a detachable key clip. It comes in five color options.
This versatile weekender travel bag is big enough for a weekend trip and cute enough to use as a large diaper bag. It can hold two or three days worth of clothes and other overnight items. The bag has a fancy leather trim (well, it's faux leather but it's still pretty), a removable shoulder strap that also works as a crossbody strap and interior pockets to hold your smaller items. A trolley sleeve makes it convenient to take it on a flight as carry-on luggage, and five metal studs on the bottom of the bag keeps it off the ground. The bag comes in 10 colors and designs.
This Swissgear backpack was designed specifically for travel. On the outside, it looks like any other backpack, but the inside looks like a carry-on suitcase. The backpack opens like a suitcase, giving you full access to all of your items. On one side, there's a garment compartment with a mesh divider, and the other side features an interior slip pocket that can be used as a shoe compartment, as well as a zippered mesh compartment that can hold a tablet, wallet, passport and other small items. A side pocket can hold more small items and an elastic water bottle pocket reminds you to stay hydrated. Ergonomically contoured, padded shoulder straps with breathable mesh fabric give you excellent carrying comfort.
You get what you pay for with this stunning leather bag from Madewell. This classic carryall bag will take you from point A to point B in style. Made of luxe leather, this zip-top overnight bag has plenty of pockets for a pair of shoes or a laptop, along with divided compartments for chargers and a water bottle. A pocket on the outside of the bag is the perfect size to store your phone. As a bonus, you can personalize the bag with a three-letter monogram in the color and font of your choice.
The Best Large Capacity Option
If you need to pack a whole bunch of things for your weekend trip, this Amazon Basics duffel is a great option. It has over 6,000 cubic inches of space, giving you plenty of room for all of that over-packing you like to do. It's also a great option if you need to go somewhere to pick up items and fit them in your luggage without bringing an extra bag. The duffel has zippered interior and exterior pockets for small items. Made of nylon, this duffel bag is lightweight and durable with a 50 pound weight limit.
The Best Option With Shoe Compartment
Sometimes you just don't want your filthy shoes touching your clean clothes. With this duffel bag, you can store your shoes in their own separate shoe compartment away from all of your other items. This duffel bag also has dry and wet compartments and space to hold two water bottles. A padded, detachable strap gives you the option to carry it by hand, crossbody or over your shoulder.