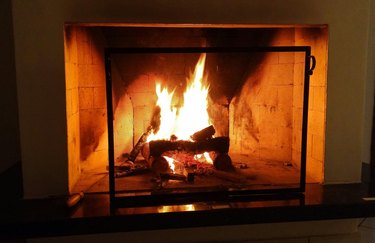 Fireplaces provide heat, light and a super cozy atmosphere in the fall and winter months, but while a fire in a fireplace can add a lot to a room, it can also be a safety hazard. A fireplace screen is used as a barrier between a wood-burning or gas fire in a fireplace and the inside of your home. It protects embers and sparks from jumping into the room, and it helps prevent kids or pets from getting too close to the fire.
While fireplace screens are largely used for safety reasons, they can also add some style to a room. You can certainly buy a traditional wire mesh screen that'll get the job done at an affordable price, or if you're going for more of a modern aesthetic, you can find many that add beauty and style to your fireplace area without hindering your view of the fire.
What To Consider When Purchasing a Fireplace Screen
‌Material:‌ Most fireplace screens are made of metal because of its flame and heat resistance. Lightweight steel screens are easy to move when you need to tend to the fire, and they can also come in handy for storage of the fireplace screen during the warmer months. Glass succeeds at blocking sparks and its transparency gives you a full visual of the fire but can block the heat coming from the fireplace. A safe and durable option is cast iron, which is hard for kids and pets to knock over, but the downside is that it's heavier to maneuver around for storage and cleaning purposes. If you do have kids and pets, cast iron might be your best bet.
‌Style:‌ Fireplace screens come in a variety of different styles, making it possible for you to find one that fits your purpose for adding a fireplace screen to your fireplace, as well as one that matches the general style of your home. There are single-panel fireplace screens that fit closely against a fireplace opening, three-panel folding fireplace screens that are sturdy and easy to move, and fireplace screens with doors that make it easy to add logs or tend to the fire. Glass fireplace screens offer the protection you want while having a modern aesthetic, and they put the fire in full view.
‌Safety:‌ Even though fires are mostly contained when they're in a fireplace, it's still very possible for sparks and embers to fly out and burn something or someone in the room. You'll want to make sure that the fireplace screen you purchase is tall and wide enough to cover the entire opening of the fireplace, or at least enough of it to provide a sufficient amount of protection. If you have kids or pets, you might want to consider a fireplace screen that has legs or a model that's curved or folds for added stability.
Scroll on to see our top picks for the best fireplace screens.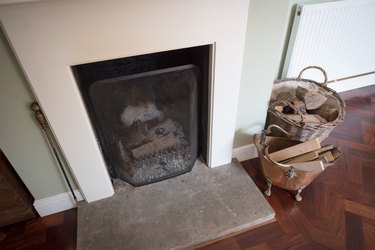 The Best Overall Fireplace Screen
If you're looking for a fireplace screen that does it all, this Steelside model is it. This steel frame fireplace screen features three panels and two doors, giving you easy access to tend to the fire. Its fine mesh screen doors protect the surrounding environment from embers while still allowing for the transfer of heat. They're also magnetized for added safety. The fireplace cover comes with four tools—a poker, brush, shovel and carbon tongs—that can be hung on the side panels using the included S-hooks. However, you can choose not to display them if you already own a dependable set of fireplace tools.
‌Style:‌ Doored, folding
‌Dimensions:‌ 48" x 0.75" x 31.5"
‌Material:‌ Iron
‌Number of Panels:‌ 3
The Best Budget Fireplace Screen
It's a basic fireplace screen, but the Panacea Arch Fireplace Screen is affordable and gets the job done. Featuring three panels, the freestanding screen is arched and sturdy so it won't easily tip over if something bumps it. While this folding fireplace screen is a good option for older kids who know to keep away, it should be avoided with babies and toddlers as it tends to get pretty hot.
‌Style:‌ Folding
‌Dimensions:‌ 24.5" x 1.5" x 29.3"
‌Material:‌ Wire mesh
‌Number of Panels:‌ 3
The Best Glass Fireplace Screen
Our favorite glass fireplace screen also happens to be a splurge, but it's so stunning and will add to the style of your home decor—it's honestly hard to pass up! This minimalist, frameless glass fireplace cover allows the glow of the fire to shine through without any obstructions. Its rounded corners and polished brass base add to its charm. The screen offers all the protection you need and the style you deserve.
‌Style:‌ Single panel
‌Dimensions:‌ 35" x 30" x 12"
‌Material:‌ Glass
‌Number of Panels:‌ 1
The Best Design-Forward Fireplace Screen
If you're going to partially block the view of your fire, you might as well do it while adding some style. Beautifully crafted with a chevron design, this mid-century modern gold fireplace screen has a mesh guard to protect the room from open flames. It features perpendicular feet to help it stay upright. While we absolutely love the antique gold finish with a rustic appeal, this freestanding screen is also available in copper, pewter and matte black.
‌Style:‌ Single panel
‌Dimensions:‌ 38.75" x 9" x 31"
‌Material:‌ Iron
‌Number of Panels:‌ 1
The Best Folding Fireplace Screen
The Gracie Oaks Steel Fireplace Screen is a simple and stylish way to keep the hot embers at bay in your living room. Made of solid steel construction with mesh front and side panels, this tall fireplace screen will completely cover most standard fireplaces. It has clean, contemporary lines and is very sturdy at 14 pounds.
‌Style:‌ Folding
‌Dimensions:‌ 31" x 0.5" x 52''
‌Material:‌ Steel
‌Number of Panels:‌ 3
The Best Flat Fireplace Screen
A flat fireplace screen is less cumbersome in your living room, which can make a big difference if you don't have a lot of space to work with. Even though the design of this Crate & Barrel fireplace screen is stunning to look at, its minimalist design makes it the perfect addition to any mid-century modern style home. Handmade from iron with an antique brass finish, the textured wire protects from embers and ashes while allowing the heat to float through.
‌Style:‌ Single panel
‌Dimensions:‌ 39" x 8" x 30"
‌Material:‌ Iron
‌Number of Panels:‌ 1
The Best Decorative Fireplace Screen
For those with a glass-fronted or non-working fireplace, a decorative screen can be an attractive addition to your hearth. This tree branch-inspired option by Etta Avenue is made with hand-forged and hammered iron in a luxe gold finish. It's heat-resistant, so you don't have to move it every time you turn on your electric or gas fireplace. That being said, it only weighs 8 pounds so toting it around isn't too difficult. While it's a bit pricey, the screen is beautifully made and lends elegance to a living room or bedroom.
‌Style:‌ Single panel
‌Dimensions:‌ 48" x 6" x 32"
‌Material:‌ Iron
‌Number of Panels:‌ 1
The Best Bowed Fireplace Screen
A bowed fireplace screen is a great choice if you want to maximize the view of the fire but don't want something flat against the fireplace. This bowed screen has a shiny pewter finish with a transparent screen to protect your hearth and floors from flying embers.
‌Style:‌ Single panel
‌Dimensions:‌ 41" x 31" x 6"
‌Material:‌ Steel, pewter
‌Number of Panels:‌ 1