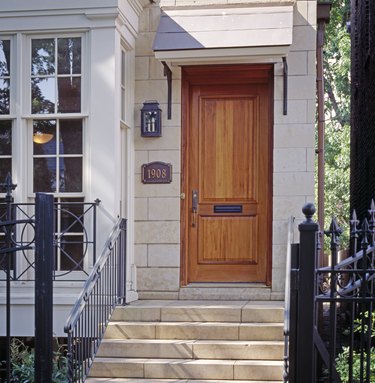 Don't underestimate the power of house numbers. Though they may feel like a small purchase—an afterthought in terms of the (many, many) design decisions that come with owning a home—those few numbers set the tone for your home's style. They bring color, texture and an overall vibe where perhaps there wasn't one before, and can instantly freshen up your exterior even if a whole-home makeover isn't in the budget.
That's why we've rounded up the best custom house numbers. They vary in material, size and price point, but they'd all add a one-of-a-kind touch to your home. Plus, with easy-to-see house numbers, you'll make life a lot easier for your DoorDash delivery person or first-time house visitors.
What to Consider When Buying House Numbers
‌Material:‌ House numbers have to endure the worst weather, whatever that means for the climate where you live. From snowstorms to gusty winds to scorching sunshine, you'll want to make sure that the house numbers you choose, as well as their mounting method, will withstand all of the elements year round. Ceramic and metal are always solid options, and if you choose wood, consider one that's been coated in a weatherproof sealant.
‌Size:‌ Before clicking "add to cart" on house numbers, measure the space where you intend to hang them. Then measure it again. House numbers vary widely in size, so you'll want to know they'll not only fit the space, but feel balanced in terms of the scale of your house as a whole. To feel totally confident in your purchase, consider mocking up the numbers with painters tape.
‌Mounting method:‌ You only want to hang house numbers once, so get a good sense of the mounting style before committing to any style. Do they come with keyhole hooks and screws? Can individual tiles be hung separately or do they need a frame? Do the numbers come with a self-adhesive backing, and will that hold up in the climate you live in? Know what you're getting into—and that you have the necessary tools—before buying.
Read on for the 11 best custom house numbers: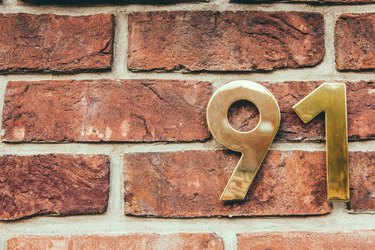 1. Contemporary House Plaque
You don't have to live in a London row house to display this charming plaque (though that would be nice, wouldn't it?). Nearly 1,000 glowing reviews all agree: this hand-made piece is a work of art, and is well worth the patience you'll need while waiting for it to be created. You can make it truly your own too, since there are a long list of colors to choose from, both for the background and your address. After ordering, the Etsy artist will provide you with a proof to get your thumbs up before individually hand-casting the numbers and letters into aluminum. The hard-wearing UV-resistant enamel paint holds up to all that Mother Nature throws its way, and since the letters and numbers are pressed into the piece, there's no need to worry about them falling off.
2. Modern Brass House Numbers
To add a contemporary touch to your home, opt for these art deco brass house numbers. The tall, slim letters and numbers are each outfitted with a self-adhesive backing, making for extra easy installation. Their brass material, which is durable and weather-resistant, ensures they'll hold up to all the elements, including wind, snow and sun. While these would look beautiful on a house, they'd work just as well on a mailbox or as interior decor, too.
3. Vertical House Numbers Sign
If you're working with a vertical space for your house numbers, consider this handcrafted sign made with rustic cedar wood and sleek metal numbers (you can choose from either nickel, black or bronze). This artist creates the signs from reclaimed wood, such as barn wood or old shipping pallets, which he hand-picks for their distressed look and feel, and then tops with two coats of a heavy-duty weatherproofing sealant to protect it from all kinds of weather. This sign comes with keyhole hooks installed on the back, as well as two mounting screws for hassle-free mounting. Just think: no need to painstakingly space individual numbers.
4. Talavera House Numbers
Hand-made and hand-painted, these ceramic tiles would bring color, texture and history to your home's exterior. The traditional talavera style is a type of Mexican earthenware that features colored decorations—just like these dots and flourishes—with a timeless style. Arrange them vertically or horizontally, in a frame or floating solo. Either way, these vibrant numbers would be a delight to come home to.
5. Empire Rust Modern House Numbers
Oversized and opulent—that's the look you'll get with these standout house numbers, which can be arranged vertically or horizontally. Based on popular modernist designers from the mid-century design period, these tiles measure 10 inches high and 6.7 inches wide, so you'll need plenty of space to hang the easy-to-mount numbers. Each tile is made from American steel with an authentic rusted finish, but if that's not your style, this seller offers other colors and shapes, too.
6. Ceramic Italian Hand-Painted House Numbers
Your house may not sit under the Tuscan sun, but you can bring a small piece of Italy home with these green and white hand-painted tiles. The ceramic numbers are glazed, both for a glossy finish and for an easy to clean, weather-proof design. They won't fade or blemish, but they will encourage plenty of "I love your house numbers!" compliments from guests. Hang these individually, or add a wooden frame also from this Etsy artist to your cart too.
With such a classic font, these Roman house numbers complement a variety of house styles. Whether you live in a colonial-style home, a farmhouse or a new construction, consider these a fit style-wise. Before adding them to your Etsy cart though, get out your tape measure to make sure they fit size-wise. They're large—over 7 inches tall—and custom cut to order. The seller has a reputation for quick shipping though, so you can enjoy these numbers without having to patiently watch for the mail to arrive each day.
8. Custom LED House Number Sign
Your pizza delivery person, for one, would love this light-up house number sign. Guests of all kinds will always find your house with the help of this custom LED creation. It's available in a variety of sizes, colors, and styles, so you can design it to your exact liking. Choose to include your street name for a full address or opt for a simple design with the numbers solo. Either way, it's an elegant option.
9. Large Mid-Century Cursive House Numbers
No matter the style of your home, these mid-century house numbers and letters would add a '60s cool vibe to your abode. Whether you choose to spell out the numbers or not is up to you, as is the addition of the glamorous stars, which are sold separately. Prices vary per word, depending on the length, and can come with the first letter capitalized or not. These house numbers are made from a thick sheet of plastic with UV protection to prevent fading on any of the dozen color options.
10. Welcome Home Yard Sign
Talk about curb appeal! This staked steel yard sign would be a welcome addition to your front lawn. It's available in four colors (black, white, gray, brown) and is double-sided, so no matter which direction guests are coming from, they'll be able to see your address easily. Best of all, the letters are magnetic, allowing you to arrange them however you'd like. That way, if you move you can take the sign with you, simply ordering new numbers.
11. ​​Black and White Number Signs
House numbers don't come much more classic than these. They're a design exclusive to Schoolhouse thanks to Portland Company, a 100-year-old, third generation, family-run business. The 4-inch tall aluminum numbers are simple and sleek, with a timeless feel that coordinates with any style of home. The only downside: mounting hardware is not included, so you'll have to purchase that separately.