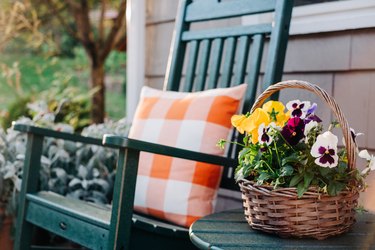 I don't know about you, but the moment spring arrives, I'm ready to decorate my front porch with all the spring decor I can reasonably muster up without risking it looking like a flower garden exploded. There's just something so feel-good about brighter colors and lighter decor that complements the warmer weather, blooming flowers, chirping birds and all the other happy things spring has to offer.
When it comes to front porch decor, there's a wide variety of items to consider, but other than the aesthetic and cost, perhaps the most important thing to consider is how it makes you feel. Would some new throw pillows bring you joy? Have you been wanting a new porch swing? Would you love a new spring wreath to add to your front door? My list of the best spring decor can help steer you in the right direction.
What to Consider When Purchasing Outdoor Spring Decor
‌Type:‌ There's a lot that can fall under the category of front porch spring decor. On this list, I included a pretty wide variety of items, including what I consider to be the best wreath, doormat, porch swing, bench, throw pillow, throw blanket, lantern and planters. If you don't have a specific type of item in mind but prefer to browse around until you find something that catches your eye, this is the list for you.
‌Budget:‌ Whether your budget is small, medium or large, you can find things to make your front porch more springy. Maybe you're ready to take the plunge and go for a big ticket item like a porch bench or maybe you prefer something smaller and practical like a doormat.
‌Usage:‌ Often times decor that's designed for a particular season can be used beyond those few months. Decor that's meant for spring typically works great throughout the summer as well. But if you're looking for items that you can use all year-long, you might want to opt for more neutral colors.
Spring has sprung, which means there's no better time than now to spruce up your front porch with spring decor. Scroll on for the goods!
Sure, you can find plenty of wreaths jam-packed with big, colorful flowers, but sometimes something a little less loud is the way to go. This beautiful, yet simple wreath is made of three types of eucalyptus leaves and is dotted with white berries. Although the wreath is artificial, it has a real look to it, but without all the maintenance of taking care of one that's actually alive. (Psst—for even more options, check out our roundup of the best spring wreaths.)
This sweet doormat welcomes your guests with a simple "hello." It's decorated with colorful spring flowers as well as a ladybug and a butterfly. The doormat is made from durable coir that not only looks good, but it also effectively scrapes the debris and dirt off of your shoes. It has a vinyl backing to help prevent it from moving around when stepped on. The doormat is great for both spring and summer before you move on to your pumpkin spice/autumn/Halloween doormat.
With a laid-back bohemian vibe, this hammock chair is made for curling up and reading a good book, napping or even just sitting back and watching your kids play in the front yard. Even better, the chair can easily be moved, so once the weather starts to cool off and you find yourself not wanting to spend time outdoors, bring the chair inside to hang and use year-round. It can support up to 500 pounds and comes with all the necessary hardware plus a stainless steel ceiling mount and chain for easy installation. The hammock chair comes with two pillows, but you could always swap them out for something that better suits your design scheme. Choose from five colors: beige (pictured here), dark gray, dark green, light gray and light pink.
Made from recycled plastic and natural stone powders, these two modern planters have a minimalist aesthetic. They come in 10 color options and two sizes (marble pattern gray is pictured here), so they're perfect for a front porch or any outdoor or indoor area. They have four built-in drainage holes to encourage a healthy environment for your plants or flowers.
‌Size:‌ 7.5" x 5.7" (small), 8.6" x 6.7" (large)
Hanging plants can add a lot to any space and really draw the eyes up, which is ideal for a front porch that tends to be a holder of shoes, toys or any other belongings. These two contemporary metal planters are weather-resistant and come with chains that can easily be attached to a hook. They don't have drainage holes (you probably wouldn't want dirty water dripping on your porch or head, so that works out), but they aren't watertight. They come in three colors: nickel (pictured), gold or black.
‌Size:‌ 5" x 8" x 8" (small), 6" x 9" x 9" (large)
The Best Outdoor Throw Pillow
If your home has a mid-century modern/desert vibe, this throw pillow featuring warm, earthy tones and fun geometric designs will fit right in. The lining is made of recycled polyester, and the filling is polyester fiber. Although it's spot-clean only, the throw pillow is suitable for indoor or outdoor use. Made in India, the throw pillow measures 14 inches high and 24 inches wide, so it'll make an impact on your outdoor sectional. It isn't always easy finding a cute throw pillow design that actually comes with a pillow inside. So, yay for that!
There's something so special about a cozy throw blanket that you absolutely love to look at. This one right here is exactly that. Not only will it keep you warm in the light springtime breeze, it's just so pretty. Made from recycled cotton, the yellow, gold, and white colors are perfect for the season. It can be draped over your front porch chairs, swing, couch or bench, and you can also take it on a picnic or to the beach.
Say hello to the most lovely mint green bench. If you could use new seating on your front porch, please consider this metal garden bench and allow me to live vicariously through you. The bench features an iron frame that is both durable and weather-resistant, making it the perfect addition to your outdoor space. The paint is intentionally rubbed off for a distressed look. Not a fan of the mint green? Go for one of the other four colors: black, blue, yellow or red.
‌Size:‌ 33.81'' x 20.05'' x 49.17''
Will one or two of these all-weather wicker lanterns be a fantastic addition to your porch this spring? Absolutely. Designed by HGTV's David and Jenny Marrs, this battery-operated outdoor lantern features a removable LED pillar candle with a realistic flicker. It's waterproof and weather-resistant, made of woven PE that's white on the bottom and natural brown on the top, complete with a handle for carrying. The lanterns are sold in sizes small, medium and large, but I think purchasing all three is the way to go.
‌Size:‌ 7.9" x 7.9" x 11.6" (small), 10" x 10" x 15.4" (medium), 12.2" x 12.2" x 18.9" (large)
As you sit on your porch (whether it's on your new mint green bench, hammock swing or on your existing furniture), watch the hummingbirds flutter by as they sip nectar out of this gorgeous hummingbird feeder. It's made of durable glass with four flower-shaped feeding ports on the base, giving the hummingbirds a comfortable spot to rest as they drink. The feeder has a 10-ounce capacity, and perhaps most importantly, it's easy to clean. Choose from a clear bottle with a copper-colored base or a green bottle with a moss-green base.
‌Size:‌ 5.51" x 5.49" x 10.1"
Now that the weather is better, it's a great time to add a wind chime to the mix. I love these handmade wind chimes made of glass. Whether you buy one or several, they'll add a touch of color to your front porch. Made from pyramid-shaped bottles, the wind chimes come in 11 different colors. Each one has a mahogany-stained wooden ball inside of it and a round copper wind catcher dangling from a metal chain.