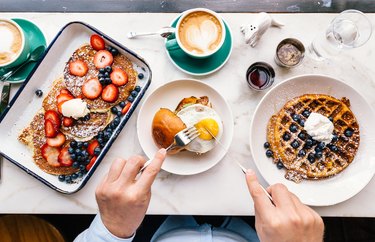 The word "brunch" might conjure images of fancy finger foods served on Sunday mid-morning at the country club or made-to-order Belgian waffles and omelets at a five-star hotel, but this tasty portmanteau of "breakfast" and "lunch" (Fun fact: It originated in the British hunt breakfast in the late 19th century) is something you can replicate at home, too.
It takes a little more effort to make brunch yourself (OK, a lot more), but if you've got house guests or someone you're looking to impress, laying out a spread of homemade ‌hors d'oeuvres‌ and nibbles is extremely satisfying. And while there are some brunch staples you'll probably want to include, such as fresh fruit and some type of pastry, it's really up to you what to serve. We've scoured the internet for the best kitchen gadgets and small appliances that will give you a leg up in concocting a brunch that will rival that of your nearest golf club.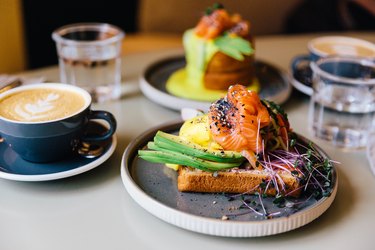 An electric griddle is such a versatile cooking appliance that you could make breakfast potatoes, pancakes, French toast, scrambled eggs, bacon, sausage and even omelets all on the griddle if you really wanted to. And this electric griddle from Zojirushi is perfect if you want to make multiple breakfast/brunch items but don't have the kitchen storage or budget to buy a separate piece of cookware for each food.
It boasts 237.5 square inches of cooking surface and a wide range of temperature settings, from "keep warm" (176 degrees Fahrenheit) to 425 degrees Fahrenheit. Its titanium-enhanced, nonstick ceramic cooking surface easily releases food and is just as easy to wipe clean, and its 6-foot power cord is convenient, too. For more griddle options, explore our full roundup of the best electric griddles.
If you'd rather get specific with your brunch cookware and want to serve up made-to-order omelets, this nifty omelet pan (it's also great for frittatas) makes it easier than ever, especially if you're not the best at flipping things in the pan. The pan's clever folding design allows you to cook two omelets at once, then fold it up after washing to take up less space. It's made from nonstick aluminum and stainless steel and features double-riveted, stay-cool stainless steel handles. The pan is oven-safe up to 450 degrees Fahrenheit and dishwasher-safe.
Another brunch favorite you'll struggle to make on the griddle, crepes are deliciously delicate and require specially-suited pans to get just right. There's lots to like about this griddle pan from cast iron cookware brand, Lodge (even if "crepe" isn't part of its name): It's affordable, features lower side walls conducive to crepe cooking, contains no synthetic coatings or chemicals, and includes a silicone grip for safe, easy handling. Another great option is this French Classic Crepe Pan from Cuisinart, which boasts Heat Surround technology for even heat distribution and triple-ply aluminum and stainless steel construction that's well-suited for induction cooktops. For even more options, check out our full roundup of crepe pans.
Don't forget about your crepe spreader! You'll need to spread and shape your batter once you've poured it. We'd go with this Indigo True Original Crepe Spreader and Spatula Set, available on Amazon. It helps you make crepes in three different sizes and easily plate them.
For a high-performance quiche pan, leave it to the French to do it well (they invented quiche, after all). This classic tart dish from Emile Henry that's made in France is perfect for making rich, savory quiche with a flaky, buttery crust. It differs from many other quiche pans in that it's made from high-fired Burgundy clay rather than metal (so it's more of a dish than a pan).
It's resistant to drastic temperature changes, suitable for the microwave and oven-safe up to a staggering 520 degrees Fahrenheit. It measures nearly 9 inches in diameter and approximately 1.6 inches deep. In addition to quiche, you can use it to make dessert tarts and even pies. For a more budget-friendly option, we like the tin-plated Fox Run Tartlet/Quiche Pan (although at 1 inch deep, your quiche will be a little thinner).
Pans, pans, so many pans! And yet, if you're a scone lover, you'll be tempted by this Nordic Ware pan that lets you make eight triangular scones in one batch. Its heavy cast aluminum and nonstick surface is also well-suited to making cornbread, polenta or biscuits. You can use it in the oven, on the stovetop or under a broiler. If you prefer round scones to triangular ones, go with this Commercial CHEF Cast Iron Biscuit Pan which, despite its name, is excellent for baking scones and muffins, as well.
Belgian waffles are just plain delicious and a common brunch offering (at least in the States, despite having origins overseas). They're thicker, fluffier and have deeper pockets than American waffles, which is probably why they've become a favorite. And with this Belgian waffle maker from Oster, you'll serve up the best waffles you've ever made. It's made with a stainless steel exterior and nonstick-coated waffle grids that make one whole waffle (which you can divide into quarters) at a time. It features red and green indicator lights so there's no mistake about when your waffle's ready, and its 1-inch deep batter pockets create extra-thick waffles just ready to pool with syrup, melting butter or whipped cream.
A Powdered Sugar Shaker Duster
It's an easy item to overlook and not totally necessary, but having a powdered sugar shaker/duster wil help you give the perfect finishing touch to crepes, waffles, scones and beignets. Instead of applying powdered sugar with a heavy hand using a spoon, a powdered sugar duster gives you the light touch you need for picture-perfect pastries. This stainless steel flour/sugar duster from HULISEN is smaller than most serving spoons and is ideal for sprinkling flour, confectioner's sugar or cocoa powder. One half of the wand is perforated for even distribution, while the other half is solid so you can easily scoop flour or sugar. For a table-ready sugar shaker that can stand upright, you can't go wrong with this two-piece powdered sugar shaker from Accmor.
Whether you're making deviled eggs, Eggs Benedict or hard-boiled eggs, using an egg cooker is more convenient than boiling eggs on the stove. Not only can an egg cooker help you avoid overcooking (and those unsightly green rings that can form when that occurs), it can potentially cook more eggs at once than you can fit in one pot. Plus, it cuts down on cooking time and makes it easier to shell the eggs afterwards. This egg cooker from Cuisinart cooks 10 eggs at once and steams eggs in their shell, so you can make hard-, medium- and soft-boiled eggs. Plus, it comes with a removable tray that lets you poach four eggs at a time or make a two-egg omelet. It features an audible alert when the eggs are finished and a stand-by mode to prevent overcooking. For other top egg cookers, check out our full roundup.
Egg bites are another brunch-friendly way to serve eggs, and with this egg bite cooker by Hamilton Beach, you can make ones just like those at Starbucks. It uses the sous vide method to cook two English muffin-shaped egg bites at once, right on your countertop. Its tray molds the shape for you and allows you to customize your eggs with all kinds of ingredients like cheese, bacon crumbles, sausage or spinach. It's easy to use and features a power light that indicates when the cooker is turned on, as well as another light that turns on when your egg bites are done cooking. You can also use it to make poached eggs. We also like this DASH sous vide-style model that can cook nine egg bites at a time.
Would it feel like brunch if there weren't some fresh sliced fruit or thinly-sliced tomatoes and cucumbers? Whether you're creating a charcuterie board, lox and bagels or ratatouille (good luck!), a mandoline slicer will help you get those ultra-fine slices that are difficult to achieve (and dangerous, for the less skilled) with kitchen knives. This model from OXO is modestly-priced but has a lot to offer: It comes with four interchangeable blades (straight, julienne, wavy and French fry), features a very sharp V-blade that can handle pretty sturdy veggies, and is compact and lightweight. However, its interchangeable blades can pose the risk of cutting yourself while you're handling it if you're inexperienced.
For a very safe option, we like the DASH Safe Slice Mandoline Slicer, which boasts a clever design that keeps your hands at a safe distance from any blades and houses the blades under a plunger. Check out our full roundup for even more mandoline slicer options.
While ‌charcuterie‌ technically refers to sliced meats, if you're investing in a mandoline slicer, you may as well get a charcuterie board or two to display your beautiful slices and serve meats, vegetables and cheeses on one platter. While you can use a cutting board as a charcuterie board, most charcuterie boards are made of wood, and getting a separate board gives you the opportunity to buy something that looks great. This round board from Terrain is made from beautiful mango wood and measures 12.6 inches in diameter and 16.9 inches long (including the handle). To switch things up a bit, this Homeries Marble and Cutting Pastry Board is unique-looking and especially well-suited for kneading dough and making pastries, for all the bakers out there.
If you've ever wondered how restaurants achieve those perfect avocado slices atop your salads, keto bowls or tacos, many of them are using an aptly-named avocado slicer to do it (although some chefs are so skilled that they don't need it). You can't go wrong with this best-selling avocado slicer from OXO, which splits, pits and slices avocados all in one nifty handheld tool. It features a soft, nonslip grip and is top rack dishwasher-safe. Your brunch salads and cheese boards will look professional, for sure.
A Beverage Dispenser (or Two)
Brunch wouldn't feel complete without some juice or sparkling punch, and this glass beverage dispenser is a visually pleasing way for guests to serve themselves. It holds 1 or 2 gallons, and what we especially love about it are its wide mouth for easy filling and its internal ice cylinder that enables you to keep beverages chilled without diluting them. It's really well-designed in that regard. We also like this double beverage dispenser (available on Amazon) that comprises two 1-gallon Mason jar-style beverage containers, complete with a stand and mini chalkboard labels. For more options, check out our full roundup of beverage dispensers.
Speaking of beverages, if you really want to impress guests, offer them freshly-squeezed orange juice, or any of the multitude of fresh juices you can make with a juicer. While there are different types of juicers (masticating, centrifugal and citrus), when it comes to brunch, citrus juices like orange or grapefruit juice never feel out of place, so we recommend this citrus juicer from Smeg. Not only does it look cool, but it's straightforward to use. All you need to do beforehand is cut a citrus fruit such as a grapefruit in half, place it on the extractor and close the lid. The machine catches the extracted juice in a glass beneath the spout. For a higher output and expanded juicing options, the Breville Juice Fountain Plus is an excellent choice. Check out our full roundup for more in-depth coverage on juicers.