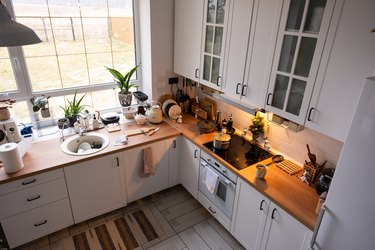 Whether you're cooking, washing dishes, making school lunches or cleaning up the kitchen, your feet deserve a comfortable place to stand. A comfort mat—also known as an anti-fatigue kitchen mat—is a shock-absorbing mat designed to reduce fatigue caused by standing on a hard floor for long periods of time. The ergonomic mat offers cushioned support that can help reduce pressure on your feet and knees and alleviate back pain.
What to Consider When Purchasing a Kitchen Comfort Mat
‌Material:‌ Comfort kitchen mats are made from soft materials like gel, foam or memory foam. Polyurethane is a type of foam that is durable and can tolerate heavy usage, which is great if you spend a lot of time in your kitchen. Gel is a great choice because it is thick enough to support weight but will reform after you step off. No matter which type of material is on the inside since the cover is usually made of polyurethane or waterproof vinyl, which is an ideal material for kitchens as spills can easily be wiped up.
‌Size and Thickness:‌ Standard kitchen mats are designed to hold one person as they stand in place. If you prefer the ability to move around a bit at your kitchen counter while still having the mat beneath you, you might want to consider a longer mat that has more of a runner shape. The thickness of the mat should be somewhere in the 5/8-inch to 3/4-inch thick range. A mat that is too thin won't be of much help as far as comfort goes, and one that's too thick or squishy might cause your feet to sink down to the floor, defeating its purpose altogether.
‌Anti-Slip:‌ Most anti-fatigue comfort mats for the kitchen are designed with a non-slip bottom. The purpose of anti-slip backing is to prevent the mat from slipping as you move around your kitchen.
‌Design:‌ In general, anti-fatigue mats are more functional than they are stylish, but that doesn't mean you can't find one in a color or design that matches your home decor or style preferences. Whether you want to match a mat to your hand towels or countertops or you prefer to find one that blends in with your kitchen floor, there are plenty of options.
Scroll on for our top picks of the best anti-fatigue mats.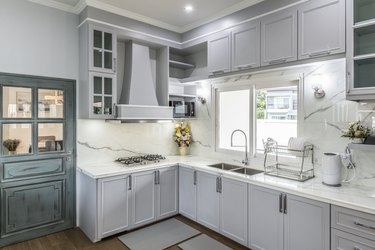 The Best Overall Floor Mat
The ComfiLife Anti-Fatigue Floor Mat is great because not only is it thick enough to keep your feet comfortable while standing in the kitchen for long periods of time, it comes in three sizes and 13 color options. The mat is made of high-density foam with a stain-resistant surface.
‌Material:‌ Foam
‌Size:‌ 20" x 32", 20" x 39", 24" x 70"
‌Thickness:‌ 3/4-inch
‌Colors:‌ 13
The Best Budget Floor Mat
It doesn't have any fancy features, but for the price, this HiveSun low-profile anti-fatigue kitchen floor mat is a great option. The mat is waterproof with a non-slip bottom, but the company notes that if there's any water underneath, it might result in slippage. It's just the right size to place in front of the kitchen sink, stove or even in the laundry room.
‌Material:‌ PVC
‌Size:‌ 17" x 28"
‌Thickness:‌ 1/2"
‌Colors:‌ 1
The Best Memory Foam Floor Mat
Memory foam makes everything better. This anti-fatigue mat with a non-skid bottom will bring some relief to your feet as you work in the kitchen. It isn't just great for the kitchen, however, the mat is also great to use as a standing desk mat or in the laundry room. It offers the perfect amount of squishiness while reforming when you've stepped off. The mat is waterproof, stain-resistant and puncture-resistant with an anti-slip rubber backing, making it a durable choice for high-traffic areas.
‌Material:‌ PVC, memory foam
‌Size:‌ 20" x 32" x 9", 20" x 39" x 9"
‌Thickness:‌ 9/10"
‌Colors:‌ 6
Anti-fatigue mats don't have to be ugly, they can actually be a welcome addition to your living space. This boho-style comfort runner has a chic design with an area rug vibe. Since it's extra long, you can feel confident that your feet will always have something comfortable to step on as you move around your counter space. The mat is made of PVC with rubber backing to ensure it doesn't slide even when you're moving fast.
‌Material:‌ PVC
‌Size:‌ 1'6" x 3'11", 1'6" x 2'6"
‌Thickness:‌ N/A
‌Colors:‌ 1
The Best-Designed Floor Mat
If you're looking for a high-quality kitchen mat that isn't just comfortable but doesn't stand out, you'll get that with GelPro's anti-fatigue mat. The mat comes in five neutral colors, each of which can blend in nicely with hardwood floors. It has beveled edges for safety, a stain-resistant and non-toxic polyurethane surface and a slip-resistant bottom. The foam is thick but it won't bottom out like some memory foam can do, which means your feet won't sink to the hard ground while standing on the mat.
‌Material:‌ Polyurethane foam
‌Size:‌ 1 1/2" x 2 1/2", 1 2/3" x 2 2/3", 1 2/3" x 4", 1 2/3" x 6"
‌Thickness:‌ 3/4"
‌Colors:‌ 5
The Mat With the Best Color Options
As important as it is to find an anti-fatigue mat that brings you the most comfort, it's also important to find one that you actually enjoy looking at—considering it's something you'll see every single day. The memory foam mats from Sky Solutions have all the comfort as well as a vast selection of colors and designs to choose from. The cushioned mats come in 15 colors, a few of those with unique designs, and there are four sizes to choose from. If you'd like to add two comfort mats to your kitchen (perhaps one at the sink and one at another countertop), the company also offers a 39-inch two-pack.
‌Material:‌ Memory foam
‌Size:‌ 17" x 24", 20" x 32", 20" x 39", 24" x 70"
‌Thickness:‌ 3/4"
‌Colors:‌ 15
The Best Machine-Washable Mat
This memory foam anti-fatigue kitchen mat has a luxury feel. It's made of memory foam with a non-slip bottom, and it's suitable for medium to high-traffic kitchen areas. The mat is unique in that it's machine-washable, so any spills or general messiness can be easily cleaned by simply throwing it in the wash. Once washed, the mat quickly air dries and is ready to be used again.
‌Material:‌ Memory foam
‌Size:‌ 20" x 34"
‌Thickness:‌ 2.36"
‌Colors:‌ 5
If you're in more of a professional kitchen setting, you might want to consider a professional-grade anti-fatigue mat like this one from Cactus Mat. It's large at 2 feet by 3 feet, and it's surprisingly lightweight enough to easily move around as needed. The mat has an anti-slip, non-absorbent textured surface on top with a rubber backing, and the edges are tapered to prevent trips. The mat is also grease-proof, which is an absolute must for busy kitchens.
‌Material:‌ Nitrile rubber
‌Size:‌ 2" x 3"
‌Thickness:‌ 3/4"
‌Colors:‌ 1