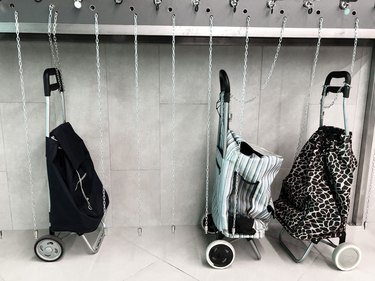 Loading up the car periodically with a Great Big Grocery Run is a common way to handle the shopping, but it's not the only—or necessarily the best—way to go about it. A lot of us like to top up on perishables more frequently, or perhaps even take pleasure in hitting the stores every day or two to see what's fresh or new. Some may also prefer to leave the car at home, either because we're trying to be more active or just to reduce our carbon footprint. Shopping without a car has a lot to recommend it, but then there's the question of how to tote all those bags of groceries home. The obvious answer is to invest in a grocery shopping cart, aka "granny cart." There are plenty of new designs out there that are practical, durable, and maybe even (dare we say it?) fashionable. We've picked out six of the best rolling carts, each one a worthy companion on your next trip to the grocery store.
What to Consider When Purchasing a Rolling Grocery Cart
‌Hauling Capacity:‌ If you're going to buy a tool for hauling things in, then logically its ability to haul things is high on the list of things to consider. There are two ways to measure capacity: Sheer physical size; and maximum weight capacity. They aren't necessarily equivalent. Some carts offer lots of space but are light-duty and can rapidly reach their weight limit; while others have heavy duty frames and wheels and can handle much more weight (but won't necessarily be larger). It's not necessarily an issue if your average load consists of salad ingredients and a baguette, but you'll appreciate a sturdy cart if you routinely buy cases of beverages or large sacks of dry goods.
‌Storage Size:‌ Most utility carts are collapsible to some extent, so they won't take up much space between uses. That being said, they'll vary widely and you'll need to be sure that your folding shopping cart actually folds ‌enough‌ to fit into a suitable closet or other storage area.
‌Basic Design:‌ Some utility shopping carts ride on two wheels, like a hand truck, and you'll tow them behind you on the way home. Some are on four wheels (or sets of wheels) and are meant to be pushed, like a child's stroller. Some are very minimalist—bare wire frames or just a shopping bag on swivel wheels—while others are more elaborate, with multiple compartments inside an outer shell that's fully closed against the weather. Each of them is a good fit for somebody's shopping style, the question is which one is right for yours?
‌Ergonomics:‌ This is an aspect of design, but it deserves to be considered separately. Do you feel comfortable wheeling the cart when it's full? Are you too tall (or too short) to tote it comfortably? Do the grips feel comfortable in your hand? Are the wheels capable of coping with your terrain, or do you need to wrestle with it? Is the cart itself heavy enough to be burdensome even when it's empty? Those are the details that decide whether or not your cart is a pleasure to shop with.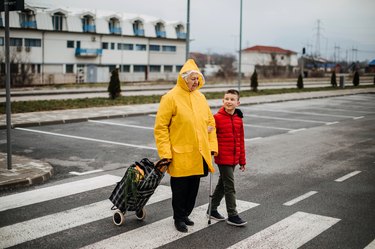 The Best Overall Shopping Cart
Versacart Transit Shopping & Utility Cart
If you're wondering how to choose between a cart with lots of volume and one with lots of weight capacity, the obvious answer is to choose both. That's what this cart from Versacart provides. The canvas bag provides over 3.7 cubic feet of space, while the sturdy steel frame provides strength enough to tote up to 120 pounds in a single load. It's a folding grocery cart in the stroller-style format, with fixed rear wheels and swivel wheels at the front for easy maneuverability. When it's not in use, it simply folds up in exactly the same fashion as a lightweight umbrella-style handle stroller, and can be tucked easily into a closet, between appliances or anywhere else you have a few unclaimed inches of space. The bag is held in place with velcro fastenings, and can be removed and replaced in seconds (which is super handy for cleaning).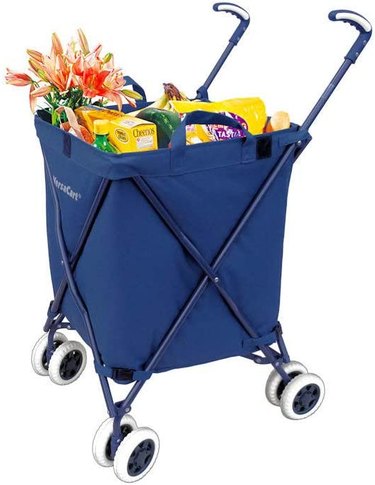 The Best Shopping Cart for Apartment Dwellers
dbest Stair Climber Trolley Dolly
If your shopping trip requires navigating lots of stairs and curbs, the Stair Climber Trolley Dolly from dBest is definitely the cart for you. Each side of the cart features three oversized wheels in a triangular arrangement, around a center axle. When you're towing it on level ground it glides easily on two of the three, but for stair climbing or mounting curbs the wheels rotate on their axle to lever the cart (and your groceries) easily to the next level. It weighs just 5 pounds when empty, but can tote up to 110 pounds of groceries when fully loaded. The water-resistant bag will protect your purchases from the elements, and provides seven individual compartments for you to sort your groceries into. You can also remove it entirely, and use the frame as a hand truck between grocery runs. There are multiple colors and patterns available, so you can pick one that suits your personality, and there are also higher-capacity models (and even one with a flip-down seat) should you need something a little extra.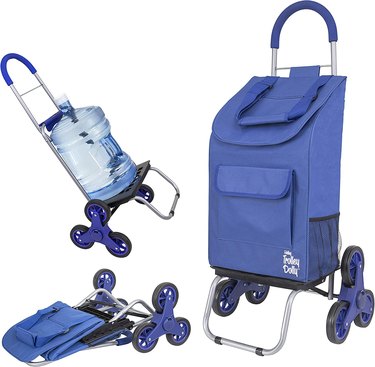 The Best Value Shopping Cart
Mainstays Adjustable Rolling Laundry Basket/Shopping Cart
An elaborate, heavy-duty cart is great if you need it, but overkill if you're a light shopper. Sometimes a lightweight wire basket in the classic style is all you really need, and this Mainstays unit from Walmart is a good example of the type. The front wheels aren't the fixed or rickety plastic ones you'll see on a lot of lower-priced models, but actual metal casters that swivel. That's excellent for but durability and maneuverability, while the larger rear wheels provide the size you'll need to roll easily over cracks in the sidewalk. The adjustable handle can extend from 38 inches high at the lowest setting to 41 at the highest, to make it comfortable for both taller and shorter shoppers. You can find aftermarket bags and baskets to fit into carts like this one, but realistically if you already have a stash of reusable shopping bags (and most of us do), this simple offering could be all you need.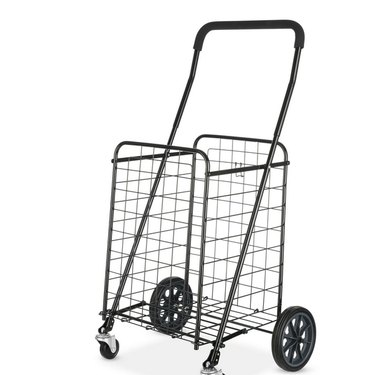 The Best Shopping Cart for Heavy Loads
GoPlus Jumbo Double Basket Folding Shopping Cart
If you appreciate the light weight and simplicity of the classic wire-cart style but want more hauling capacity, this oversized model from GoPlus may be just the thing. Like in-store supermarket shopping trolleys themselves, this one has a double basket design so you'll have a place to put personal items (hat, gloves, purse and more) while you shop, or to segregate fragile items from the main shopping compartment. The big selling point, though, is that while most low-priced wire carts are flimsy and less-than-durable, the GoPlus can haul a whopping 330 pounds of groceries, tools, or anything else you choose to pack into its cargo area. The main basket provides just over 4 cubic feet of storage area, meaning neither the size or weight of your grocery order should be an issue. So, feel free to stock up! Despite its size, this heavy-hauler collapses to just a few inches in depth for easy storage.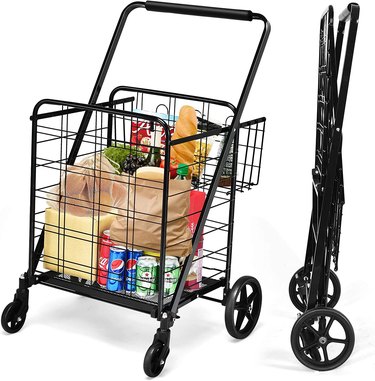 The Best Wagon-Style Shopping Cart
Chill Camping Collapsible Heavy Duty Wagon Cart
While standard shopping carts provide lots of hauling capacity, the space they provide is arranged vertically. That's no big deal if you're stacking cases of bottles, but it can be inconvenient if you have a lot of fragile or squishy items. A high quality wagon cart like this one from Chill Camping makes that problem go away, by providing more space horizontally. You'll still be able to tote lots of groceries (up to 176 pounds), but this way they'll have room to spread out. The heavy-duty steering wheels at the front will cheerfully cross cracked pavements, coarse gravel or rutted driveways with ease and the handle extends or retracts as needed to match your height. The fabric is tough enough to be used for hauling tools or other sharp items between grocery runs, and there are even a pair of built-in cupholders.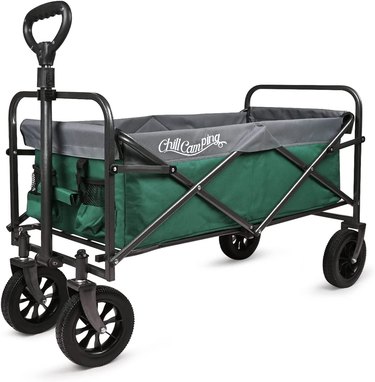 The Best Minimalist Shopping Cart
Cowinbest Upgrade Shopping Bag With Wheels
If you're a minimalist shopper, even the smallest of full-blown carts may be more than you really wanted. The ideal scenario might be something as basic as an expandable shopping bag that can be carried on your shoulder most of the time, but also has the option of running on wheels when your arm gets tired. That's exactly what this model brings to your shopping experience. When collapsed it's the size of a normal tote, but when you're in "grocery mode" simply undo a zipper on either side to double its depth. Another zippered pocket houses the fold-out wheels, for when they're needed. This is by far the lightest option in our roundup at less than a pound when empty, and its carrying capacity is best described as "light stuff only," but it's perfect for those days when you buy a few more impulse items than you'd intended.