There's something so relaxing about sitting down to complete a puzzle. But what happens when you get down to the last piece only to discover it's missing? Or you want to display your hard work? Or you want to store your puzzle for later without completely undoing your progress? Well, you're in luck—TikTok has answers to all three of these questions. Read on, puzzle lovers!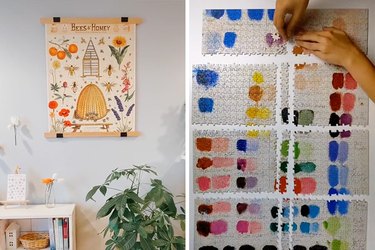 1. How to replace missing puzzle pieces
If you find yourself missing a piece or two once you've nearly completed a puzzle, TikToker @bobblestitchqueen has the perfect solution. You'll need an old cereal or cracker box, some glue, painter's tape, a pen, scissors, white paper, colored pencils or paints and a shiny clear topcoat. With a bit of stenciling, tracing, cutting and coloring, you'll soon have a puzzle piece that looks as good as new. Some commenters also recommended printing out a photo of the puzzle and replicating the missing piece that way!
2. How to display puzzles on a wall
If you've completed a puzzle and don't quite know how to display it as wall art, take note of how @chocomochibean uses poster board and poster hangers. Simply glue it, press it, let it dry and insert it into poster hangers for the perfect self-constructed home decor. The creator used poster hangers from IKEA for this particular tutorial, but you can find similar options at most home decor stores.
3. How to store finished puzzles
Are you not quite ready to hang your puzzle on the wall but still want to store it for further consideration without undoing your work? TikTok has your back! Creator @kristinalegota shows us how to dismantle a puzzle in sections for storage. Be sure to consider the width and length of the box to ensure the sections fit properly. You'll have to do a bit of restructuring when you're ready to bring your puzzle back out, but this easy storage hack is a major timesaver!
No matter your puzzle predicament, we hope these TikTok tricks are the perfect fit.