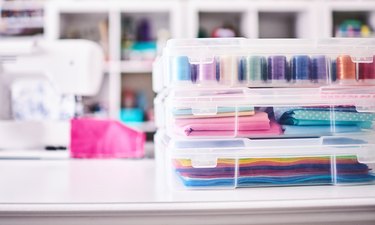 When it comes to crafting, clutter isn't necessarily a bad thing—especially if the clutter equates to craft supplies for DIY projects. That being said, it's still helpful to add some order to the chaos of threads, beads, paint tubes, and pins. Otherwise, you might have a hard time finding what you need when prepping for your next craft project. No matter if you crochet, paint, sew, or make paper crafts with a Cricut machine, you can add a level of functionality to your craft supplies with storage containers, cabinets, dividers, drawers and bins for the ultimate craft room organization.
Not sure where to start? We've got all of your craft storage needs covered with the best craft organizers for art supplies and craft rooms alike.
What to Consider When Shopping for Craft Organizers
‌Storage Space:‌ When organizing your craft supplies, the amount of storage space you have to work with is important to consider. This will help inform your organizing approach and allow you to make the most out of the area, whether it be a hall closet, home office or craft space. When shopping for organizers, measure your storage space to ensure larger items such as shelving units, storage cabinets and even pegboards will fit.
‌Vertical Space:‌ In addition to storage space, it also helps to consider what vertical space you can utilize with craft organizers such as pegboards, shelves and wall-mounted organizing solutions. Vertical space is also important to consider if you plan on utilizing storage cabinets or bookshelves with storage bins for craft items such as yarn or fabric.
‌Craft Type:‌ This isn't the most vital thing to consider—especially since most storage solutions are quite versatile—but it helps to consider the types of projects you work on and how you might organize specific craft supplies, such as spools of thread, skeins of yarn, scrapbooking supplies, vinyl for Cricut projects and acrylic paint. While you can find many uses for craft organizers, there are some options that work best with certain craft supplies, like a thread rack for spools of thread.
‌Lifestyle:‌ Your crafting lifestyle is also beneficial to think about. For example, if you're someone who likes to have everything out in the open where you can see it, you'll likely want to utilize a pegboard and additional wall-mounted storage plus a rolling storage cart for a more open workspace. And, if you're someone who prefers to declutter, cabinets with storage solutions like storage bins and storage drawers might be a better choice.
In addition to your workspace storage, it's also helpful to think about whether or not you craft on the go, as there are several ways to stay organized while away from your craft room. For example, you can purchase carrying cases and tote bags for your sewing machine and Cricut machine with lots of additional pockets and storage features. You can also find backpacks for crochet or knitting on Amazon that keep all of your supplies organized while traveling.
‌Price:‌ When shopping for craft storage, price is also helpful to factor in, as things can add up quickly and there are ways to get more bang for your buck. For example, it might be worth investing in a sturdy shelf for sewing supplies, however, you can easily repurpose old sauce jars (spray paint the lids a fun color for added style!) to hold things like bobbins, pins, needles, buttons and more.
If you're organizing your entire craft room, creating a budget for your storage solutions can help ensure you don't go overboard and give you plenty of room to get creative with alternative storage containers. You can do a mix of high- and low-end craft storage, which will not only help you organize all of your craft and art supplies but also add a more personal and unique touch to your craft room organization.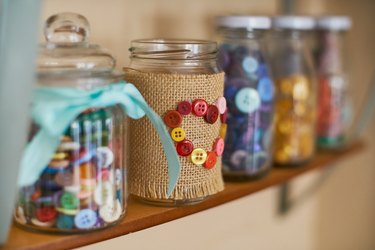 1. Top Notch Rolling Ribbon And Craft Station
If you don't have a lot of storage space but need something that boasts lots of functionality, you'll find it in the Top Notch Rolling Ribbon And Craft Station. This storage solution features a rolling cart design with shelves, drawers and compartments, plus multiple rod dispensers for craft supplies such as ribbon and string. The cart is a fantastic storage option for all crafters, especially those who gravitate toward Cricut projects, scrapbooking and paper crafts, and jewelry making.
2. ArtBin Desktop Accessory Storage
For the Cricut crafter, a tabletop organizer can make your DIY experience much more efficient. We love the ArtBin Desktop Accessory Storage because it's an all-inclusive storage solution for Cricut tools, allowing you to neatly organize your weeding tools, scissors, scrapers, tweezers and spatulas in a way that looks organized but is still completely visible. The desktop organizer even has enough compartments for storing additional blades so you have them close by when yours starts to dull.
3. ​​Simply Tidy™ Jewelry Storage Snap Box
The Simply Tidy™ Jewelry Storage Snap Box is an excellent storage solution with lots of versatility, whether you use it to keep DIY jewelry supplies organized or to store your spools of thread. The stackable storage container feature three tiers with 10 compartments each, so you don't have to worry about running out of space, either. Plus, it fits neatly on a shelf or in a closet for easy storage.
4. ​​TOOLF 3-Tier Utility cart, Rolling Storage Cart
A rolling storage cart such as the TOOLF 3-Tier Utility cart, Rolling Storage Cart is another great way to keep your craft clutter in order. We love this rolling cart because it's versatile enough for a variety of crafts, doesn't take up too much space, and has functional features like built-in pegboards for added organization. The cart is available in a gorgeous sage green, light pink, dark gray, and white, too, so you can choose one that not only works for your organizational needs but also one that looks good in your craft room.
5. Prefinished White Pegboard, 48 in. H x 24 in. W
Sometimes a simple pegboard is the best craft organizer. The Home Depot's Prefinished White Pegboard is a cheap way to DIY your craft room storage in a way that organizes and displays what you have. We love it because you can cut it to custom fit any area, it's compatible with most standard pegboard accessories, and it allows for easy, vertical storage, no matter the size of your room. Additionally, the pegboard can be painted to blend in with your wall or match your home office. This size measures 48 inches high and 24 inches wide.
6. The Floral Society Vertical Canvas Wall Organizer
For the best art supplies organizer, look no further than this gorgeous Vertical Canvas Wall Organizer from The Floral Society. The organizing solution features lots of functionality but is also super stylish, adding a touch of decor to your creative space. Constructed from durable canvas material, the wall organizer features 23 compartments for a variety of painting tools, including brushes, palette knives and more. In addition to painting, this wall organizer would also work well for creative hobbies like pottery or gardening, with plenty of storage space for all the necessary supplies.
7. AROUY Vinyl Storage Organizer
Cricut crafters know how annoying vinyl can be when it comes to storage. One of the best craft organizers for vinyl is the AROUY Vinyl Storage Organizer, which can be wall-mounted or hung over the door in a space-saving way. The vinyl storage solution features enough compartments to hold 24, 48 or 52 tubes (depending on the size you choose) and is designed to keep each properly rolled up in a neat and tidy manner.
8. GERYMU Art Supply Storage Organizer
Take your crafting on the go with an art supply caddy. This fabric option from Amazon is our top pick because it's not only ultra-functional, but it doubles as a stylish tote, too. Whether you need to store your crochet, paint or scrapbooking supplies, this tote bag features enough compartments to keep you organized and allows you to easily transport them as needed. When you're not on the go, the caddy also doubles as a tabletop organizer and can be placed on top of a shelf or in the corner of a craft desk for additional organization needs.
9. ​​JKB Concepts Acrylic Paint Organizer & Storage Set
Bottles of paint can become easily cluttered in a way that looks messy versus intentional. For the best paint storage solution, consider this acrylic steps and paintbrush holder set. Made from durable acrylic material, the brush and paint storage solution can hold up to 45 2-ounce bottles of paint and dozens of brushes, pencils and pens in three separate compartments. As an added bonus, both look fantastic on a shelf or tabletop but also work well behind closed doors for more orderly craft cabinet storage.
10. Jaxpety Foldable Sewing Table
Those who wish to add a sewing area to their craft room will love the Jaxpety Foldable Sewing Table, which is a space-saving storage solution for sewing projects. The table has enough room to hold your sewing machine with built-in shelves for supplies, including your sewing kit, spools of thread and extra fabric. On top of that, it features an expandable leaf that gives you more room when cutting and sewing larger projects.