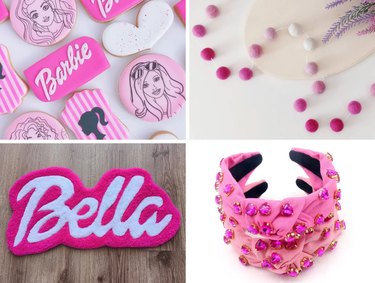 Maybe it's been decades since the last time you styled a Malibu Barbie's hair and jammed tiny plastic heels onto her tiny curved feet—but once you're a Barbie person, you're a Barbie person for life. So when Greta Gerwig's upcoming movie ‌Barbie‌ (which stars Margot Robbie as the title character and Ryan Gosling as Ken) was announced, many of us once again felt like Barbie girls in a Barbie world.
As excitement for the film grows, the "Barbiecore" aesthetic continues to gain popularity across social media and pop culture. Influencers like @azusabarbie, who transformed her house into a real-life Barbie Dreamhouse, have delivered continual inspo and amazement to Barbiecore fans across the globe.
Feeling inspired? Achieving a Barbie-inspired look for yourself and your home is all about incorporating shades of bright pink, mixing in retro touches from throughout Barbie's many iterations (after all, she's been around since the late 1950s) and adding healthy splashes of whimsy. If you're ready to embrace Barbiecore in all its hot pink perfection, park your Barbie convertible and get reading for our best tips.
If you're not afraid of people walking into your home and saying "Wow, it looks like Barbie lives here," try out the technique @leahsbarbieworld shared on TikTok. To create her very own Barbie Dream Room, she mixed white glitter paint additive into bright pink paint to yield an allover shimmer effect on the walls. Renting your space? Opt for hot pink removable wallpaper to pay temporary tribute to Barbie!
2. Design a Barbie dressing room
Barbie definitely had a glam dressing room somewhere in that Dreamhouse, and so should you. Even if it's really more of a closet than a room, bring Barbie vibes to your dressing area by decorating in shades of baby pink, hot pink and white while accenting with gold-framed art and thick, cozy rugs. Check out Instagrammer @pink_glam_beautyroom for more inspiration.
3. Rock a Barbie-style headband
Want to create a subtle Barbie look without wearing pink mini dresses and platform heels to the grocery store? A statement headband is totally on-brand: Just look at Margot Robbie's polka-dot headband in the movie's first promotional image. Etsy maker shopbrittyland creates pink-on-pink knotted jeweled headbands that are subtly Barbie-esque without feeling costume-y.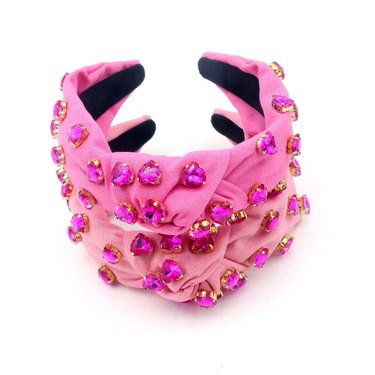 4. Decorate with Barbie art
Change up your wall art by displaying some cheeky pieces that celebrate Barbie in a sly way. There's a variety of Barbie art for sale, but Barbie fine art photos from Nicole Houff Photography's Etsy shop are bound to be conversation starters when company arrives. Each piece features dolls in creative poses against beautiful miniature mid-century sets—talk about original!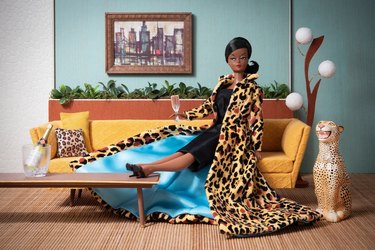 Famous Barbie Fanatics
Don't be afraid to jump on the Barbiecore aesthetic bandwagon. After all, some of our favorite and most fashionable celebs have already taken this trend mainstream. Kacey Musgraves dressed as Barbie on the 2019 Met Gala red carpet. In 2022 alone, style icons photographed in Barbie-inspired pink looks included Lizzo, Anne Hathaway, Hailey Bieber, Megan Fox and Mindy Kaling.
For picture-perfect Barbie cookies with sugary sweet flavors and all the right hues, place an order with a local baker like @simplysweetpatisserie, who created a beautiful batch of Barbie-themed treats complete with royal icing and pretty silhouettes. If you're more of a DIYer, cover classic sugar cookies with pink frosting and edible glitter and call it a day!
6. Sip a sparkly Barbie-inspired drink
What better way to wash down a few Barbie cookies than by sipping a drink made with edible glitter? It's certainly a more interesting way to hydrate than plain water! Try mixing up a batch of what TikTok drink maker @roses.aesthetic.drinks calls the All Pink Glitter Drink, made with strawberry syrup and strawberry cream soda. Alternatively, experiment with your own all-pink drink recipe by including edible food-grade glitter.
7. See your name in Barbie script
Welcome visitors to your IRL version of the Dreamhouse with a custom rug that spells out your name in Barbie's unmistakable pink and white font. Etsy maker ElyanoraArt creates dreamy rugs that are almost too beautiful to step on. In fact, you might just find yourself hanging this rug on the wall instead of placing it on the floor!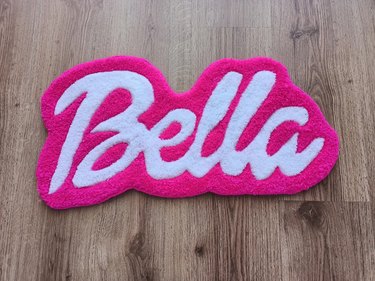 Tip
Want to be meticulous about matching that signature color palette when you're trying out the Barbiecore trend? Per Mattel, the famous fuchsia shade of Barbie Pink is Pantone #219C.
Maybe you're throwing a Barbie-themed birthday or bachelorette party. Perhaps you're even planning a party to celebrate the upcoming Barbie film. Or maybe you want to surprise your friends with just-because gift bags inspired by your shared passion for Barbie. For inspiration, check out the DIY Barbie Bags TikTok creator @pineapple_princess_tok made. We love how she incorporated that classic Barbie font alongside plenty of Barbie party touches.
9. Hang a Barbie-inspired garland
Seeking a subtle but decidedly Barbie-inspired touch of decor in your space? Combine cozy Cottagecore vibes with Barbiecore by adding a pink felt garland to your wall, fireplace mantel or even your headboard. Etsy maker WoolDreamland offers a handmade option that's available in lengths of 2.5 feet to 10 feet. You can even select your own shades of pink for the Barbiecore garland of your dreams, so get creative!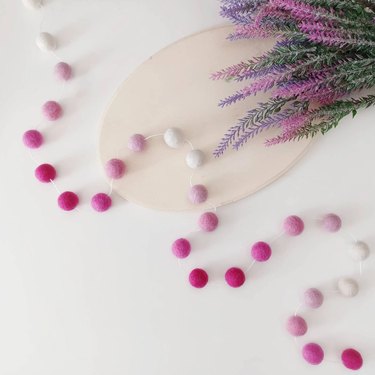 10. Build your own Barbie box
There's more than one tutorial for creating your own life-size Barbie box on TikTok, but @suttonsofswanlake's technique is ideal if you know anyone with an empty refrigerator box lying around. Best of all, this project is pretty hard to mess up. And you're bound to get some hilarious photos of your friends and families posing as Ken, Barbie and the whole gang.
There's really no wrong way to try the Barbiecore trend. From dressing up your daily look with a subtle pop of pink to transforming your home into a full-blown Mattel tribute, embracing Barbiecore is all about doing what feels fun to you—just as Barbie, a trailblazer in her own right, would surely advise!