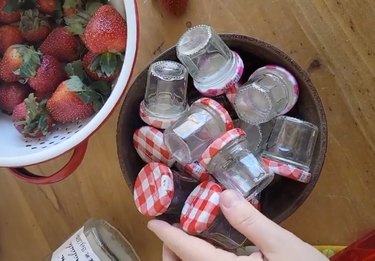 Good things come in small packages, which is why you now have a bunch of tiny Bonne Maman jam jars on your hands and need to repurpose them. Perhaps you received them as part of a Bonne Maman Advent calendar during the holiday season. Or maybe you're just obsessed with apricot preserves (relatable) and can't stop buying those adorable mini jars.
However you ended up with a collection of empty mini jam jars, you now have two questions to consider. First, how quickly can you buy more jam? And second, how can you recycle and repurpose all these little glass jars in cute or useful ways? We've got you covered on the second point. Read on for a roundup of creative ways to reuse your jars, straight from the DIY geniuses of social media and #JamTok.
Mini jars filled with homemade play dough make a sweet party favor for the end of a kid's party—or, frankly, the end of a grown-up party. (Wouldn't ‌you‌ appreciate a goody bag filled with treats the next time you leave a friend's house?) Homemade play dough is made from salt, water, flour, cream of tartar and oil, so it's a quick recipe that you can easily scale up or down, depending on how many jars you'll be filling.
In @foodherstory's TikTok, the simple salt dough gets tinted with just enough red food coloring to turn it a blush pink, playing off the red gingham tops of the jars. She also added rose essential oil, though you could add whichever essential oil you prefer. Of course, you'll want to skip essential oils altogether if you're making dough for kids who are young enough to try eating it.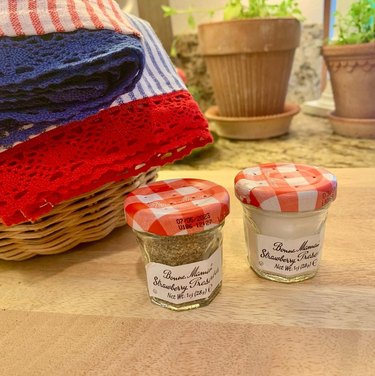 Talk about "simple but genius." Mini Bonne Maman jars are the perfect size to reuse as salt and pepper shakers—no power tools required! On Instagram, @bucketlistmama1 uses a hammer and nail for lid holes. These upcycled shakers would be perfectly cute on your dining table, but they're also great for picnics and traveling. Keep a set in your car so you can always have well-seasoned food while you're on the go. (Put a layer of plastic wrap under each lid to keep them from shaking salt and pepper all over the place when they're not being used.)
Most hacks for upcycling empty Bonne Maman jars don't require much artistic talent, but this one's for the yarn crafters! Crocheter @knotmoth turns jelly jars into homes for jellyfish—the adorable, handmade, miniature type. She suspends miniature crocheted jellyfish inside jars using magnets. Try making your own little creatures to hang inside the little jars, stack them up and call it your home aquarium.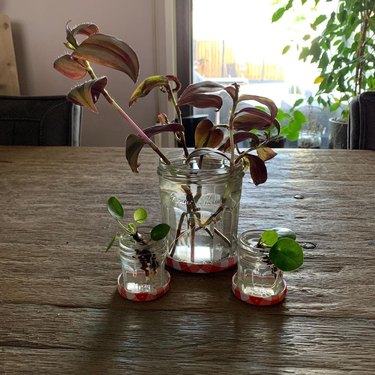 Use your mini jars (and full-size Bonne Maman jam jars!) to propagate plants like Instagrammer @serenacloos does! If you're new to plant propagation, this method is straightforward and easy to tackle—all you'll need is water and a few well-rinsed jars to give your plants a lovely place to grow and bloom. The best part? Your jars can be used over and over for the same purpose.
Is the lore about Bonne Maman true?
In 2021, a viral Twitter thread described an encounter with a Holocaust survivor who said she always bought Bonne Maman jam because the family that owned the company had sheltered her family in France from Nazis during World War II. In fact, the company that makes Bonne Maman didn't open until 1971, though the two founders did have family businesses selling fruit and jam long before that time. Unfortunately, no one knows for sure whether the Bonne Maman founders really did shelter Jews during World War II. A company spokesperson told Snopes that they don't comment on personal matters.
Here's one suggestion for how to reuse Bonne Maman jars that comes right from the source: @bonnemaman_us's Instagram. Not only does the company suggest the jars be reused as miniature spice jars, it also advises gluing the lid of each jar to the underside of a shelf for easy hanging (both mini and large sizes work for different contents). It's a useful space-saving strategy if you have a small kitchen.
Don't forget full-size Bonne Maman jars...
Because they're glass and airtight, full-size Bonne Maman jars are perfectly suited for storing leftovers, snacks and treats—without the odd taste that sometimes develops in plastic containers. Take a cue from @rebekah_ny on TikTok, who offers a few tips for filling large Bonne Maman jars with everything from overnight oats to homemade cookies.
And though our beloved mini jars won't hold much, they're the perfect size to hold small quantities like a single leftover serving of salad dressing, so don't count them out entirely!
Whip up a few homemade candles on a small scale using your leftover mini jam jars, just like TikToker @hhollyhh. You can either melt down the remnants of existing candles or start from scratch, then place wicks into each mini Bonne Maman jar, pour and light! In her candles, Holly includes tiny gemstones for an extra dash of color and whimsy.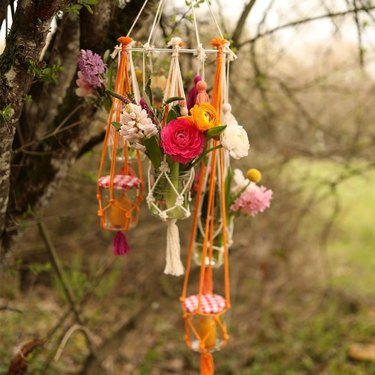 The words "DIY macramé planters" might seem intimidating if you've never attempted this kind of project before. Happily, the @bonnemaman_us Instagram shares simple, step-by-step instructions for knotting your own macramé holder to cradle jam jars. You can fill jars with more than just plants: Try putting decorative objects such as small sea shells and colorful beads inside, or make rustic light fixtures by clustering several jars together with tea lights (battery-operated for safety) in each one.
Last but not least, we've got a fun suggestion from TikToker @fainting_couch, who suggests using empty mini Bonne Maman jars to hold soft-boiled eggs. We can't believe we didn't think of this one on our own—after all, the size is just about perfect! @fainting_couch also mentions that empty mini jars are perfect for upcycled shot glasses, if you're into that sort of thing. There really is a jam jar use to delight everyone!
Now that you have at least eight new ideas for repurposing Bonne Maman minis, it won't be long before you've actually run out of empty jam jars and need to restock. Lucky you. To quote the great Joey Tribbiani: "What's not to like?…Jam, ‌good‌!"