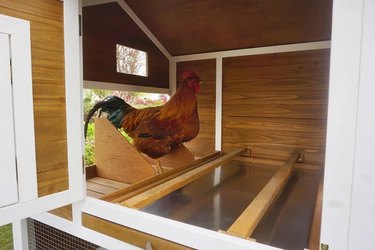 Gone are the days when you had to visit a farm to see some chickens. Now it's easy to raise free-range chickens in your backyard—well, maybe ‌easy‌ isn't the right word, but it's certainly fun and fulfilling. Plus, you can skip buying all of your eggs at the store since your chickens supply fresh eggs on a regular basis. If you're going to own chickens, however, you have to supply them with a chicken coop.
I've put together a list of the best chicken coops the internet has to offer, including ones that are secure from predators, ones that are spacious enough for several hens, and even an option that consists of plans to build your own chicken coop.
What to Consider When Purchasing a Backyard Chicken Coop
‌Size/Capacity:‌ When it comes to chicken coops, size definitely matters. You have to make sure that the chicken house is large enough to accommodate your entire flock while giving them enough room to spread out and move around. Different chicken breeds require different amounts of space, so that's something to look into before you make your purchase. Ten square feet per chicken is a good rule of thumb to follow.
If you're just starting out with raising chickens, you might want to buy a larger coop than you currently need so there's room to grow, but if you're good with just a couple of chickens, a small coop will work just fine.
‌Ventilation:‌ It's important to buy a chicken coop with proper ventilation. Ventilation in pre-made chicken coops consists of vents, windows and doors that can be opened. Many coops offer draft-free ventilation, which helps prevent too much moisture that can lead to frostbite during winter months.
‌Run:‌ A chicken run is an enclosed outdoor space that allows chickens to roam free within the confinements. They can safely eat, forage and get some exercise. Some backyard chicken coops come with attached runs while other don't.
‌Nesting Boxes:‌ Hens use nesting boxes as a safe roosting place to lay their eggs, which can occur nearly every day. It's a good idea to have one nesting box for every four hens or so. Not all chicken coops come with a nesting box and some come with more than one.
‌Security:‌ Most chicken coops offer protection against predators, but if you know of certain animals in your area that can be aggressive in their approach of trying to get ahold of your chickens (like coyotes, foxes, hawks or dogs), you might want to consider adding extra protection in the form of hardware cloth since many animals can easily get into chicken wire.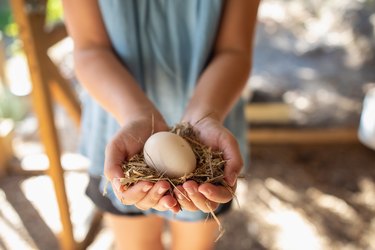 The Best Overall Chicken Coop
There's a lot to love about this chicken coop design. The backyard coop has space for up to 10 small chickens. It's equipped with draft-free ventilation and a double-wall insulation system to keep your flock at the right temperature, and it's easy to clean. There are several features you can opt in or out of, including wheels and handles, and you can choose between a 6-foot, 9-foot or 12-foot run. You can also pay extra for an automatic door, which can be set to let the chickens out in the morning and lock them inside at night. Since it's predator-proof, you don't have to worry about their safety. The only downside is that it's made of plastic, which isn't eco-friendly, but it's durable and likely to last longer than wood.
‌Size:‌ 3.3' x 3.1' x 2.2'
‌Capacity:‌ 12 small chickens
‌Materials:‌ UV-stabilized polyethylene, powder-coated steel
‌Run:‌ Optional
‌Automatic Door:‌ Optional
‌Color Options:‌ 2
The Best Budget Chicken Coop
This white wooden chicken coop has a nesting box, ladder, ramp, and a chicken run that allows your chickens to roam between the house and the yard while staying secure. It's constructed with weather-resistant fir wood and metal wire fencing for adequate ventilation. It also has a removable tray for easy access to droppings.
‌Size:‌ 44'' x 65.25'' x 47.25''
‌Capacity:‌ 2 - 3 small chickens
‌Material:‌ Fir wood, metal
‌Run:‌ Yes
‌Automatic Door:‌ No
‌Color Options:‌ 1
The Best Splurge-Worthy Chicken Coop
Since this fancy, customizable coop is pricey, it's probably not the best choice for beginners—just in case taking care of chickens turns out not to be your thing. This deluxe, high-quality hen house is definitely a commitment (and quite literally a house), but it's so pretty and stylish, it'll for sure be a conversation starter with your guests. It comes with three nesting boxes, removable roosts for easy cleaning, a clean-out coop door and a run door. You have the option of buying it painted white or unpainted with driftwood shingles. Other optional features include a run and an automatic door.
‌Size:‌ 4' x 6'
‌Capacity:‌ 8 - 12 chickens
‌Material:‌ Wood, metal
‌Run:‌ Optional with hardwire roof or metal roof
‌Automatic Door:‌ Optional
‌Color Options:‌ 2
The Best Small Chicken Coop
This chicken coop is perfect for chicks after they get their feathers, but once they reach maturity and are beyond the brooder, it'll probably only be big enough for one or two. The elevated hen house is accessible by a ramp where there's a two-part nesting box. It also has an enclosed run. A hinged roof lets you easily collect eggs.
‌Size:‌ 59.25" x 21.25" x 34.25"
‌Capacity:‌ 1 - 2 chickens
‌Material:‌ Fir wood
‌Run:‌ Yes
‌Automatic Door:‌ No
‌Color Options:‌ 2
The Best Large Chicken Coop
If you're a chicken owner who can't stop getting new chickens (you know who you are), a large coop gives you plenty of room to keep adding to your flock. This one is made of solid wood with UV-resistant paint and a peaked roof. It has three roosting bars and three nesting boxes with a drop-down shelf for hens to hang out. It also has a covered run area to protect your hens from the elements, a ventilation window for airflow, and a moveable floor that allows for easy cleaning. Two farmhouse-style planter boxes make this chicken coop feel extra homey.
‌Size:‌ 105.1" x 52.7" x 73"
‌Capacity:‌ 12 chickens
‌Material:‌ Wood
‌Run:‌ Yes
‌Automatic Door:‌ No
‌Color Options:‌ 1
The Best Walk-In Chicken Coop
Not only is this chicken coop spacious and safe for your hens to roam around, but it's also stylish and won't be an eyesore in your backyard. The coop can hold up to eight chickens, it has a fold-down exterior door for easy access to the nesting boxes, and it features a two-part door that allows a person to enter.
‌Size:‌ 56.93'' x 84.05'' x 41.69''
‌Capacity:‌ 8 chickens
‌Material:‌ Wood, wire mesh
‌Run:‌ Yes
‌Automatic Door:‌ No
‌Color Options:‌ 1
The Best Chicken Coop Building Plans
If you prefer to build your own chicken coop, you don't have to do it from scratch. You can purchase the plans of an already-designed coop like this one designed by an Etsy seller. The digital downloadable plans assume no previous building experience, so you don't have to be a professional to take on this project. Included are step-by-step instructions with images and explanations, a full cut list, a material list, and an explanation of tools and how to use them. The cost to build the coop with all the materials is estimated at $1,200 to $2,000 depending on the cost of lumbar at the time.
‌Size:‌ 7' x 6.5'
‌Capacity:‌ 6 - 12 chickens
‌Material:‌ Wood
‌Run:‌ Yes
‌Automatic Door:‌ No
‌Color Options:‌ 1