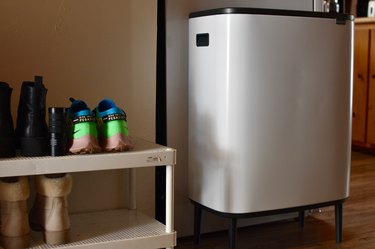 When I moved from a studio apartment into my first house, I quickly discovered many of the household items that had served me well in my small space did not function as well in my new digs. And because buying a house is expensive, it took me nearly two years to resolve my embarrassing trash and recycling situation.
Until purchasing the 60-liter Brabantia Bo Touch Top Hi Can, I had been using a fairly basic pedal bin from IKEA (the MJÖSA for anyone who's curious). I liked that it was easy to clean and lightweight enough to drag into the kitchen to use while meal prepping. However, it didn't have a compartment for recyclables, so our chosen system for storing all those bottles, cans and cardboard boxes was the lowly plastic bag. It was an eyesore and an embarrassment, as guests would invariably ask where to recycle their empty cans.
Two months ago, my husband and I decided to step up our trash can game and sprung for the Brabantia model. Spending $200-plus on a Belgian-made trash can seemed a bit ridiculous to me at first, but considering the amount of use it gets and our lack of kitchen cabinet space, it was a worthwhile investment. There are multiple sizes and colors to choose from, and we opted for the two-compartment model with 8-gallon buckets—one for garbage and the other for recycling.
The matte white finish is elegantly contrasted with four black legs and a matching touch-top. For quick assembly, the tapered legs click on and have nonslip grips to prevent the unit from sliding around. While it's not voice-activated (that would be extra boujee), the top opens and closes with a light press, locking in unpleasant odors. The two inner buckets are easily removable thanks to their side handles, and the top comes off completely when it's time to replace the garbage bag.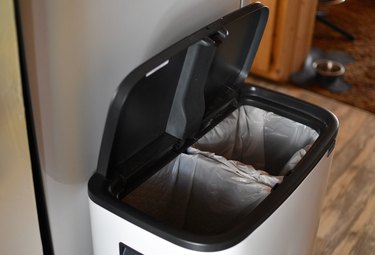 The trash can measures 21.46 inches wide, 32.09 inches high and 12.28 inches deep, so it's a comfortable height for most adults and requires minimal bending. It also has a flat back, allowing you to place it up against a wall or refrigerator without eating up a lot of floor space. The zinc-plated steel exterior can be cleaned with a damp cloth, and built-in handles allow it to be moved around the kitchen as needed.
Most importantly, this thing is a real beauty. I've never owned an aesthetically pleasing trash can before and I don't intend to go back to my old, ugly ways. When the Bo Touch-Top Trash Can reaches the end of its lifespan, I'll rest assured knowing that it's 98% recyclable. (Fun fact: The entire unit is made with 39% recycled material so it's more sustainable than many other options on the market from the get-go.)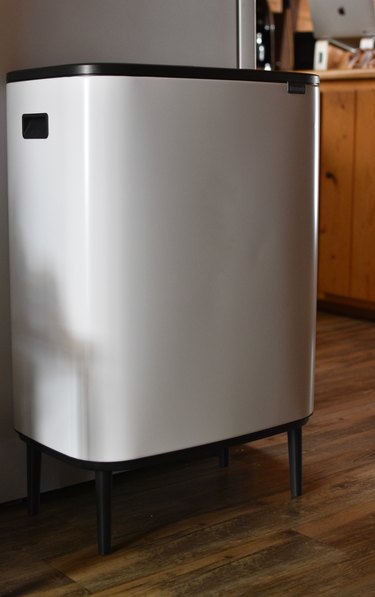 I'm beyond happy with this purchase—my trash can now resembles a modern piece of furniture that I'm not ashamed to leave out on display. The MJÖSA, on the other hand, has been demoted to the basement where it will collect dryer lint for the rest of its days.