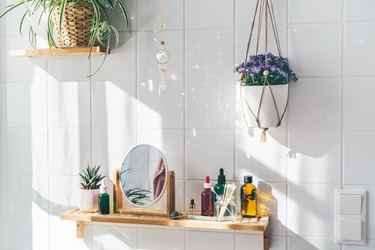 If you put all of your bathroom essentials into a pile, you might be shocked to see how many items you actually use on a daily basis. What might be more shocking is the number of products that aren't sustainable and can cause long-term damage to our planet. If you're like me and want to make a change and swap out your current bathroom products at home for ec0-friendly ones from sustainable brands, there's no better time than right now to do it.
Buying items that are more ec0-friendly might require a bit more work—meaning it's possible you won't be able to buy compostable toothbrushes at your local pharmacy, which is why I did the work for you and rounded up a list of some of the most-used, low waste bathroom items to swap with your existing products.
What to consider when buying sustainable bathroom products
‌Type:‌ Pretty much all bathroom accessories you can think of can be swapped for something more sustainable and recyclable, including toilet paper, refillable cleaning products, shower curtains, shampoo, soap, mouthwash, cotton swabs, skincare products, bath towels, razors, lotion, body wash, toothbrushes and toothpaste. Personal care items like tampons and pads also come in sustainable options.
‌Material:‌ The main material to avoid when buying any product with the goal of making your space more ec0-friendly is plastic—unless they've been recycled. Many sustainable products are made from bamboo, recycled materials, natural materials, organic cotton and more. You can find some items made from compostable materials as well as products that come in recycled or biodegradable packaging.
‌Cost:‌ It may feel overwhelming to think about the cost when making your living space more eco-friendly, but the truth is, you can swap as many or as few items as you want. Even just swapping out your shower curtain, shampoo bottle or toothbrush can make a difference while staying within your budget.
Ready to find your bathroom replacements? Scroll on for our list of the best eco-friendly bathroom products.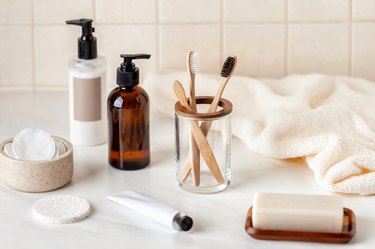 Not only will this boho shower curtain be an eco-friendly upgrade for your shower, but it'll also add a refreshing new look to your bathroom. Made from 100% recycled cotton, this woven shower curtain with a striped design and tassel fringe along the bottom is much better for the environment than any plastic shower curtain—not to mention it isn't toxic like some plastic curtains can be. It claims to be water-resistant, but reviewers recommend pairing it with a waterproof liner. The shower curtain measures 72 inches long and 72 inches wide and is machine-washable. Choose from gray, beige or dusty blue.
Betterway's organic toilet paper is packaged without all the plastic that typical toilet paper comes in, and it's made from FSC-certified compostable and biodegradable bamboo. The double rolls of toilet paper are three-ply and gentle on sensitive skin. Choose from a pack of 12, 24, 36, 48 or 60 rolls.
Considering how often dentists recommend switching your toothbrush (every three to four months, according to my dentist), you'll be doing the planet a solid by swapping out your plastic toothbrushes for these biodegradable bamboo brushes. They come in a pack of 10 with different color bristles on each brush—that way you won't accidentally use someone else's.
Flossing is part of proper oral hygiene, but most dental floss picks are made of plastic, making them extremely wasteful. The handles on these floss picks are made of straw wheat with wax floss, making them fully biodegradable and eco-friendly, and a fantastic replacement for your current plastic picks. With this order, you'll get two bags of dental floss picks with 50 in each pack.
Ditch the plastic shampoo bottles and potentially toxic shampoo for this floral-scented shampoo bar. The organic ingredients include Longsheng rice, shea butter and cocoa butter for moisturizing, repairing and gently cleansing. The bar is all-natural, sulfate-free, and ethically and sustainably sourced. If that isn't reason enough to try it out, the company donates 5% of the profits to the Red Tao Tribe where the rice is sourced. Pictured here is the Terrace Garden scent, but there are four others to choose from.
Step out of the shower or bathtub and feel like you're in a spa with this bamboo bath mat. This eco-friendly mat is made from 100% bamboo. It's foldable, lightweight, quick drying and water-repellent. The bath mat comes in three sizes: standard, medium and large. Choose from natural bamboo, gray or black to match your bathroom's decor scheme.
Made of 100% cotton, this pack of four bath towels is made with eco-friendly dyes and is OEKO-TEX certified. The towels are extra absorbent for quick drying and they get softer with every wash. There are 12 colors to choose from so chances are good that you'll find one that matches your bathroom decor. Each bath towel measures 27 inches by 54 inches and has a sewn-on loop for easy hanging.
You can feel good about this razor for two reasons: It'll effectively shave your hair and it's made with recycled plastic found in the ocean. Included in the plastic-free packaging are one razor handle and one five-blade razor cartridge. The blades are coated with ceramic and a lubricating strip with cocoa butter and aloe for maximum comfort. The company gives 25% of the proceeds to non-profits that work to clean up oceans and beaches and support marine conservation and research on plastic pollution. Choose from gray, green or pink.
Cut back on the plastic waste with Cora's organic tampons. These tampons are applicator-free (although they also make applicator tampons) without any pesticides, chlorine or dyes. So, they're better for the environment and better for your body. Pictured here is the variety pack of 54, which includes regular, super, and super-plus tampons, but there are many other quantities and absorbencies to choose from.
If you prefer pads over tampons, check out FLO, a Black-owned company that makes organic bamboo pads. Regular pads use a lot of plastic, but these don't. They are organic, biodegradable, plant-based, compostable, BPA-free and plastic-free. The ultra-thin pads have wings and are super absorbent. This box of 15 comes with 10 daytime pads and 5 nighttime pads.
Finally, a natural deodorant that comes in a compostable tube instead of a wasteful plastic one. Meow Meow Tweet's deodorants are made from potent plant and mineral powders with fragrant essential oils to keep you smelling fresh. The packaging is biodegradable and will compost in one year, making this a fantastic zero-waste deodorant option. There are several scents to choose from as well as deodorant creams.
This two-pack of eco-friendly loofahs is made of 100% natural fibrous Egyptian loofah, which is a softer and smoother alternative to plastic shower balls. It can safely be reused for about three to four weeks before it should be discarded. The loofahs are great for gentle exfoliation and have an elastic strap for your hand, as well as a loop for hanging. Each extra-large loofah measures 7 inches by 5.25 inches and comes with a convenient travel pouch.
Since mouthwash typically comes in a large plastic bottle that needs to be replaced consistently, these mouthwash tablets by Humankind make so much sense. The 100% natural, alcohol-free mouthwash comes in portable tablet form with 60 tablets per refill. All you have to do is add water, swish and spit. The refill is $12 and a reusable glass container is $10. Subscribe to receive a free container and 10% off each two-pack refill.
The Best Toilet Bowl Cleaner
As the name implies, Seventh Generation's toilet bowl cleaning powder has zero plastic in its packaging. The concentrated, water-activated formula is cruelty-free, chlorine-free and dye-free with no synthetic fragrances. The biodegradable ingredients are septic-safe and can be used on multiple surfaces. This 12.3-ounce container can yield up to 150 cleanings.