If you need coffee first thing in the morning—like, maybe even before you speak to anyone in your household—you owe it to your sleepy, under-caffeinated self to make sure your coffee is accessible and ready to go. A coffee bar cabinet is a brilliant way to get coffee in your favorite mug as quickly as possible.
A coffee bar cabinet gives coffee drinkers a place to keep all of their coffee accessories in one place— including the coffee or espresso maker itself. Some have hooks to hang coffee mugs, while others offer spacious cabinets, drawers and shelves for your mugs and other coffee-related things. Of course, placing your coffee maker on your kitchen counter and opening cabinets to reach your coffee cup, sugar, etc. works too, but if you have a passion for coffee, you deserve a stylish coffee bar station that'll bring you immense joy—and coffee. All the coffee.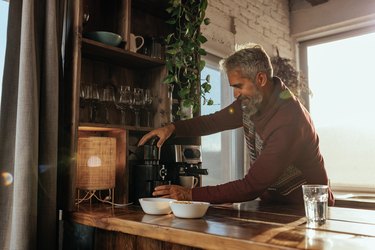 What to Consider When Purchasing a Coffee Bar Cabinet
‌Size:‌ The size of your coffee bar cabinet will depend on the size of your coffee machine, the number of accessories that go along with it and how much space you have or want to dedicate. Many standalone coffee stations take up as much space as a dresser or nightstand. They often have one or two cabinets, drawers or sliding doors with plenty of space on top for a coffee machine, as well as shelf space underneath for cups, coffee beans, sugar, honey and whatever else you take your coffee with. There's also typically more space for other items that need storing.
‌Style:‌ Since a coffee bar cabinet is a piece of furniture that you'll likely be putting in your kitchen, dining room or living room, you'll probably want it to match with the rest of your home decor. You can find coffee sideboards that look like a unique accent furniture piece, ones with a farmhouse vibe, ones that have a rustic look, mid-century modern options and others that look a bit more basic but get the job done.
‌Price:‌ Most coffee bar sideboards range from $100 to $300, with some costing over $400 depending on the size, the material used and where it's from. Some coffee bar cabinets can double as rolling kitchen carts or other storage for kitchen items, which might make you feel better about spending the money.
To help you narrow down your search, we rounded up our top picks for the best coffee bar cabinets of 2023. Check them out below.
1. Rosalind Wheeler Koga Coffee Bar Cabinet
Don't let anyone convince you that you don't need this white farmhouse coffee bar cabinet with a wooden countertop. Set your coffee or espresso machine on top alongside your coffee mugs, a vase of flowers or whatever else brings you joy. The sliding barn door opens to reveal two spacious shelves and can provide dark storage for your coffee beans. The style of the cabinet works in any room—from your kitchen to your living room to your bedroom (no judgement—when you need coffee you need coffee).
‌Dimensions:‌ 31.7'' x 31.5'' x 15.75''
2. Bestier Coffee Sideboard
This multifunctional coffee sideboard will give you ample space to store your coffee goods and it'll look while doing it. The open shelves design allows you to display your coffee mug and other accessories and even gives you a place for wine storage. There's also a cabinet with a cut-out handle where you can keep your coffee beans that need to remain in a dark area. A bottom shelf gives you even more space for storage. The buffet cabinet is made of solid wood with a heavy-duty frame. It's available in rustic brown, black and gray.
‌Dimensions:‌ 13.8" x 41.7" x 33"
3. Bestier Light Up Coffee Bar
The only thing better than a regular coffee bar is a light up coffee bar. Illuminate your coffee display with built-in LED lights. It comes with a remote control so you can switch the color or mode from afar. This large capacity buffet table is made of wood and metal, and it features adjustable shelves with ample storage space and a sliding door.
‌Dimensions:‌ 15.7" x 44" x 31.2"
4. OS Home and Office Coffee Cabinet
If you're looking for more of a basic coffee cabinet that's compact and efficient, this wooden white utility cabinet is a great option. It comes with a coffee station (or a microwave station), one pantry door and a buffet with a hutch. It's perfect for a small space where you can't take up too much real estate for your coffee—even though your coffee is of the utmost importance, obviously.
‌Dimensions:‌ 48" x 24" x 16"
5. HOMCOM Coffee Sideboard
Add to your kitchen counter space with this rustic-style coffee sideboard. It features crossbuck doors and a distressed wood grain look, adding to the farmhouse decor in your home. Place the coffee maker on the top of the cabinet along with an accessory or two. It has a drawer, two cabinet doors with a storage cabinet for all of your coffee goods. It has plenty of extra space to hold any miscellaneous kitchen storage. The sideboard can also be placed in your living room, dining room or entryway.
‌Dimensions:‌ 31.5" x 15.75" x 31.5"
6. Itaar 6-Tier Coffee Bar
This coffee bar has a modern farmhouse meets industrial vibe, with a bakers rack with 12 hooks for your coffee mugs or other kitchen utensils, a wine rack, three shelves for larger items and two top shelves to store smaller things or decorative items.
‌Dimensions:‌ 15.74" x 32" x 66"
7. Yitahome Coffee Bar Cabinet
Level up your farmhouse kitchen with this white coffee bar cabinet featuring flexible shelves, a drawer, a wine glass rack and space for coffee cups and your coffee maker. Will your morning cup of joe taste just as good without this adorable coffee bar cabinet? Yes, but the process probably won't bring you as much happiness.
‌Dimensions:‌ 15.7" x 31.5" x 30.8"
8. Overstock Accent Coffee Cabinet
We love the versatility of this mid-century modern accent coffee cabinet. This stunning furniture piece has a crossed wood grain finish and plenty of space for storage inside the two cabinet doors. The buffet table has room for your coffee maker with the rest of your coffee supplies hidden away inside the cabinet.
‌Dimensions:‌ 34" x 12" x 34"
9. Crosley Tristan Wide Rolling Kitchen Cart
Not only does this kitchen cart provide ample storage for all your coffee needs (as well as other kitchen accessories), it's also super pretty and conveniently rolls to wherever you need it. It can be placed against a wall or used as a kitchen island. It has a large countertop with two towel bars, two drawers and a large cabinet space below. This cart is available in four colors: mint, white, navy and gray.
‌Dimensions:‌ 40" x 18" x 36"
10. Langham Tall Coffee Bar
You won't need to wait in line at your local coffee shop anymore after setting this gorgeous coffee bar up in your home. This tall coffee bar has a large amount of storage in a compact size, which is great if you don't want your coffee habit taking up too much space in your kitchen. The open cubby is designed specifically to house most coffee makers. There's also a cabinet up top, a cabinet below and a drawer in between.
‌Dimensions:‌ 25.2" x 12.3" x 14.7"