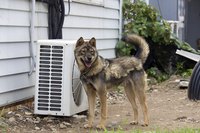 Calling a service person to your house to repair your air conditioning (AC) unit is often necessary and usually expensive. With the unit not running at all, it will most likely be an electrical problem, but many times it turns out to be a minor problem, that with a little common sense and some investigation, the problem can be located and corrected without having to call on a service company.
Things You'll Need
How To Troubleshoot An Outside AC Unit That Is Not Running
Check the settings on the thermostat. Make sure it is turned on, the lever is in the cool position and the temperature setting is well below the ambient temperature. If changes in the settings are made, some units have a delay before they start, so it might be necessary to wait five or 10 minutes in order to see if the unit comes on.
Look at the breakers in the electric panel. The breaker will be a double pole type, and the amperage will vary with the size of the AC unit. Breakers are not always obvious to the eye if they are tripped, so it is necessary to firmly flip the breaker off, then firmly flip it back on. If the breaker was tripped and trips off again, whether immediately or after the unit runs for a while, do not turn it back on. A professional service person needs to be called.
Find the disconnect box. It should be close to the outside AC, probably within about 6 feet. The disconnect could possibly be breakers, fuses or a disconnect bar. If it's the breakers, repeat the procedure in step 2. If it's the fuses, check and replace if necessary, and like the breakers, if they blow again, do not replace. Call a service person. If it's a disconnect bar, make sure it is in the box right side up.
Turn off the power to the AC unit. Take off the cover of the thermostat, and with the screwdriver, remove the body of the thermostat. Check the wires with the screwdriver for tightness. If there is a broken wire, with the needle nose pliers, strip the wire back about a 1/2 inch. Make a clockwise hook on the wire with the needle nose pliers and replace the wire where it broke off. Put the thermostat back together, and turn on the power. If none of these solve the problem, it's time to call the service company.