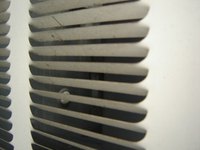 The majority of modern homes have central air--they are heated and cooled by forced air blowing through vents. The problem is that this method wastes energy, and therefore money, by (among other things) the conditioned air going to unused rooms. Luckily, there's a simple solution: magnetic vent covers. They are an inexpensive and efficient method to block air vents.
Things You'll Need
Magnetic vent covers
Measuring tape
Measure the dimensions of your air vents using measuring tape.
Purchase a package of appropriate-size magnetic vent covers. These are available at most home improvement stores; they come in quantities of 1 to 5. Be aware that, often, vent covers don't match the exact size of your vents. If this is the case, select a size that is larger than your vent.
Mark the appropriate width and height, using measuring tape and a pencil, on a magnetic vent cover.
Cut out the marked area using a pair of scissors.
Place the magnetic vent cover on your vent.