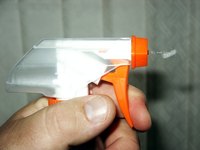 With the emphasis on green living in today's world, a number of manufacturers are now producing green products, or products that are toxin free and therefore safe for the environment. Air fresheners are among those green products. However, if you want to save money and use your creativity, consider making your own scented air freshener. Most of the ingredients may already be in your home. What you don't have, you can purchase easily.
Things You'll Need
Refillable spray bottle
Distilled water
Isopropyl alcohol
Essential oils
White vinegar
Alcohol Air Freshener
Purchase a refillable spray bottle from a hardware store, big lot store or nursery. Look for a spray bottle that holds 8 to 16 oz. of liquid.
Fill the spray bottle 3/4 full with distilled water. Distilled water has no chemicals or toxins; the boiling process used removes the impurities.
Fill the remaining space with the isopropyl alcohol, or rubbing alcohol. You can find it at your local pharmacy, grocery store or big lot store. Rubbing alcohol is a natural disinfectant.
Add 12 to 15 drops of essential oil, which is available in craft stores and some big lot stores. Consider lavender, rose, clove, eucalyptus, lemon or grapefruit.
Place the spray cap on the bottle and shake your ingredients. You now have a scented air freshener, which is a natural freshener, void of toxins.
Vinegar Air Freshener
Fill your spray container with white vinegar. White vinegar is a natural disinfectant. You can purchase it at any grocery store.
Add 12 to 15 drops of essential oil. Place the cap on the bottle and shake to distribute the oil throughout the vinegar.
Spray the scented freshener throughout your home. You can also spray a light mist on pillows and throws.